CIS-A2K Narrative Report (September 2012 – June 2013)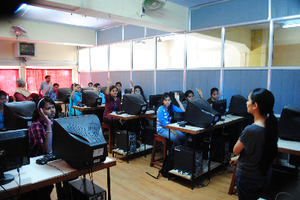 A2K team working with students at St. Xavier's College at Mapusa, Goa (by Debastein, CC-BY-SA 3.0)
This narrative report captures the work done by the Access to Knowledge (CIS-A2K) team in the first ten months of the grant. The report also throws some light on the CIS-A2K program strategy in the next one year.
---
This narrative report was originally published on the Wikipedia page. Access it here.
---
Background to the Access to Knowledge Programme
The Wikimedia Foundation approved a grant to support the growth of Indian language Wikimedia communities to the Centre for Internet & Society (CIS) to expand their Access to Knowledge program (A2K) in India. The grant enabled CIS to work with the Wikimedia community of volunteers in India to expand upon Wikimedia's Indic language free knowledge projects, including Wikipedia in Indic languages. Further, the grant aims to generate improvements in India-relevant free knowledge in Wikimedia's English projects and wider distribution of Wikimedia's free knowledge within India.
Section A: Introduction
Objective of the Narrative Report
This narrative report captures the work done by the A2K program during the period of September 2012 to June 2013. It examines projects and activities and its impact and outcomes over a period of the initial Ten months of the Grant. This report will also inform CIS-A2K program's strategy for the next one year to achieve the goals set out by its donor, Wikimedia Foundation, and goals listed in our Work Plans (which were developed in consultation with the Wikimedia community in India). Importantly, this Narrative Report is critical for the Wikimedia community in India, Global Wikimedia community and the Wikimedia Foundation to get a comprehensive overview of A2K's work and to critically assess the A2K program's eligibility for further support.
Context
Though the mandate of the CIS-A2K program was clearly articulated before the commencement of the program, it should be noted, that the context in which the program had to undertake its work was very disturbed. Majority of the Wikimedia community in India saw CIS-A2K as an extension of the India Program as the entire team of the India Program moved into the CIS's A2K program, except for the Director. Thus the CIS-A2K program inherited the not so conducive image of the India Program that was operational until August 2012. It should be noted that by August 2012, the Wikimedia community in India was extremely critical of the India Program's work and achievement.[1]
Further, the community explicitly expressed lack of faith and Trust in the India Program's method of work.[2] Thus, it is important to note that the CIS-A2K program did not start with a clean slate but had to first address multiple challenges, before it could take on active implementation of various programmatic activities. These challenges include:
building trust with the Wikimedia community in India;
building a collaborative relationship with Wikimedia India Chapter;
finding a new leadership to anchor the program that was left vacant in August 2012.
A2K Program Achievements (September 2012 to June 2013)
CIS Access to Knowledge (A2K) team started working on facilitating the improvement of Indian language Wikimedia projects with special focus on Indic Wikipedias in September 2012. Some key activities during the period of September 2012 to June 2013 are:
Number of newsletters published: 10
Number of events conducted: 49
Number of Wikipedia Education Programs conducted: 5
Number of people reached: about 1314
Number of women participants: approximately 406 (30.9%)
Number of community meet-ups & IRCs: 13
Number of sites across India where Wikimedia events were conducted: 18
Number of valid usernames: 582
Number of blogs posted: 58
Number of Print and Electronic Media mentions: 28
Number of Hackathons supported: 2
Number of community celebration events: 7
Number of Institutional partnerships: 13
CIS hired A2K Programme Director, T. Vishnu Vardhan, through an open and multi-stakeholder process of selection.[3] Representatives from Wikimedia India Chapter, Wikimedia community in India and Wikimedia Foundation were actively part of the selection process. This process was extremely critical and ensured participation of the Wikimedia community in India and the WMIN Chapter in deciding the leadership of the program.
Noted academician Dr. Tejaswini Niranjana was hired as Adviser to A2K.[4] This was done upon the request of the selection committee that was constituted for the selection of the program Director and in consultation with the WMF.
A2K proactively interacted with the WMIN Chapter Executive Committee and built collaborative working relationship.
Most of the A2K programs executed in collaboration with WMIN Chapter and community.
Began a new project on visualisation of the growth of Indic Wikipedias [5] [6] Sajjad Anwar and Sumandro are working on this. Two blog posts have been published so far. This was appreciated by the Wikimedia community in India and the WMF. Further, the WMF has expressed interest in extending these visualizations at a global level.
A2K has successfully reached out to the Wikipedians across Indian Language communities through conducting outreach programs, resolving technical bugs, supporting with required logistics, merchandise and media publicity, building public relations and communications.
Work-plans for the growth of Indic Wikipedias[7] were developed in a participatory manner with active collaboration from Wikimedia community in India and Wikimedia India Chapter Executive Committee.
Proactive open disclosure of A2K budget. and proposed revisions to the budget seeking feedback from the Wikimedia community in India towards building transparency.
CIS-A2K gave significant media visibility to Indian Language Wikipedias both in print and electronic media.
Section B: A2K Programme Impact
In discussing the A2K program's impact we have presented below both the tangible and intangible aspects of our work.
Intangible Impact
The A2K team has left no stone unturned since the commencement of the program in September 2012 to work in a transparent manner. We have taken the following measures in being transparent:
Periodic publication of A2K work and outcomes through monthly newsletters.
Circulation of A2K monthly newsletters and notifications on various India related Wikimedia mailing lists.
Real-time listing and communication of activities on A2K Meta page.
Active documentation of all events and activities, which were published as blogs on CIS.
Prior announcements of all the events organized or supported by A2K.
Open and collaborative process of hiring Program Director.
Keeping the Wikimedia India Chapter EC in the loop on all programmatic developments since March 2013.
Proactive disclosure of A2K program budget and proposed revised budget to the Indian Wikimedia community.
In addition to this A2K has explored various possibilities of collaboration with the Indian Wikimedia community and Chapter alike. The biggest instance is the A2K Wok Planning exercise for 2013-14, where multiple stakeholders were consulted. These include
Some English-language Wikimedia community members from India;
Wikimedia India chapter Executive Committee;
Indian language Wikimedians and
A few of the Wikimedia Foundation staff.
Some of the collaborative and community building efforts of A2K were:
Support to community-led activities and facilitating community participation and ownership (e.g. Wiki Women's Month).
Mobilization of the Indian Wikimedia community in organizing mega community events like Telugu Wiki Mahotsavam.
Engagement with WMI Chapter EC and built a collaborative relationship.
Wikipedia Education programs in 4 Indian languages done in collaboration with the local Wikimedia community.
Supporting Wikimedians in conducting outreach events.
Almost all the A2K events since February were done in collaboration with WMI Chapter and the Wikimedia community in India.
A2K team actively participated in various community meet-ups.
A2K has provided significant media visibility to Indian Language Wikipedias, especially in mainstream English press.
These transparency and collaboration efforts resulted in building trust among the Wikimedia India communities, where in they have begun to constructively engage with the A2K program's work. This is a significant achievement since the closure of India program in August 2012. However, there are still some Wikimedians who prefer to ignore the A2K program, which indicates that the A2K program still needs to prove its worth. Thus it could be said that the A2K program has been partly successful in winning the faith of the Indian Wikimedia communities and still needs to put in more effort in this direction. The A2K team is committed to achieve this by demonstrating success through its work during the next phase of this program.
Tangible Impact
It is difficult for the CIS-A2K program to either take direct credit for the growth or direct blame for the lack of it in the Indian language Wikimedia projects. However, we believe that we have been one of the factors — and sometimes a key factor — in impacting the growth of the Wikimedia projects and communities in India since the commencement of the project.
Though the A2K program has done some amount of work with almost all Indian language Wikipedias, the A2K team has had relatively more involvement in 10 Indic languages - Assamese, Bengali, Gujarati, Hindi, Kannada, Malayalam, Marathi, Odia, Punjabi and Telugu - during September 2012 to June 2013.
In addition to this based on the various outreach work done by A2K we have attempted to present an analysis of direct new Wikipedia users that have emerged in languages impacted by the A2K program, keeping in mind that community mobilization will always be an autonomous activity to some extent.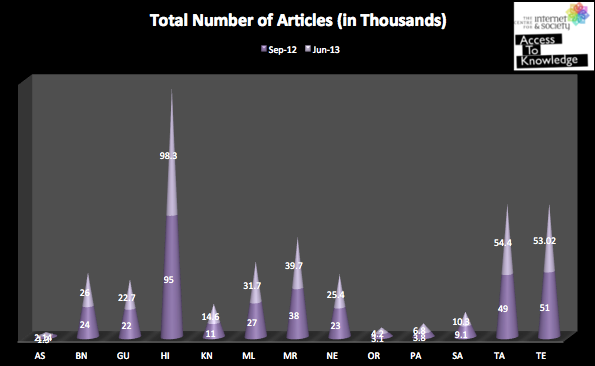 Graph 1: Growth of Articles in Indian Language Wikipedias from September 2012 to June 2013
The growth momentum in Indian languages over the eight month period of September 2012 to June 2013 looks healthy.
Some language Wikipedias have been growing at a phenomenal rate than others in terms of percentage change since September 2012.
Punjabi, Assamese and Odia Wikipedias have a growth rate of 82%, 59%, and 37% respectively and are the top 3 Indian language Wikipedia projects during the ten month period.
In terms of absolute number of articles, Tamil, Malayalam, Punjabi and Hindi Wikipedias have grown by about 5,812; 5,008; 3050; and 2,734 articles respectively.
However, given the small size of the Wikipedia communities in Punjabi, Nepali, Kannada, Odia and Sanskrit the growth achieved by them is much commendable and all efforts have to be put to ensure that this momentum continues by strengthening these communities and also expanding them.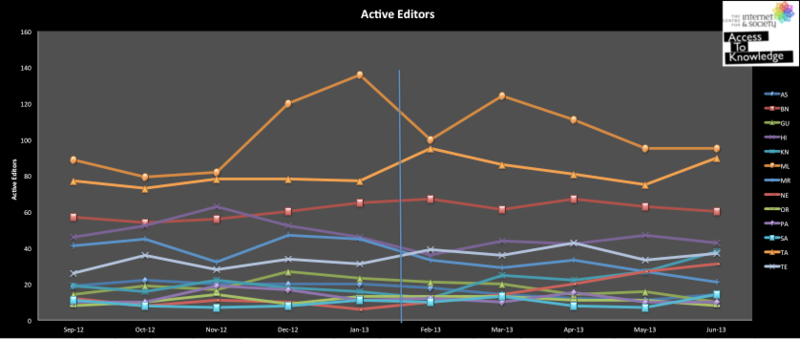 Graph 2: Active Editors in Indian Language Wikipedias from September 2012 to June 2013
There is a fluctuation in the number of active editors in all Indian language Wikipedias.
The active editors on Assamese, Marathi and Gujarati Wikipedias have been consistently coming down, which is a cause of concern.
It is important to note that Tamil, Telugu, Kannada and Nepali Wikipedias where the number of Active Editors were declining earlier have shown a remarkable turnaround. The efforts of the A2K program, especially in Telugu and Kannada, over the last 4 months could have resulted in this positive change.
It seems the Wikipedia Education Program, Nepal has been instrumental in bringing significant number of new active editors on Nepali Wikipedia.
Overall the active editors on Malayalam Wikipedia have crossed the 100 mark numerous times, making it the first Indian language Wikipedia to reach this benchmark. However, in month of May and June 2013 this dropped to a 2 digit figure again.
Looking at the trends Tamil Wikipedia may soon reach the 100 active editor mark.
Even Bengali community could cross 100 active editors if concerted efforts are put in.
The Assamese Wikipedia, which received support from A2K program until January 2013, had a consistent active editor population which was around 20 people. However, once the support from the A2K dwindled since February a declining trend can be noticed. One could deduce that the A2K program has had critical relevance in the growth of Assamese Wikipedia. The decline over the last 5 months also alerts us to the possibility of building dependencies on the A2K program, which is a concern that we need to address going forward.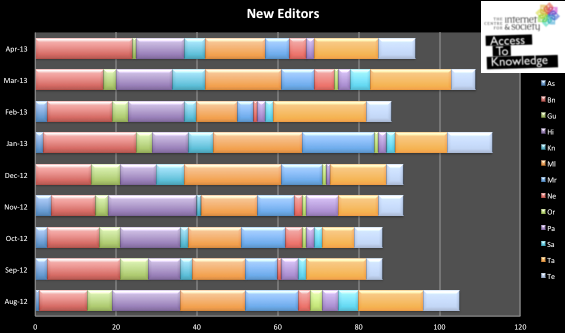 Graph 3: Monthly growth of New Editors on Indian Language Wikipedias from September 2012 to June 2013
On an average 94 new editors have joined Indian language Wikipedias every month.
Bengali, Malayalam and Tamil Wikipedias have consistently seen more than 10 new editors joining almost every month since Jan 2013.
Hindi, Marathi and Telugu have many new editors joining per month.
Total of 849 new people have become editors for Indian language Wikipedia since Sep 2012.
However, the conversion rate of new editors into active editors is still a challenge across all Indian language Wikipedias.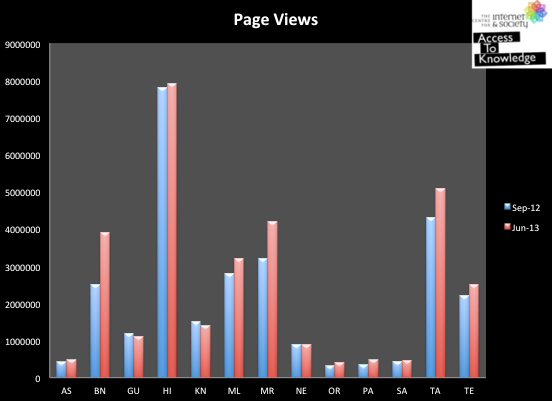 Graph 4: Snapshot of "Page Views" of Indian Language Wikipedias in September 2012 & June 2013
Overall the "Page View" trends of Indian Language Wikipedias until April 2013 look positive. but since the last two months the trend is in the decline. However, it should be noted that the month on month "Page View" trends keep fluctuating.
Bengali, Tamil, Malayalam and Punjabi Wikipedias have shown highest percentage growth in page views since September 2012.
In absolute numbers Bengali Wikipedia has seen a spectacular growth of 3,000,000 page-views, Tamil and Malayalam Wikipedias witnessed a growth of about 927,150 and 365,913 a page-views respectively.
Based on the the absolute numbers of "Page Views" for Indian Wikipedias it could be speculated that there is a significant increase in demand for knowledge and information in Indian languages on the internet.
In the below given Graph 5, we have also looked at the direct impact the A2K programme had in cultivating new editors on Indian language Wikipedias through various outreach programs that conducted during September 2012 to June 2013.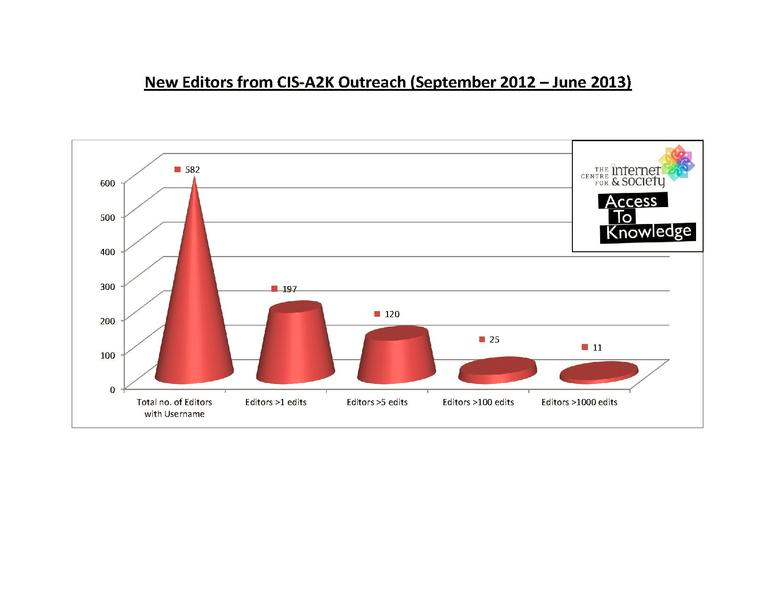 Graph 5: New Editors from CIS-A2K Outreach September 2012-June 2013
It should be noted that during the 10 month period CIS-A2K reached out to a total of 1,314 participants. This is approximate 130 people per month. However, the username data for more than 700 participants could not be ascertained, due to incorrect inefficient data collection and input. This includes participants giving wrong usernames, trouble with the handwriting of some of the participants, etc. We have already taken note of this issue and have put in measures to efficiently capture the new user data. Hence, we have only presented an analysis of 582 participants, whose usernames are valid.
The analysis of this data reveals that more than 120 users have done more than 5 edits, which is about 21 per cent of the participants with valid usernames. Further, 25 participants have done more than 100 edits on English and various Indian language Wikipedias, which constitutes 4 per cent of the total participants that the A2K programme has reached out to. Further 11 users have become very active editors on Indian language Wikipedias with more than 1000 edits to their credit.
Section C: Learning and Challenges
Outreach
One of the biggest constraints with the existing outreach efforts across India including that of CIS-A2K's is that they are all based on light-touch model. We have learned that a light touch outreach with no follow up, no hand-holding, no support system will not be able to yield desired results. We need to have a thoroughly thought out well-designed outreach programs where there should be continuous interaction with the participants for a minimum of 2-3 months. CIS-A2K approach to outreach should be different from usual Wikipedia editing training. Further, any outreach with an educational institution on the lines of a "Wikipedia Education Program" requires at least 3-4 months commitment from everyone concerned (i.e. student, institution, community and CISA2K).
This in no way means diminish the importance of the light-touch model of 1/2 or 1 day Wikipedia editing training workshops, as seldom you get institutions/groups who are willing to commit to a long-term engagement. Thus a mixed approach is more pragmatic, while more energies need to put in long-term engagements.

There is a strand of criticism about effectiveness of physical outreach in general. However physical outreach for Indian languages is extremely essential as this is the lead exercise by which language communities have strengthened themselves over the years, though this has been very slow. The need to involve human element, face-to-face interaction and two-way communication is an extremely important factor of for growth of Indian language communities.

The need for each language community is different with respect to outreach. There are some communities that are more comfortable with conducting physical outreach while other communities are more efficient with outreach on social networking sites. For instance the Odia Wikipedia community where the average age of the active members is less than 25 is more active on Social Media and extensively uses it to network among themselves and to also discuss about the Wikipedia, whereas the Telugu Wikipedia is more comfortable with physical meetings and primarily uses Village Pump for all community discussions.

Based on the interaction with most of the Indian language Wikimedia communities, CIS-A2K noticed that except for some communities like Malayalam, an institutional partnership is something that might not be easily taken up by community members. This is so because it requires high level of effort, time and strong network, amongst several other things. CIS-A2K has been focusing to address this need in general and in the five focus language areas in particular.
Work Plan Development and Community Communications
Even after sending multiple invitations, it took a lot of effort by CIS-A2K to encourage the larger community to engage and participate actively in the development of language focused work plan. CIS-A2K put its best efforts in inviting the community members through meta pages, village pumps, language and city-wide mailing lists, Indian mailing list, India English mailing list, meet-ups, IRCs, social-media channels to give their valuable suggestions and feedback. However, very few community members showed interest and helped in refining the plans. Better feedback could be gathered during physical and informal meetings with the community members.
Less than 10% active volunteers across all Indian language communities are active on Meta and even less on Indian mailing lists. During some informal conversations some community members expressed that it is too much of an additional burden to also visit Meta and engage. Taking into consideration that most of the language communities have less than 20 active volunteers, pragmatically speaking it is a huge ask to expect them to actively participate on Meta or mailing lists. Thus one cannot have a uniform standard and uniform mode of communication with different language communities. Thus CIS-A2K needs to explore various means of engaging with the Wikimedia community in India and should adopt a mixed channel approach of gauging community feedback. Though this is requires additional efforts on the team.
The mediums listed show a significant effort was made to solicit feedback and participation. It's okay and understandable that strategic planning is not for everyone, that volunteers economize their time devoted to the movement. So CIS-A2K does not necessarily see it as a failure that participation was low. What CIS-A2K aimed to do was to make sure participation was solicited, encouraged, and made possible. Of course ideally we would want higher participation, but CIS-A2K is careful not to confuse and turn higher participation in strategizing into a goal in itself.
In spite of this CIS-A2K took the risk and went ahead with a participatory and continuous mode of evaluation. We foresee a challenge in actively involving the community in quarterly evaluation cycles as this would require them also to introspect. In the five focus language communities such an introspection exercise was not done systematically before and a mandatory imposition may not be productive either for the Community or for CIS-A2K. The challenge would be that in the first 2 quarterly cycles CIS-A2K could miss meeting its own evaluation criteria. However, the opportunity here is to train the community to systematically introspect, which will go a long way in strengthening the Indian language Wikipedias and the associated communities.
Some programs, especially institutional partnerships, have a higher risk of failure than others. Though CIS-A2K committed to a very granular break-down of outcomes, it may require significant revisions. Hence it is extremely important for CIS-A2K to review and revise the plans and goals every 3-4 months.
Community Engagement/Development
Indian language communities are able to grow and cultivate new editors who come from similar background as their's. For example, we find that the Telugu community comprises primarily in the age group of 30-50 years, while on the other hand, the Odia community consists of relatively younger editors between the age group of 20-30 years. Hence, it is essential that the community building programs take this aspect into consideration and work to diversify the community mix by engaging with people belonging to varied backgrounds.
Transparency and accountability are essential to build community trust. CIS-A2K has already taken various measures in this direction. However, there are occasions when more demands are placed on CIS-A2K, which consumes a lot of CIS-A2K's time and effort. The challenge is to struck a balance between the demands of transparency and accountability and the actual work they describe.
Meetups, one-on-one meetings/talk with community members are an essential ingredient to build long-term relationship. This is especially very important for nascent language communities with few editors. These kind of personal interactions help community members to know and connect with other Wikipedians. It also helps build trust and working relationship between community members and the A2K team.
CIS-A2K recognizes the potential role of Wikimedia India Chapter in growing the Wikimedia movement in India. Though CIS-A2K's work doesn't depend on the India Chapter, there is a huge potential for collaboration between the Wikimedia India Chapter and CIS-A2K. CIS-A2K has put in its best efforts to build a cordial working relationship with the India Chapter. However, the extent of the collaboration would depend on the India Chapter's capacity and interest.
Section D: Progress Report
A detailed progress report of the A2K program activities has been presented on a monthly basis below. Most of the activities have been documented as blog posts or news-items on the CIS website. All of the A2K events, blog-posts and news-items can be seen here.
Outreach Sessions in September 2012
Note: Although most of these workshops were conducted prior to the grant period, the reports for all of these were written during September 2012:
Outreach Sessions in October 2012
Outreach Sessions in November 2012
Odia Wikipedia Workshop at AML (Academy of Media Learning, Bhubaneswar, November 10, 2012). Odia Wikipedians like Ansuman Giri, Manoranjan Behera and Diptiman Panigrahi participated in this event.
Follow up to Wikipedia Introductory Session (Bharati Vidyapeeth, Delhi, November 19, 2012). A Wikipedia introductory session was organised at Bharati Vidyapeeth Engineering College in Delhi early this year and a follow up session was organised by CIS on November 19, 2012. About 15 participants attended the follow up session.
An Odia Wikipedia Workshop at KMBB (co-organized with CIS and with Odia Wikipedians, KMBB College, Bhubaneswar November 18, 2012). The agenda for the two-and-a-half hour session was to educate students about open source movement, journey of Wikipedia and how to contribute to Odia Wikipedia and how it would help them. Nine active Odia Wikipedians joined to support this event.
Outreach Sessions in December 2012
Outreach Session in January 2013
A Wiki Workshop at Raj Kumar Goel Institute of Technology, Ghaziabad (RKGIT, Ghaziabad, January 17, 2013). Around 65 mechanical engineering students from second and third year participated in this workshop.
Outreach Session in February 2013
Digital Literacy Workshop at Department of Arts, Delhi University (University of Delhi, February 5, 2013). A digital literacy workshop was organised at the Department of Arts, Delhi University for students pursuing their masters in Modern Indian Languages and Literary Studies on February 5, 2013. About 30 students and 4 faculty members attended the workshop.
Outreach Sessions in March 2013
Introductory Wikipedia session at BITS Goa (organised by CIS, Birla Institute of Technology & Science, Pilani, Goa, March 7, 2013). The Access to Knowledge team was invited by Nikhil Dixit, Public Relations Officer at the Birla Institute of Technology & Science, Pilani – Goa (BITS Goa) to organise Wikipedia session on March 7, 2013. About 30 people participated in the event.
Telugu Wikipedia Training Workshop on Women's Day (organised by CIS, Theatre Outreach Unit, University of Hyderabad, Hyderabad, March 8, 2013). Telugu Wikipedians Dr. Rajasekhar and Rahmanuddin alongwith T. Vishnu Vardhan led this event.
Wikipedia Workshop for Kannada Science Writers (organised by Wikimedia India Chapter, Karnataka Rajya Vijnana Parishath and CIS, Karnataka Rajya Vijnana Parishath Conference Hall, Banashankari 2nd Stage, Bangalore, March 17, 2013). Dr. U.B. Pavanaja led the event.
Kannada Wikipedia Workshop (organised by CIS, Institution of Engineers, JLB Road, Mysore, March 24, 2013). Dr. U.B. Pavanaja led this workshop.
Wikipedia Indian Languages Workshop at IIT, Bombay (organised by CIS, IIT Mumbai, March 28, 2013). Noopur Raval led the event.
Outreach Sessions in April 2013
Outreach Sessions in May 2013
Wikipedia workshop (May 8, 2013, TISS, Mumbai). T. Vishnu Vardhan conducted the workshop to the students of Post Graduate Diploma in Community Media. A total of 14 students and 1 teacher attended this multi-lingual Wikipedia training workshop.
Outreach Sessions in June 2013
Kannada Wikipedia Workshop (June 4, 2013, Ramakrishna Vidyalaya, Hassan). Dr. U.B. Pavanaja led the workshop and gave a talk on Kannada Wikipedia.
Wikipedia workshop (June 10, 2013, Internet Institute, Palm Grove, Bangalore). T. Vishnu Vardhan conducted the workshop. This orientation workshop on Wikipedia was attended by representatives from about 25 Civil Society organizations across India. This was followed up by a hands-on Wikipedia training workshop.
Kannada Wikipedia workshop for bloggers (June 24, 2013, Suchitra, Bangalore). Dr U.B. Pavanaja conducted the workshop and gave a presentation on Kannada Wikipedia.
Education Programme Updates
Hackathons
Wikipedia Hackathon at BITS Hyderabad (organized by CIS - A2K team and BITS-Pilani, Hyderabad, October 26 – 27, 2012).
A Wikipedia Mini-hackathon in Delhi (CIS, New Delhi, November 11, 2012)
Meetups
Celebration and Events
ଓଡ଼ିଶାନ୍: ଓଡ଼ିଆ ଉଇକିପିଡ଼ିଆର ନବମ ଜନ୍ମତିଥି ଅବସରରେ କର୍ମଶାଳା: ଇମିଡ଼ିଆରେ ଓଡ଼ିଆ ଭାଷାର ପ୍ର‌ୟୋଗ, ସମ୍ବାଦ: ଲିପି ବ୍ୟାକରଣ ଓ ମାନକ ଭାଷାର ପ୍ରୟୋଗ ଜରୁରୀ

,

eindiadiary.com: Odisha: Workshop organized on 9th Anniversary of Odia language: Application of Odia language in e-media,
Indiaeducationdiary.in: Odisha: Workshop organized on 9th Anniversary of Odia language: Application of Odia language in e-media
Wikipedia Women's Workshop in Mumbai (by Noopur Raval, Vidyalankar Institute of Technology, Wadala, Mumbai, November 4, 2012).

Wiki Women's Day in Goa (organised by the Wikimedia India Chapter and CIS, Nirmala Institute of Education, Panaji, Goa, March 8, 2013). The workshop was organised on International Women's Day. Rohini Lakshane and Nitika Tandon led the workshop.

Telugu Wiki Mahotsavam 2013 (organised by Telugu Wikipedia Community and CIS, Hyderabad, April 9 – 11, 2013). T. Vishnu Vardhan was one of the trainers at the Wikipedia Academy at Centre for Good Governance on April 9, 2013. Vishnu Vardhan spoke about the Access to Knowledge work in one of the sessions of Wikimedia. Meeting with Media Heads on April 10, 2013. Vishnu Vardhan gave a talk on A2K's plans for the growth of Telegu Wikipedia in 2013-14 at the Telegu Wikipedia general meeting on April 11, 2013. Vishnu Vardhan also gave a talk about Access to Knowledge in the digital era at the Wiki Chaitanya Vedika on April 11, 2013.
Events Participated In
Section E: Indic Wikipedia Visualisation Project
Given above is a chart depicting the visualization of Indic Wikipedia project
CIS hired Sumandro Chattapadhyay and Sajjad Anwar to work on visualisation of the growth of Indic Wikipedia. Their project takes basic parameters, like page views, total articles and total editors, and compares them over time and across projects:
They have looked into the different aspects of the past and present activities of Indic Wikipedias, and divided the visualisation into three different focus areas:


Basic parameters

Geographic patterns of edits
Exploring topics that receive greatest number of edits. You can read more about Indic Wikipedia Visualisation Project #1: Visualising Basic Parameters

They also worked on visualisation of the page views statistics and the project specific pages. The page views indicate the number of unique visits Wikipedia project concerned has received in one month. You can read more about Indic Wikipedia Visualisation Project #2: Visualising Page Views and Project Pages

Readership Dashboard: The Readership Dashboard combines a line graph showing the movement of page view for a project across the years and bar graphs showing a separate variable for the same project.

Motion Charts: The motion charts help compare Indic Wikipedia Projects across Languages on various parameters such as new editors, new articles, active editors, total editors etc.

Calendar Charts: The calendar charts limits each chart section to 12 months allowing the user to focus on more granular movements of the variable concerned, say the number of new editors per month or page views per month, etc.
Section F: The Access to Knowledge Work Plan (2013 – 2014)
The Access to Knowledge team assessed 12 of the active Indic-language communities based on the community dynamics, growth patterns in readership, and community and edit contribution for drafting this work plan. In putting together this work plan the Access to Knowledge team has extensively engaged with various stakeholders. These include: a) some Wikimedia community in India members across various Indian-language Wikimedia projects; b) some English-language Wikimedia community members from India; c) Wikimedia India chapter executive committee; d) some potential institutional partners; e) a few like-minded advocates of free knowledge; f) Access to Knowledge program Adviser Dr. Tejaswini Niranjana; and g) a few of the Wikimedia Foundation staff. Five languages were selected as core language areas. These include: Bengali, Kannada, Konkani, Odia and Telegu. Some key factors that determined the selection of languages areas included:
The Access to Knowledge team's existing ties with knowledge institutions, groups and individuals.
Willingness of language community to interact and engage with the Access to Knowledge team.
Considering Wikimedia India Chapter EC's suggestion that Access to Knowledge team should work on at least one incubation project.
Access to Knowledge team's familiarity with the languages.
However, choosing these five languages do not necessarily mean that the A2K program would not focus on the other languages rather there would be more programmatic support and organizational ties to be built.
Language Area Work Plans
The language area work plans are linked to the individual meta-pages:
The expected and dream targets for the languages are shown below:
Expected and dream targets for languages
Parameters
Telugu
Odia
Kannada
Bengali
Konkani
Expected target
Dream target
Expected target
Dream target
Expected target
Dream target
Expected target
Dream target
Target
No. of Editors
755
905
120
350
600
1000
930
1200
NA
No. of New editors    

200
350
35
100
300
700
30
100
24
No. of Acitve editors
25
40
20
40
50
70
100
150
NA
No. of Aritcles
54000
55000
5000
6000
25000
30000
27000
28000
500
No. of Outreach Events    

29
34
12
15
12
20
5
15
12
The detailed plan with projection of outcomes and expected impact of the A2K program activities could be accessed here.
Overall Community Support
Besides the specific programs mentioned under individual language area plans, A2K team will provide overall support to all Indian-language Wikipedia communities. This includes but is not limited to:

Creating awareness through online editing videos, editing guides and digital coverage all in local Indian languages.
Supporting outreach activities
Capacity building to multiply outreach efforts. This would include training sessions to improve presentation skills, audience engagement skills with mock presentations and video recording for feedback. The first Train-the-Trainer program is being planned in June.
Facilitate more qualitative interactions amongst community members with an aim to foster creation of new project ideas in the form of physical meet-ups, hangouts/Skype calls, and small/large scale conferences.
Organize language specific IRCs where community members from that specific language could discuss their plans, issues, concerns, and anything at all.
Encourage community members to share feedback, suggestions or details of any kind of support on A2K's Meta help page.
Supporting communities for bug reporting and following up for resolution. A detailed overall community support page can be found here.
Section G: Team Orientation and Development
Team's Professional Development
A one-day orientation was organized in CIS where Wikimedia board members Bishakha Datta and Achal Prabhala helped the Access to Knowledge team members to develop an agenda for a period of 6-7 months. They helped team members to find overlaps, prioritise and recognize possibilities to make best use of available resources. The board members also shared learnings, principles and concepts from other movements that could be applied to the Access to Knowledge program.
A one-day orientation program was organized with Wikimedia India Chapter Executive Committee Members to find common minimum program on which both the Chapter and the Access to Knowledge team could work together to achieve common objectives. The orientation also helped define overlapping areas and how the two oragnisations will handle them.
A one-day orientation program was organised with Wikimedia community in India Members such as Tinu Cherian who gave a talk on how to leverage mainstream and social media; Gautam John who organized a workshop on organisational procedures for greater transparency and accountability, and Arun Ramarathnam who spoke about best practices for working with Wikipedia community. This orientation was organized as a part of training and skill development for the Access to Knowledge team members.
Since March 2013 CIS-A2K started having weekly Team Learning Sessions on every Wednesday. However, given the hectic schedules of the Team these could not be organized in a regular manner.
Exits and New Hires
CIS has an office in New Delhi with a five-member team for the Access to Knowledge program. The team is currently headed by T. Vishnu Vardhan, Program Director (Access to Knowledge). Other team members include Tejaswini Niranjana (Distinguished Fellow), Dr. U.B. Pavanaja (Program Officer, Indian Language Initiatives), Nitika Tandon (Program Manager) and Subhashish Panigrahi (Program Officer).
| | |
| --- | --- |
| | T. Vishnu Vardhan: Vishnu Vardhan was hired as the new program Director-Access to Knowledge at CIS. Vishnu Vardhan has over the last 11 years worked in various capacities as researcher, grant manager, teacher, project consultant, information architect and translator. Vishnu Vardhan managed the Art, Crafts and Culture portfolio of Sir Ratan Tata Trust and also worked as Research Coordinator at the Centre for the Study of Culture and Society in Bangalore. |
| | Dr. U.B. Pavanaja joined the team as program Officer, India Language Initiatives on March 4, 2013. Dr. Pavanaja holds a Master's degree from Mysore University and Ph.D. from Mumbai University. He was a scientist at Bhabha Atomic Research Centre, Mumbai, for about 15 years. He is one of the earliest editors of Kannada Wikipedia. He has to his credit many firsts, viz., first Kannada website, first Kannada online magazine, first Indian language (Kannada) website to receive Golden Web Award, first Indian language (Kannada) editor for Palm OS, first Indian language (Kannada) editor for WinCE device (HP Jornado 720), first Indian language version (Kannada) of universally popular Logo (programming language for children) software, etc. |
| | Tejaswini Niranjana is a Senior Fellow at the Centre for the Study of Culture and Society (CSCS), Bangalore, and Visiting Professor at Tata Institute of Social Sciences (TISS), Mumbai joined A2K as an Adviser. She guides the Access to Knowledge team in expanding the Indian language Wikipedias and helps in increasing the number of active editors through strategic partnerships with Higher Education institutions across India. |
The following staff left the organisation:
Shiju Alex, Program Manager, Access to Knowledge left the organization on November 16, 2012.
Noopur Raval, Program Officer, Access to Knowledge left the organization on April 24, 2013.
Section H: Additional Links and Data
Blog Entries
Press Coverage
Newsletters
The following newsletters have been published:
Talk @ CIS
Section I: Budget Utilization
Currency in INR
2012-13
(Per month)
1st Year
(10 months)
Budget Utilization
(Sept. 2012 to June 2013)
People
Prg. Manager
1,17,000
1,170,000
1,170,000
Prg. Officer
58,800
5,88,000
580,000
Prg. Officer
1,44,000
14,40,000
1,008,000
Communications role
60,000
6,00,000
2,20,000
New Prg. Director
2,00,000
2,000,000
1,000,000
Consultant
34,500
3,45,000
2,76,000
Benefits – All
6,250
62,500
0
Staff costs
6,20,550
6,205,500
4,262,000
Rent
47,300
4,73,000
5,70,000
Janitorial
2,750
27,500
48,634
Utilities
7,500
75,000
61,836
Telephone
4,000
40,000
47,819
Office pantry
5,000
50,000
38,765
Office space
66,550
6,65,500
7,67,054
Travel
SF travel
77,726
7,77,257
1,81,887
Wikimania travel
0
0
0
Domestic travel
1,10,000
1,100,000
1,373,469
Travel
1,87,726
1,877,257
1,555,356
Printed materials
50,000
5,00,000
38,800
Design, Creative
55,000
5,50,000
1,25,400
Volunteer development
50,000
500,000
0
Postage & Mailing
2,500
25,000
5,800
Office supplies
7,500
75,000
50,192
General expenses
1,65,000
1,650,000
2,20,192
Total before fees
1,039,826
10,398,257
6,804,602
Admin fee
51,991
5,19,913
5,19,913
Program fee
51,991
5,19,913
5,19,913
Total
1,143,808
11,438,082
7,844,428
Notes:
The above table gives a picture of the A2K program budget utilization (un-audited) for the period Sept. 2012 to June 2013. Thus it is important that these figures be read as provisional figures, which could change post the statutory audit as per the Indian laws binding a Registered Society.
Approximately there is a 31% underspending of the Budget during the ten month period. This is mainly because of the transition of the program to CIS took sometime along with delays in the recruitment of the New Program Director. CIS-A2K has requested the WMF for a reallocation of the Budget since then.
Footnotes
[1]. Independent Report from Tory Read on India Education Program
[2]. Death and Post-mortem of Indian Education Program pilot. Wikimedia-India Mail archive
[3]. Most recent updates on the hiring of the Programme Director for the A2K programme. Wikimedia-India mail archive
[4]. The Access to Knowledge - Bulletin - January '13
[5]. Indic Wikipedia Visualisation Project #1: Visualising Basic Parameters
[6]. Indic Wikipedia Visualisation Project #2: Visualising Page Views and Project Pages
[7]. CIS-A2K Work Plan (Draft). Wikimedia-India mail archive
[8]. CIS-A2K Budget, Utilization Report and proposed revision. Wikimedia-India mail archive