Wikipedia comes to Hyderabad!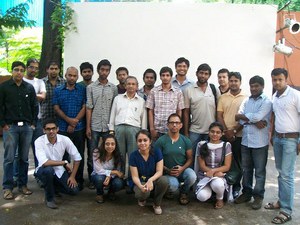 Photo curtsey: Anudeep Sai N
This post is a report on the series of Wikipedia meets organized in the city of Hyderabad on September 29-30, 2012. These workshops were a a part of the larger effort to help Wikipedia contributors in the same city to meet each other and strengthen the local community.
The city of Hyderabad is not only an IT hub but also home to many English and Indian language Wikipedians. In a recent series of weekend workshops and meet-ups conducted within the city, I had the opportunity to interact with many of them. We conducted a Wikipedia workshop at BITS-Pilani, Hyderabad, an Odia Wikipedia workshop as well as a general Wikipedia workshop for people interested in contributing to all language Wikipedias. I would like to convey my gratitude to the Computer Science department students at BITS, Hyderabad, Odia Wikipedians Swetapadma and Amaresh and English Wikipedians Tausif and Abhijith for making these events happen despite festivities and protests in the city.
To provide a brief report on the events, the BITS-Pilani, Hyderabad workshop was organized as a general introduction to Wikipedia. The event was organized with the support of the Computer Science department at the college and saw a presence of more than 60 students. It was 2 hour session where 6 students created their Wikipedia user accounts and entered their names on the BITS project page. They were also shown how Wikis work – live and global.
Students were encouraged to make changes to their college article and they discovered how to view recent changes, page views and other functions. It was a particularly informative session because majority of the group did not know that Wikipedia articles are written by common people from all walks of life! The session ended with a proposal to start a Wiki club for their college. The Odia Wikipedia meetup organized on the same day registered 11 participants while the general meetup on the next day had over 20 participants. In all three workshops, the majority of participants were not aware how one could contribute to Wikipedia articles.
Next steps:
It was great to see existing Wikipedians discuss the idea of having a Hyderabad SIG (special interest group) to conduct regular meetings, workshops, photo walks and more! Since the participants have shared their email-IDs, we will stay in touch and inform them about upcoming Telugu and English editing workshops. Students at BITS-Pilani, Hyderabad have also requested a Wikipedia workshop and hackathon for their upcoming techfest this month. A Telugu Wikipedia workshop has been proposed for the second week of October.
---
For more information on how to conduct a Wikipedia workshop in your city, you could contact [email protected]
---
There was newspaper coverage about this event:
Wiki Meetup, Hindu, September 28, 2012
The views and opinions expressed on this page are those of their individual authors. Unless the opposite is explicitly stated, or unless the opposite may be reasonably inferred, CIS does not subscribe to these views and opinions which belong to their individual authors. CIS does not accept any responsibility, legal or otherwise, for the views and opinions of these individual authors. For an official statement from CIS on a particular issue, please contact us directly.