First Odia Wikipedia Education Program concludes at IIMC, Dhenkanal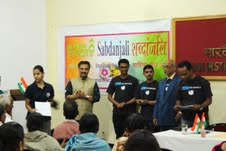 Participants of the Odia Wikipedia Education Program at IIMC, Dhenkanal
The first Odia Wikipedia Education program ended yesterday at Indian Institute of Mass Communication (IIMC), Dhenkanal with distribution of certificates to the participants.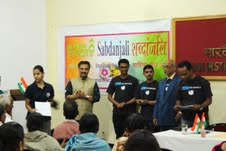 Participants of the Odia Wikipedia Education Program at IIMC, Dhenkanal
---
This report by OdishaDiary bureau, Dhenkanal was published on Sunday, January 27, 2013.
---
Odia Wikipedia (or.wikipedia.org) is a free online encyclopedia in Odia language which everyone can edit. It is an open source project and the content is available online for free. This three month education program included three workshops to educate students of IIMC about typing in Odia, collecting sources to write articles, writing the articles on Odia Wikipedia and then geting them evaluated by faculty members and wikipedians.
The program was initiated in November and run until January end. During this time 16 students took part and wrote about 12 articles on various topics, starting from the articles of local importance to eminent personalities.
We are very keen on getting more students on board to edit Wikipedia which they read and use everyday. This could be one opportunity for them to showcase their writing abilities and documentation skill. I'd like to invite the Wikipedia team to help us install Odia Unicode fonts and continue such a program for the students again", says Professor Mrinal Chatterjee.
This program was supported by Centre for Internet and Society, a grantee of Wikimedia Foundation.
"This was the first pilot Education Program ever done for Odia Wikipedia and I'm overwhelmed with the kind of support from the college faculty and the enthusiasm of the students will bring us back soon," expresses Subhashish Panigrahi, Programme Officer , Centre for Internet and Society. "This was a great learning experience for us and I'd surely continue contributing to Odia Wikipedia. Had it been little longer I could have contributed more on Mass Communication and Journalism.
Odia Wikipedian Mrutyunjya Kar who took a central part in organizing the project and conducting workshops in the institute calls it a great start and a stepping stone for a long term program. Odia Wikipedians Manoranjan Behera, Srikant Kedia and Dr. Subas Rout were part of the education programme as resource persons.