Odia Wikipedia - Cuttack Community Meetup (March 16, 2013)
A meetup of Odia wikipedians was organised by the Access to Knowledge team of the Centre for Internet and Society and the Odia wikipedia community on March 16, 2013. Vishnu Vardhan and Subhashish Panigrahi participated in the meetup.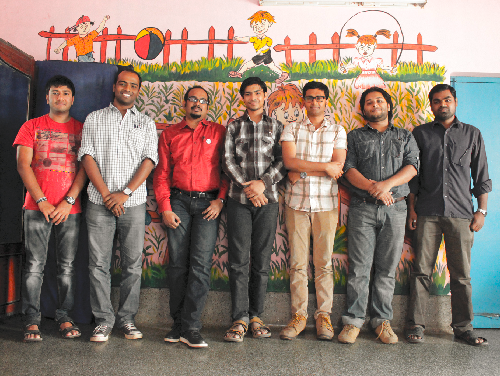 Participants from the Wikipedia meetup held on March 16, 2013
Recently Centre for Internet and Society's Access To Knowledge Programme members T. Vishnu Vardhan and Subhashish Panigrahi met Odia Wikipedians in Cuttack to discuss about the current state of Odia Wikipedia and understand the community building strategies. Five active wikipedians from Cuttack and one from Bhubaneswar joined and discussed about various challenges the community is facing. New project ideas were discussed. Wikipedians also shared their stories and motivation. A new project on articles about the Villages, Pachayats, Blocks of Odisha was decided to be rolled as a key project on this day.
The views and opinions expressed on this page are those of their individual authors. Unless the opposite is explicitly stated, or unless the opposite may be reasonably inferred, CIS does not subscribe to these views and opinions which belong to their individual authors. CIS does not accept any responsibility, legal or otherwise, for the views and opinions of these individual authors. For an official statement from CIS on a particular issue, please contact us directly.