A 'Kannada' Wikipedia Workshop for Bloggers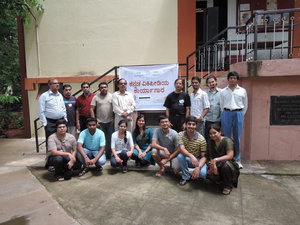 Participants of the Kannada Wikipedia workshop for bloggers
On Sunday, June 23, 2013, a day-long Kannada Wikipedia workshop was conducted at Suchitra, Bengaluru for Kannada bloggers by the Centre for Internet and Society's Access to Knowledge (CIS-A2K) team. This blog post gives a report on the workshop.
There was a demand from Kannada bloggers that they need some orientation on editing Kannada Wikipedia. There were informal talks on this since the last 2-3 months on when and how the event should be organised. CIS-A2K collaborated with Suchitra Film and Cultural Society, Bengaluru and Avadhi. G N Mohan of Avadhi and Prakash Belavadi of Suchitra helped in getting the conference room of Suchitra available for the workshop.
Announcement was made in the KannadaWikipedia group of Facebook. This group has more than 2000 members. One member even sent a message questioning the wisdom of inviting everyone for the workshop. He asked, "can we accommodate all the people if they turn up?" However, I was quite sure that not more than 25 will turn up. The reason being the condition that participants should come with their own laptops and internet connections. As the workshop date neared, more and more people began registering for participation. The number reached 56 on the previous night. I sent a message requesting people to reconfirm the participation as the conference room could accommodate 25 people only. Few people withdrew and only 13 persons reconfirmed.
June 23, being a Sunday, the personnel at Suchitra came to open the room only at 9.50 a.m. Myself and some participants were there at 9.20 a.m. itself. Once everyone settled down, there was an issue with the projector. My ultrabook has only a mini HDMI port. I keep an HDMI-to-VGA converter and have been using it from the last 2-3 workshops. It worked well at those places. But on June 23, it refused to work. I then exchanged my ultrabook with another participant and the presentation and workshop begun. I had sent some tutorial files to all those who confirmed participation. All of them came and surprisingly, there were two more participants, who hadn't confirmed their participation. That accelerated the participation by them. This itself was very encouraging. That means the participants who came that day were really serious of editing Wikipedia.
The workshop was conducted intermixing presentation and hands-on. By evening everyone had learnt how to edit Wikipedia, how to create headings, sub-headings, bulleted lists, text, numbered text, how to insert Wiki links as well as external links, etc. People picked up inserting reference as well quite quickly. Since majority of them were bloggers, they already knew the concepts but wanted to know the Wiki syntax which they picked up by the end of the workshop.
Harish M G, who is an admin with Kannada Wikipedia joined the workshop and helped in clearing many advanced doubts.
The result of the workshop is quite encouraging. Most of them have added contents and edited some existing pages as well. Thanks are due to Suchitra for sponsoring the venue and to Avadhi for co-organising this event.
Additional photos are here - https://commons.wikimedia.org/wiki/Category:Kannada_Wikipedia_workshop_for_bloggers_at_Suchitra
The views and opinions expressed on this page are those of their individual authors. Unless the opposite is explicitly stated, or unless the opposite may be reasonably inferred, CIS does not subscribe to these views and opinions which belong to their individual authors. CIS does not accept any responsibility, legal or otherwise, for the views and opinions of these individual authors. For an official statement from CIS on a particular issue, please contact us directly.