Malayalam Wikipedia Education Program: August to October Updates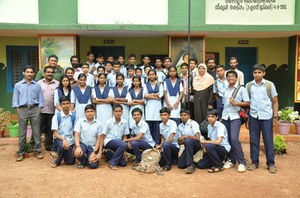 Given here is a picture of new student Malayalam wikipedians with other community members
Three months back, I wrote a blog post (http://blog.wikimedia.org/2012/07/06/wikipedia-education-a-model-from-malayalam-wikipedia/) about the inauguration of the Wikipedia education program in Malayalam Wikipedia. This program is the first of its kind in an Indic language, and Malayalam community is doing the program in collaboration with the IT@School, a project of the Department of General Education, Government of Kerala, setup in 2001, to foster the IT education in schools.
Three months have passed since the last report in English (regular updates in Malayalam) about the program have been shared with the Malayalam wiki community during this period. Here is a brief update about this ongoing program. The July report was mainly about the inauguration of the project in the Government Higher Secondary School, Anchal West, Kollam, and a few details about the plans of the community regarding this project.
The Wikipedia education program was inaugurated by the IT@School director, Abdul Nasar Kaipanchery on July 14, 2012. After two weeks, we conducted a Malayalam Wikipedia introduction workshop for the students and teachers of Anchal West School. Almost 150 participants including students and teachers attended this workshop. After the workshop students were asked to write an article (on paper in Malayalam) about any topic related to Anchal and submit it to the education program coordinator, Sateesh R. Veliyam, a teacher in that school. Satheesh is also a Malayalam wikipedian. Students were given three weeks to submit the article on paper. Nearly 100 students submitted the articles and the project coordinator (with inputs from other Malayalam Wikipedia community members) shortlisted 34 students for the Wikipedia education program. The selection of the students for this program was based on their writing skills in Malayalam, the interest in this voluntary project, and other skills needed for this time bound Wikipedia education project.
A meeting was conducted with the selected students on August 9 in the school computer lab. As Malayalam Wikipedians knew that the major roadblock for students to start wiki editing in Malayalam would be Malayalam typing (in fact this is the case with all Indic languages) we decided to teach Malayalam typing to students on a priority basis. A printout of the Malayalam Inscript layout was given to the students. The Inscript layout was selected because that is part of the syllabus in Kerala. Students were asked to practice Malayalam typing and learn it within the next two months. From that day onwards students were practising Malayalam typing at school and making a steady progress.
Some recent developments are listed below:
September 8
Students are back to school after the Onam vacation. The progress on their Malayalam typing is evaluated. Malayalam Wikipedians, Kannan Shanmugham and Sugeesh visited students and addressed them. They discussed the potential articles that could be created as part of this project. They also helped few students to create their user names in Malayalam Wikipedia. After addressing the students they also visited some famous people in Anchal, other places, and some organizations to collect reference books and other information related to this project. The collection of reference materials from library, personal collections, and from panchayat office is vital for this project as these are the only places from where we can get any reliable information regarding the different topics that students plan to write.
October 1
As Malayalam typing and the collection of information and reference materials were in progress we received an important book authored by Dr. P. Vinayachandran which had a lot of information about Anchal. Students who achieved a minimum level of expertise in Malayalam typing and those who had created user accounts started editing in Wikipedia. On October 1, four new articles were created by the students who had learned Malayalam typing.
October 12
Shiju Alex visited the school students to see the progress of the project, interacted with them, and welcomed them to Malayalam Wikipedia. Since all of them had acquired a minimum level of expertise in Malayalam typing, we decided to create usernames for all of them. So on that day we created accounts and user pages for all the 34 students who were included in the project.
October 13
All the students who were part of the project reached Kollam to participate in a one-day Malayalam Wikipedia editing workshop. The program started at 10 a.m. Malayalam wikipedians Binu, Sugeesh, Kannan Shanmugham, Ajay Balachandran, Akhil, and Shiju Alex participated in this workshop. It was organized to assist students in getting started with Malayalam Wikipedia, introduce them to basic wiki editing and other related stuff. Apart from providing support for all basic needs, students were also introduced to "talk pages" and the basic policies of Wikipedia which would help them to get started with the project. We finished this one-day workshop at 3.30 p.m. by taking a group photo. A detailed report (in Malayalam) regarding this one day workshop can be read from here.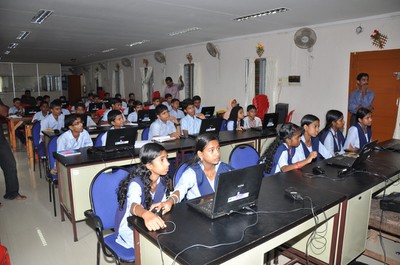 Students doing Malayalam wiki editing
October 14
Malayalam Wikipedians Sateesh, Sugeesh, Shiju, and our new wikipedian Anathu P. Sankar visited the Rehabilitation Plantation Limited [RPL] which is an important institution near Anchal and is one of the article being developed as part of this project. We met a few key people who provided some references about RPL. It was decided that students who were working on the articles related to RPL will visit again to collect more information about the project.
As of today some of the important progress  the main progress made on the project are is listed below:
All students have created their accounts.
All students have created their user pages.
Most students created or edited articles that they were planning to contribute.
Students with the help of their teacher, Satheesh continue collecting reference materials on topics they plan to write.
Students continue editing in Malayalam whenever they get access to computer and internet.
Some of the things that need to be kept in mind regarding this project are:
The project is done entirely on a voluntary basis. No separate time is allocated for students to participate in this project.
Thirty-four students are part of this and most of them are from ninth standard.
Out of the 34 students, 7 are  girl students.
Out of 34 students only 10 students have got computers at home.
Kerala schools are using free software for computers. They use a customized version of Ubuntu in computer labs. It is easy to configure Malayalam typing in that. Technically all 34 students need to depend on the five computers available (computers with internet facility) in the school computer lab to practice Malayalam typing, wiki editing, and do the other tasks related to the project. And the lack of regular access to computer and internet is affecting the smooth progress of the project.
As separate time is not allocated for this project, students who are part of this project are working on it either during intervals, lunch time, during early hours before the start of the school, or by staying late after the school working hours. Since we have only around five computers with internet in the school lab, students need to divide and share the timing among themselves. Many of them come to the school on Saturdays and Sundays to participate in the project.
Few important links related to this project:
The master project page of this program is available here.
The list of students participating in this program is available here
The list of articles that students started or enhancing as past of this project is available here
The progress report of the project in Malayalam is regularly updated here
---
We will keep you posted about the updates from this project as and when it happens. Malayalam community is planning to complete this project (student editing) by the third or fourth week of November.
Commenting has been disabled.
The views and opinions expressed on this page are those of their individual authors. Unless the opposite is explicitly stated, or unless the opposite may be reasonably inferred, CIS does not subscribe to these views and opinions which belong to their individual authors. CIS does not accept any responsibility, legal or otherwise, for the views and opinions of these individual authors. For an official statement from CIS on a particular issue, please contact us directly.