Fifty-fourth Bangalore Wikimedia Meet-up at IIM, Bangalore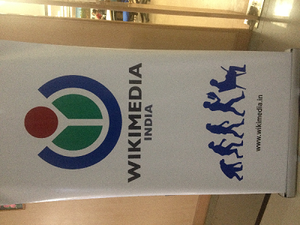 The 54th Wikimedia Meetup was held at IIM,Bangalore
The 54th Wikimedia meet-up in Bangalore was held at the Indian Institute of Management on February 25, 2013. The event was planned and organized by Radhakrishna Arvapally, SIG (Special Interest Group) Chair, Bangalore (a part of the Wikimedia India Chapter) with support from Solutions IQ, Wikimedia India Chapter and CIS.
The proposed agenda was as follows: an introduction to Wikimedia projects by Sudhanwa Jogalekar, President of Wikimedia India Chapter, a talk on accessibility and knowledge by T. Vishnu Vardhan, Programme Director, Access to Knowledge, followed by a session on WikiSpeed – extreme manufacturing of high speed cars by Joe Justice and Vibhu Srinivasan from Solutions IQ. Mr K S Viswanathan, Vice President (NASSCOM) was the chief guest. He spoke to the participants about the importance of developing a digital hub of free knowledge.
Sudhanwa gave a brief introduction to the world of Wikimedia including projects like Wikipedia, Wiktionary, Incubator, MediaWiki and more. He also explained how one could contribute to each of these projects. He mentioned two upcoming projects – Wikivoyage and Wikidata. He answered a few questions after his session and encouraged participants to become members of the Wikimedia India Chapter and get involved in Wikimedia activities in India. Here are the details to become a member.
Vishnu's talk was about understanding why Wikipedia and what is the importance of enabling access to knowledge resources. He took the example of older technologies and what propelled their invention. In the interactive session, we explored our relationship with knowledge resources, how happy we are with the knowledge we get and how we can make the access better and wider. The discussion also touched upon knowledge resources in Indian languages in the digital domain and the problems associated with them. Participants noted some challenges like affordability, awareness, fonts, low visibility in search etc. They also agreed that given the multilingualism, machine translations are not the solution to knowledge gaps in Indian languages in the digital domain. Another question was about awareness versus access to existing knowledge.
We also discussed how audio technologies could help the cause of Indian languages in education. Radhakrishna coordinated the sessions and answered questions related to content on Wikipedia, authenticity of knowledge on Wikipedia.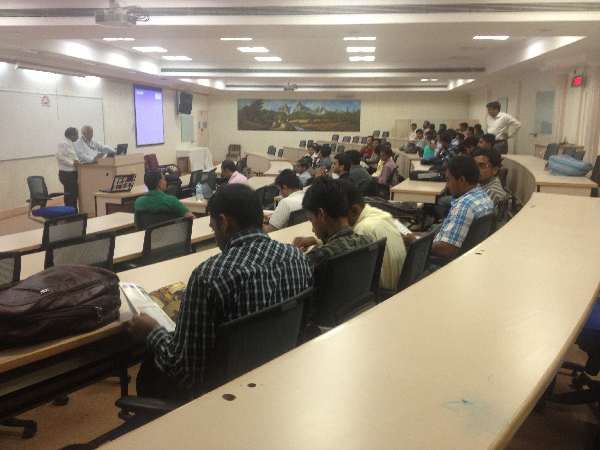 Participants seen in the classroom during the Wiki meetup at IIM, Bangalore
In the next session, Joe Justice and Vibhu Srinivasan spoke about WikiSpeed cars, a DIY project to make high-speed cars by harnessing work methods from the Open Source movement. Joe spoke of Kanban and agile engineering. He also explained how the car uses Arduino circuit boards and this project is being scaled so that people across the world can make functional cars collaboratively. He also invited the participants to WikiSpeed event in Bangalore.
Mr Viswanathan then spoke about TEQIP (Technical education and Skill Development Cycle), a program devised to ensure industry exposure and experience to students in technical fields. He also mentioned how the curriculum would be freely available online for all to use. Radhakrishna made the concluding remarks and thanked all the participants and guests for attending.
The meetup ended with questions and more interaction. Details of upcoming Wikimedia meetups in Bangalore can be found here.
The views and opinions expressed on this page are those of their individual authors. Unless the opposite is explicitly stated, or unless the opposite may be reasonably inferred, CIS does not subscribe to these views and opinions which belong to their individual authors. CIS does not accept any responsibility, legal or otherwise, for the views and opinions of these individual authors. For an official statement from CIS on a particular issue, please contact us directly.