Bridging Gender Gap in Pune: WikiWomenDay 2012 Celebrated with Success!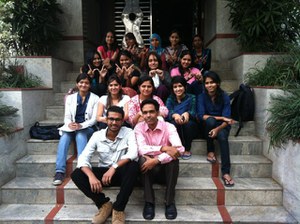 WikiWomenDay at Wikipedia Club Pune
A2K team members Subhashish Panigrahi and Noopur Raval participated in the "WikiWomenDay" organized by Wikipedia Club Pune at PAI International Learning Solutions, Azam Campus on October 28, 2012. Subhashish unfolds the happenings of this full day free fun workshop.
Globally participation of women on Wikipedia is less than 10 per cent. Women wikipedians across the world have joined hands to boost women's contribution to Wikipedia. Recently the A2K team was in Pune for the WikiWomenDay 2012. Wikipedia Club Pune, the first Wikipedia club in India, to encourage women's participation on Wikipedia, had organized a full day fun event on October 28, 2012 at PAI International Learning Solutions.
Abhishek Suryavanshi, founder of Wikipedia Club Pune briefed about the agenda of the event. Noopur spoke about the global contribution on Wikipedia in terms of various topics and how male-centered topics were well covered. Few of the male centric articles were taken up for comparison with those of women to make the audience understand the gap of contribution. A good majority of articles which were of interest to men were well written whereas women centric articles were of bad shape due to lack of contribution from women. A visual representation was shown to the participants to explain the statistical information about gender gap on Wikipedia. Apart from article contribution, male editors were found to be more social and discussed more on talk pages which also  bring more male editors on Wikipedia.
Participants were introduced to the basics of Wikipedia editing (five pillars, notability, importance of source of references, vandalism) before they were explained about actual editing. Each of the participants were provided with a computer and one of them was invited to create her user account.
Thereafter Abhishek demonstrated searching an article on Wikipedia and how logging in to Wikipedia allows editors to edit articles which are protected from editing by anyone. One of the logged in editors was asked to make a small edit on an article which surprised many of the participants. They realized that even they can make changes to the articles, for the first time in their life. Then there was a buzz about the credibility of the articles as they all saw that anyone can edit the articles. So the Wikipedia article on Pune was vandalized and Pune was made the capital of India for a few minutes! The page was refreshed after a while and reverted. This was clear enough to demonstrate how active the editor community is on Wikipedia.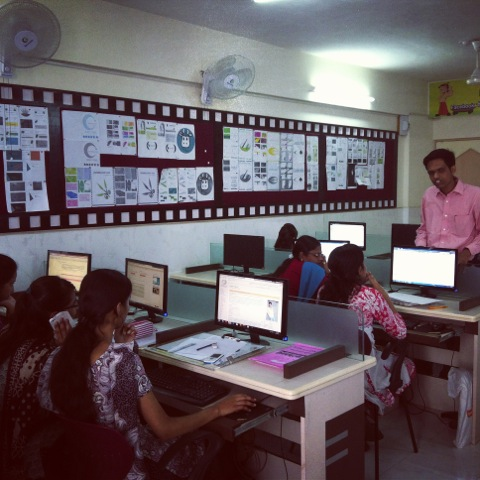 Abhishek Suryavanshi demonstrates wiki editing on WikiWomenDay 2012
Most of the errors and typos get corrected quickly as someone or the other notices that there is a mistake and correct it. However, there are many articles, especially articles of Indian context which still have wrong information because the number of Indian editors are less. A series of editing for various favourite articles chosen by new wikipedians opened up the window for them to understand how important their participation could be. Abhishek, Nikita, Noopur and Subhashish helped the editors with editing.
After engaging the editors for quite sometime with editing there was a fun quiz session to brush up what was taught. The participants were asked questions based on the previous session.
Winners of the quiz were awarded with Wikipedia stickers and badges.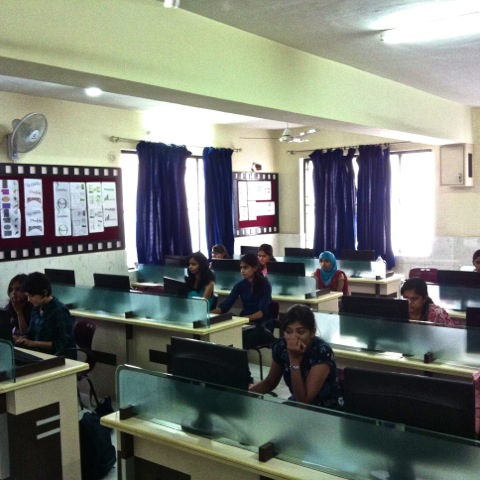 A picture of participants learning wiki editing on WikiWomenDay 2012 in Pune
Some of the participants left after the lunch break. Those who came back then gathered for a Indian language Wikipedia session. Out of the whole audience there were Bengali, Hindi, Marathi and Odia speakers. They all were showed their respective language wikipedias. A demonstration was given to show the typing tool. As the editors were completely new to the Indian language typing, some of them started typing using default Narayam transliteration tool and some took the help of Microsoft ILIT and Google Transliterate as well. During this session new wikipedians edited many articles on Marathi, Hindi and Bengali Wikiepdia. After the whole day session there was still some time left for acclaim and fun. The participants were awarded with participation and contribution certificate by the Wikipedia Club Pune. All the new wikipedians registered on Wikipedia Club Pune.
There was a special announcement for Wikipedia Summit India, Anniversary Celebration of Wikipedia Club Pune. Club members celebrated with cutting a special Wikipedia cake. Rishi Aacharya and Ketaki Pole from PAI International Learning Solutions extended their support for this event.
Meeting with Wikipedia Club Pune members
There was a meeting with some of the Wikipedia Club Pune members on October 27, 2012 at PAI International Learning Solutions. It was attended by Subhashish Panigrahi and Noopur Raval. Abhishek Suryavanshi, founder of the club brought a proposal about the Wikipedia India Summit, anniversary celebration of Wikipedia Club Pune which is planned in the first quarter of 2013. Importance of a India level summit, plans and agenda, logistics and partnership and sponsorship options were discussed during this meeting. There will be public announcement regarding this summit.
The views and opinions expressed on this page are those of their individual authors. Unless the opposite is explicitly stated, or unless the opposite may be reasonably inferred, CIS does not subscribe to these views and opinions which belong to their individual authors. CIS does not accept any responsibility, legal or otherwise, for the views and opinions of these individual authors. For an official statement from CIS on a particular issue, please contact us directly.