Kannada Wiki Workshop at Tumkur University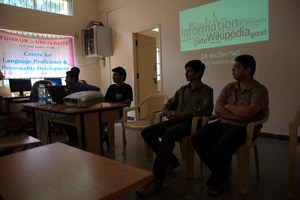 Given here is a picture of Kannada Wikipedians at Tumkur University
Tumkur University, Karnataka hosted a Kannada Wiki Workshop on September 15, 2012. This was the first Kannada Wikipedia workshop at Tumkur.
Prof. Ashwin Kumar from the Department of English, Tumkur University and Kannada wikipedians, Omshivaprakash, Hareesh, Tejus and Pavithra played vital roles in organising this workshop.
About 30 participants including students and teachers participated in this workshop. Students were mostly from the Department of English and Library Science.
The workshop began at 10.30 a.m. Prof. Ashwin Kumar gave the welcome address and spoke about the importance of Kannada Wikipedia. Thereafter, Om Shiva Prakash made a presentation on "Introduction to Wikipedia and Kannada Wikipedia". This was followed by the "Editing Session". The university had provided 10 computers for the session. Harish and Tejas lead the editing session with the rest of the team supporting the students to do the "wiki editing". The session went upto 2.00 p.m. since the participants showed keen interest. As there were some restrictions associated with the "username creation" only "six" students were able to create their wiki username.
Seen above: Participants from the Kannada Wiki Workshop held in Tumkur University. For more pictures, visit http://bit.ly/UsuqFv
The Kannada Wikipedia community is holding talks with the university officials to begin a Kannada Wikipedia education program. These types of initiatives will attract more Kannada speaking people to Kannada Wiki related activities.