Odia Wikipedia Community Brings Wikipedia Education Program to IIMC, Dhenkanal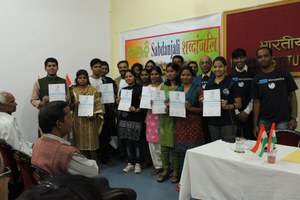 Student-wikipedians who took part in the program
The Odia Wikipedia community collaborated with the Indian Institute of Mass Communication, Dhenkanal and hosted a pilot Odia Wikipedia Education Program. The program began in November 2012 and got over by January 2013. Sixteen student wikipedians signed up and took part in editing more than a dozen articles on Odia Wikipedia.
Odia Wikimedia community is primarily active in three major cities: Bhubaneswar, Cuttack and Nalconagar. There was a sustained growth in the community during August-October 2012 which inspired the comunity to initiate a long term program like Wikipedia Education Program. Mrutyunjaya Kar from Nalconagar community reached out to several schools in Nalconagar and Phulbani to find a potential institute for such a program. Subhashish from Access To Knowledge team of CIS supported the community for setting up a meeting with Prof. Mrinal Chatterjee and few other faculty members of Indian Institute of Mass Communication, Dhenkanal followed by a workshop for the students.
More than 45 students from both Odia and English department took part for the first introductory workshop. A program page was created on Odia Wikipedia for the detailed plan and discussion. 16 out of 45 students showed their interest to take part in the program and signed up on the project page. Teaching assistants Bhagaban and Sucharita supported the students in assessing and suggesting articles. A follow up session was organized in December by the Nalconagar Wiki-Community to teach the students about the typing and basic Wikipedia editing. Students continued to edit their chosen articles. Though initially the program was planned to be run for 3-4 months because of the course structure and exam announcement students requested for the closure of it.
The articles were assessed and wiki-fied by the wikipedians. On January, 26 a celebratory event was organized for the student-wikipedians. Prof. Chatterjee addressed the students about the benefits of contributing to Wikipedia in their mother tongue Odia. Subhashish along with fellow Wikipedians Dr. Subas Rout, Mrutyunjaya Kar, Srikant Kedia and Manoranjan Behera took part in a discussion about "What students can gain by contributing to Odia Wikipedia".
Contribution details:
Number of student participants for introductory session: 45
Number of students took part in the Wikipedia workshop: 16
Number of students contributed: 12
Number of mentor wikipedians: 4
Number of articles edited: 12
Other details:
Podcast of discussion among Odia Wikipedians with Prof. Mrinal Chatterjee and Subhashish Panigrahi
The views and opinions expressed on this page are those of their individual authors. Unless the opposite is explicitly stated, or unless the opposite may be reasonably inferred, CIS does not subscribe to these views and opinions which belong to their individual authors. CIS does not accept any responsibility, legal or otherwise, for the views and opinions of these individual authors. For an official statement from CIS on a particular issue, please contact us directly.