Editor Growth & Contribution Program on Telugu Wikipedia
Nitika Tandon tells us about the Editor Growth & Contribution Program on Telegu Wikipedia, how it will run, its necessity and the future steps.
What is Editor Growth & Contribution Program on Telugu Wikipedia?
Editor Growth & Contribution Program is an online outreach program that will help raise the number of active editors on Telugu Wikipedia. The program will provide an entrance point for newcomers to Wikipedia, enabling them to contribute to its contents and share the knowledge they possess, while participating and communicating with existing Wikipedia community members. Such a program will serve as a compliment to off-wiki outreach activities already underway.
Some of the Telugu Wikipedians like Arjuna, Dr. Rajshekhar, Sujatha are in the initial stage of discussing the possibility and ways of running an Editor Growth & Contribution Program on Telugu Wikipedia.
How will the program run?
The idea is to run outreach banners using the local site notice on Telugu Wikipedia for three consecutive months. These banners will be in the form of short bios/stories of Telugu Wikipedians who agree to be featured in the editor campaign. Most Wikipedia visitors are unaware of the fact that regular folks write articles on Wikipedia and not scholars or paid writers. These personal stories from active Wikipedians could feature their motivation to contribute, their passion for building and developing Wikipedia, their early experience with Wikipedia as an editor, their invitation to site visitors to become Wikipedia editors, etc. Such personal stories will add a human touch to Wikipedia and will help new visitors related to real life stories.

Each of these banners will link to a landing page. The landing page will start with a question at its top saying "What would you like to do in Wikipedia?" followed by six buttons each listing an answer to this question, and linking to the corresponding tutorial page. These six buttons will be: create your username, create your userpage, edit an existing article (fix a typo), add a reference, create a new article, and send a message.
Landing page will be designed in a simple way to avoid any visual distraction for the visitor. Each button will provide a detailed graphical explanation on how to perform each of those actions. To understand the workings of the program in greater detail please click here (this program design is just  a rough draft and may change as required).
Why Telugu Wikipedia?
As per Wikimedia Stats Telugu speaking population is around 8 crore. Telugu Wikipedia has about 18 lakh page views per month and 21 active editors (5+ edits in a month). In a community with such large numbers of speakers but extremely low number of Wikipedia editors, there seems to be a lot of scope and opportunity to increase Wikipedia's reach and awareness amongst Telugu speaking population and more so amongst reader of Telugu Wikipedia to start improving and expanding Wikipedia articles and foster the growth of Telugu Wikipedia community.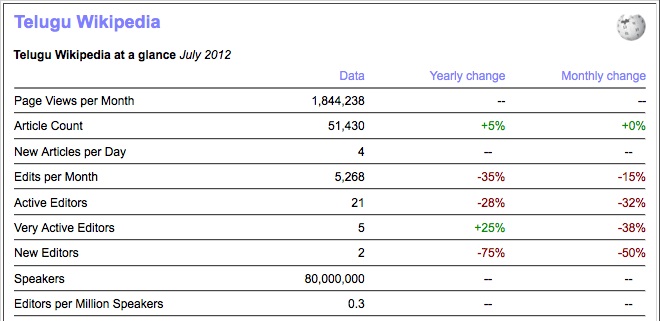 Telugu Wikipedia at a glance July 2012
Number of speakers of other Dravidian languages like Kannada, Malayalam and Tamil is relatively low but have higher number of page views and active editors as compared to Telugu as seen in the table on the right. KA, ML and TA Wikipedia communities have run different programs over time to increase it's reach, spread more awareness and invite new editors. Some of these programs were TamilWiki Media Contest, Tamil Wikipedia Contribution Campaign, Malayalam Wikipedia Education Program, Kannada Medical Project, etc. Telugu Wikipedia requires a similar high impact project that can help them grow their community.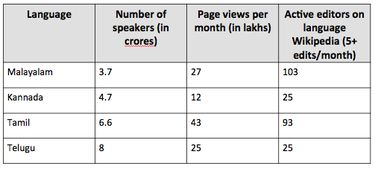 Comparison of Telugu Wikipedia with other langauge Wikipedias.
Cross pollinating ideas
Tamil and Arabic Wikipedia communities have already experimented with Editor Growth & Contribution Program and have produced amazing results. Ravi from Tamil Wikipedia and Haitham from Arabic Wikipedia were actively involved in running the contribution programs on their respective language Wikipedias and have offered help to run similar project on Telugu Wikipedia and provide regular guidance and support.
Next steps ahead
Strong community support will be required to run such a program. The larger Telugu Wikipedia community will plan a meet up sometime in October in Hyderabad to take this program forward. Special thanks to  Dr. Rajshekhar who has offered to organise this meet-up.
The views and opinions expressed on this page are those of their individual authors. Unless the opposite is explicitly stated, or unless the opposite may be reasonably inferred, CIS does not subscribe to these views and opinions which belong to their individual authors. CIS does not accept any responsibility, legal or otherwise, for the views and opinions of these individual authors. For an official statement from CIS on a particular issue, please contact us directly.