Punjabi Wikipedia Workshop at Punjabi University, Patiala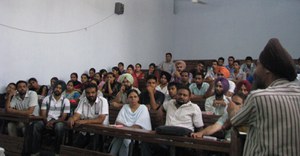 Participants from the Patiala Workshop
Patiala is the home to the famous Punjabi University. A Wikipedia workshop was organized at the Punjabi University's Punjabi Department on August 16, 2012.
When the veteran Punjabi wikipedian G.S. Guglani agreed to come forward to spread the message of Punjabi wikipedia among Punjabi speakers it opened a way to revive and build the Punjabi Wikipedia community. Once Guglani's support was confirmed we looked for suitable places to conduct the introduction workshop for Punjabi Wikipedia. Guglani himself suggested Patiala, Ludhiana, and Amritsar as the probable places to conduct the Punjabi Wikipedia introduction workshops. Prof. Rajinder Brar, Head of the Punjabi Department agreed to provide full support to conduct a workshop at Patiala. 

About 30 participants including students and teachers attended the workshop. Guglani played a pivotal role in organizing the workshop. Shiju Alex gave ample support. The workshop began with a welcome message by  Prof. Rajinder. Guglani then took the participants through a brief presentation (http://bit.ly/Rnki2r) and explained the history and current status of Punjabi Wikipedia. To our surprise two of the participants, Satdeep Gill and Paramjeet Singh were already aware about the Punjabi Wikipedia and they had created their accounts sometime back even though they didn't do much editing. The presence of Satdeep and Paramjeet and their previous experience with Punjabi helped us during the course of the workshop. Guglani taught one of the participants to create a user account and do the wiki editing. He showed them Punjabi typing and basic wiki editing.
This was followed by a question-answer session where the participants asked about typing, editing, referencing and many other contribution related questions. The workshop ended with a small photo session.
We are happy to share that Satdeep has become quite active after this workshop and as of now is one of the very  active users in Punjabi Wikipedia. We are sure his presence will attract more Punjabi people from Patiala to Punjabi Wikipedia.
More pictures of this workshop is available at: http://commons.wikimedia.org/wiki/Category:Punjabi_Wikipedia_Workshop-16Aug2012
Note: Although the workshop was conducted prior to the grant period, the report was written in the month of September, and hence, we are featuring this.
The views and opinions expressed on this page are those of their individual authors. Unless the opposite is explicitly stated, or unless the opposite may be reasonably inferred, CIS does not subscribe to these views and opinions which belong to their individual authors. CIS does not accept any responsibility, legal or otherwise, for the views and opinions of these individual authors. For an official statement from CIS on a particular issue, please contact us directly.