First Odia Wikipedia Education Program to be Rolled Out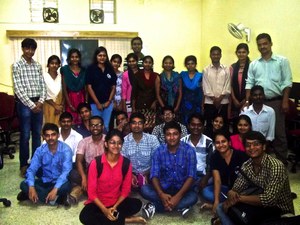 Participant students with faculty members and Odia Wikipedians
Odia Wikipedians gathered at the Indian Institute of Mass Communication (IIMC), Dhenkanal on November 8, 2012 to start the first Odia Wikipedia Education Program. This program aims to bring students edit articles on Odia Wikipedia through a series of assessments by professors. The local community members from Nalconagar would be supporting the four month program.
Since March 2011, Odia Wikipedia has started growing in terms of readers, editors and content. Last few months have seen many new faces added to the community who are willing to take part in both offline and online outreach. Though many of the community members are staying out of state, there are community clusters in three different places: Cuttack, Nalconagar and Bhubaneswar. We approached many institutions from these three places and some of them showed interest for an Odia Wikipedia workshop to assess and evaluate students for the education program. We conducted workshops in some of those institutions in the initial level. After successive workshops and meeting with the faculty members, some of the potential institutions were chosen for the education program. One of those colleges was the IIMC in Dhenkanal. We had a meeting with the professor of this organization along with teaching associates and a visiting professor and a full day workshop on editing wikipedia. Odia wikipedians, Mrutyunjaya Kar, Manoranjan Mallick, Srikant Kedia and Kamalakanta Nayak supported for organizing the event.
IIMC, Dhenkanal is one of the six IIMCs of India and a pioneer in the field of Mass Communication. We met Professor Mrinal Chaterjee along with teaching associates, Sucharita and Bhagaban Sahu, retired professor of Revenshaw University and visiting professor of IIMC. The college is home to 83 students across India. Students enroll for a one year diploma program for Journalism and Mass communication in Odia and English.
The full day session was made to two separate sessions: an introductory session and one hands-on training on editing. Prof. Chaterjee introduced the agenda of the session and why it is needed for the students from a student's point of view. I continued the discussion and presented the key points of wikipedia editing and details of the education program, why and how we are going to start it focussing on the key roles of students and the institution and how it will help them. We announced about the hands on training session post lunch for the interested students. Twenty one students gathered for the second session. Interestingly all of the Odia department students were present and there was one student from English department. Students were briefed about editing. During the workshop we found that majority of them knew a typing layout called "Modular layout" which is used by non-unicode ISCII/ASCII typing softwares like Leap office, I-Lipi, Shreelipi, etc. As this layout is yet to be enabled for Odia we continued explaining about typing using the default typing scheme.
After the end of the workshop we had another meeting with the professor and other faculty members to assess and discuss about the further steps. IIMC has a very close student-teacher relation which we observed from the beginning of the workshop. Students were really keen and patient to learn and all of the students who attended the hands-on training session stayed back till the end of the session. Apart from their regular assignments and projects, students also publish a daily bilingual newspaper, "The Reporter".
"Writing is a part of their their study and we emphasize much on getting the most of their short program. If Wikipedia could give them a global platform to and larger audience for their work to be read, reviewed and enhanced then why not adding it to their task list?", expresses Prof. Chatterjee. The only hurdle which students are going to face in the initial phase is typing in Odia. So, modular layout needs to be added in "Narayam", the typing tool integrated in Odia Wikipedia. To begin with this program an Odia Wikipedia club was formed at Nalconagar which would primarily support this program at the ground level.
Video
Read a detailed four month work plan for this program on Odia Wikipedia: Read in English | Read in Odia
Presentation for Odia Education Program: On Commons | Source file
Commons picture gallery: See here
The views and opinions expressed on this page are those of their individual authors. Unless the opposite is explicitly stated, or unless the opposite may be reasonably inferred, CIS does not subscribe to these views and opinions which belong to their individual authors. CIS does not accept any responsibility, legal or otherwise, for the views and opinions of these individual authors. For an official statement from CIS on a particular issue, please contact us directly.