Gujarat Wikipedia Education Program: Rajkot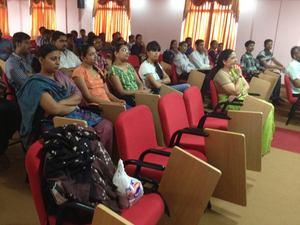 Students and teachers at one of the Wikipedia sessions in Gujarat
This report analyses a series of meetings and workshops held in Rajkot, a city in Gujarat, India during the month of October 2012.
I visited Gujarat for a few Wikipedia activities – including Wikipedia meets in the cities of Ahmedabad and Rajkot, interacted with students and teachers from various colleges as well as to successfully conclude the Gujarati Wikipedia article writing competition.
I visited Rajkot on October 17, 2012 with two Wikipedians – Harsh Kothari and Konarak Ratnakar, both from Ahmedabad. We were scheduled to take up a small introductory lecture on contributing to Wikipedia at Christ College, Rajkot in the afternoon and meet up with other Gujarati Wikipedians from Rajkot and Junagadh later in the day. Fortunately, I was able to connect with Rashmikant Makwana, a teacher at TGS (The Galaxy School) in Rajkot. I had first met up with him during the photo walk – Wiki takes Ahmedabad in January 2012. He had shown a great deal of interest in doing something for his school students. Thanks to Mr. Makwana's prompt response and support, we visited three branches of TGES (The Galaxy Education System) and had the opportunity of interacting with over 100 students from secondary and higher secondary divisions.
Interactions with TGES students
I got to read Mr. Makwana's email only after I reached Rajkot. He wrote that he spoke to a couple of teachers about our visit and their students were very eager to meet us as they had many questions about Wikipedia! I was pleasantly surprised because once we met these students (mostly 11th standard, English medium students) we realized they had already tried their hand at editing and even creating articles! So, they had far more advanced queries like how to verify information on Wikipedia, what is the authenticity of information there, questions on notability and so on. Next, we were taken to the vadi branch of the education group. These were children from fifth and sixth standards and who also had questions and better ones about stories of vandalism they had committed on Wikipedia! We told them how Wikipedia was one of the best ways of telling people about their culture, identities, city and language. Besides students, we also met teachers who taught Gujarati, History and Geography.
Interactions with Christ College students
Wikipedians giving lecture.

Christ College offers a variety of graduate courses. We were connected with their faculty, Mr. Rushabh, by Umesh Joshi from the Open Page publication in Rajkot.

I am thankful to both of them for their support in gathering their MBA students! Harsh Kothari, a Gujarati Wikipedian presented on how one can contribute to Gujarati Wikipedia while Konarak helped them in a live editing session. One question that everyone asked us was – WHY do people edit Wikipedia?

So, we called upon Jitendrasinh Chauhan, a long-term Gujarati Wikipedian. He came up and spoke to them on how he discovered Gujarati Wikipedia and has not only gained in terms of knowledge but also friendships that he has made with fellow editors across the state and overseas! We also explained the importance of learning correct ways of editing to these students who might pursue public relations as their professions.
Meeting Wikipedians
The trip to Rajkot, apart from meeting a whole bunch of new people, was also about connecting offline with Gujarati Wikipedians. Their warmth and day long support in terms of logistics, context and guidance kept us enthused. I extend my gratitude to Jitendrasinh Chauhan and his friend Harsh, both Wikipedians for their help. They have also helped us establish a dialog with Saurashtra University where we hope to plan a two-day conference centered around Gujarati language and digitization.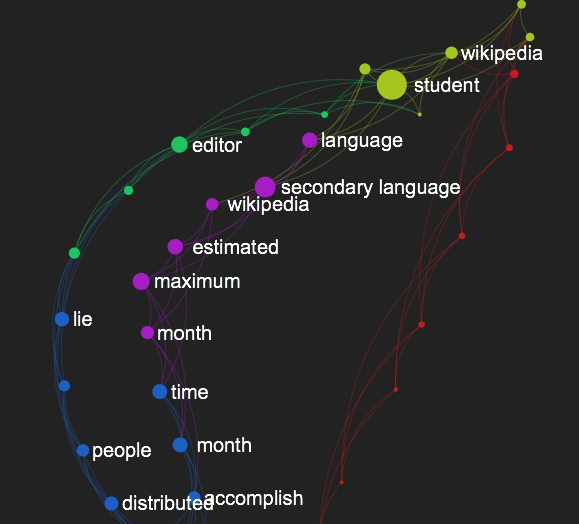 Given here is a network visualization infographic highlighting the key points.
---
Videos
Gujarati Wikipedia workshop at Christ college - 1
Gujarati Wikipedia workshop at Christ College - 2
Write about your city on Gujarati Wikipedia