COVID-19 Charter Of Recommendations on Gig Work
Tandem Research and the Centre for Internet and Society organised a webinar on 9 April 2020, with unions representing gig workers and researchers studying labour rights and gig work, to uncover the experiences of gig workers during the lockdown. Based on the discussion, the participants of the webinar have drafted a set of recommendations for government agencies and platform companies to safeguard workers' well being. Here are excerpts from this charter of recommendation shared with multiple central and state government agencies and platforms companies.
Summary of discussions from the COVID-19 and Gig Economy webinar, authored by Zothan Mawii, Tandem Research
---
Contributors
Aayush Rathi, Ambika Tandon and Tasneem Mewa, The Centre for Internet and Society, India
Aditi Surie, Indian Institute for Human Settlements
Anita Gurumurthy and Nandini Chami, IT for Change
Astha Kapoor, Aapti Institute
Dharmendra Vaishnav, Indian Delivery Lions (IDL)
Janaki Srinivasan, International Institute of Information Technology, Bangalore
Kaveri Medappa, University of Sussex
Pradyumna Taduri, Fairwork Foundation
Rakhi Sehgal, Gurgaon Shramik Kendra
Sangeet Jain, Researcher
Shaik Salauddin, Indian Federation of App-based Transport Workers (IFAT)
Shohini Sengupta, Assistant Professor of Research, Jindal School of Banking and Finance
Simiran Lalvani, Independent researcher
Tanveer Pasha, Ola, Taxi 4 Sure and Uber Drivers and Owners' Association (OTU)
P. Vignesh Ilavarasan, Researcher and professor, IIT Delhi
Vinay Sarathy, United Food Delivery Partners' Union (UFDPU)
Vinay K. Sreenivasa, Advocate, Alternative Law Forum
Zothan Mawii, Iona Eckstein and Urvashi Aneja, Tandem Research
Context
The nationwide lockdown in response to the ongoing COVID-19 pandemic has had a devastating impact on 'gig workers' working for on-demand service platforms such as those providing ride-hailing, home-based work and food delivery services and also e-commerce companies. Those driving for on-demand transportation companies have lost their source of livelihood as services remain suspended.
Workers for on-demand delivery and home-based services, on the other hand, have been deemed "essential" and continue to work although demand has fallen drastically. Earnings for delivery workers have fallen to as low as INR 100-300 per day for a whole day's work. Workers face a high risk of contracting COVID-19 due to their exposure to multiple customers. Apprehensions are rising after a delivery worker for Zomato tested positive for COVID-19 in New Delhi. Demand has fallen further but delivery workers must continue to put themselves and their families' health and safety at risk with limited or no provisions for personal protective equipment or other safety measures offered by companies.
The relief works announced by the central and state governments do not specifically provide for 'gig workers'. At the same time, the measures announced by on-demand service companies are inadequate, ambiguous and inconsistent. The eligibility, manner and quantum of relief and the process of availing relief is unclear to workers.
We urge you to bolster the socio-economic and healthcare protections for 'gig workers' in India in light of the outbreak of COVID-19. Any efforts aimed at directing relief to 'gig workers' will have to be combined, involving the central and state governments and on-demand service companies.
We suggest that the measures adopted incorporate the recommendations outlined below. The recommendations have been drafted after discussion between civil society actors including labour unions from delivery and transportation sectors, researchers, and activists. A summary of the discussions leading to this charter of recommendations can be found here.
Charter of Recommendation on Gig Work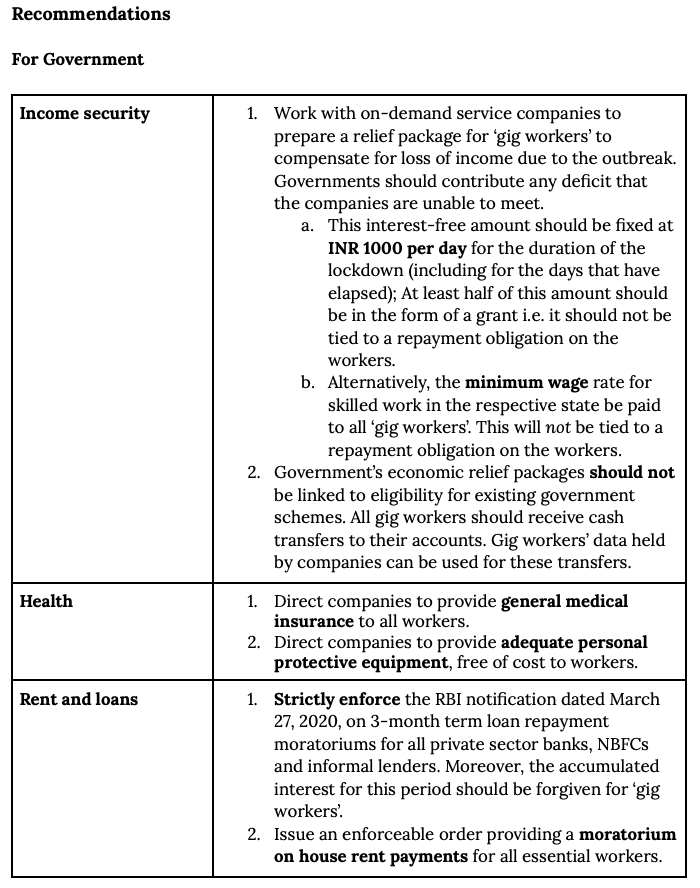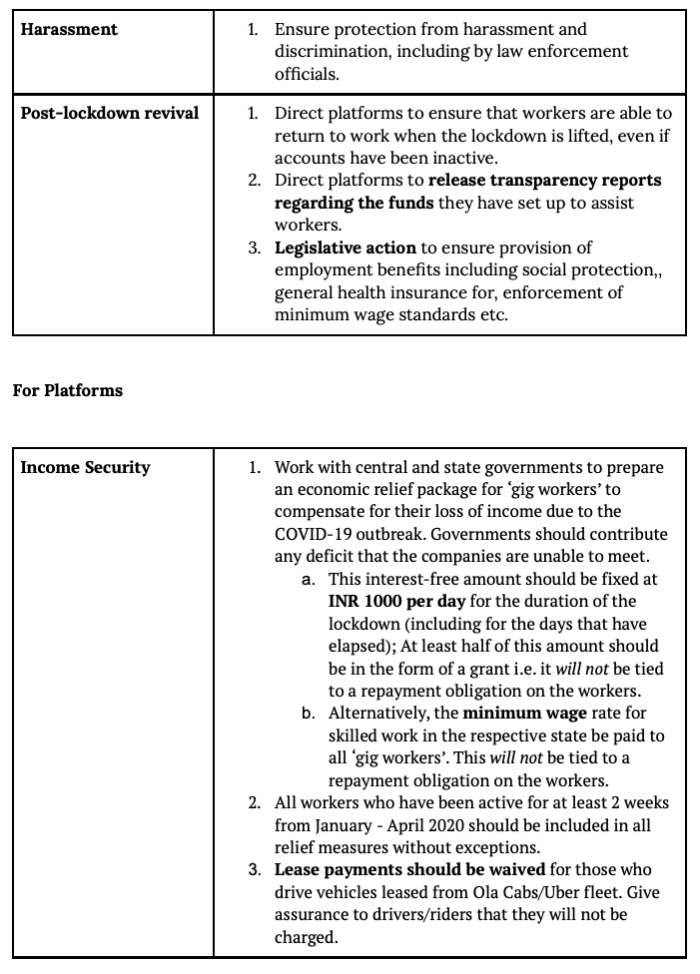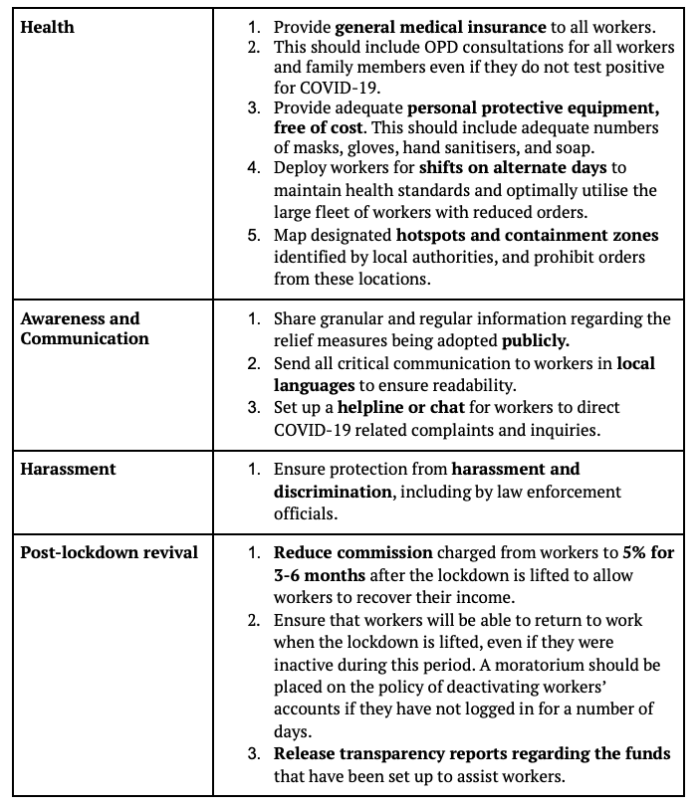 The views and opinions expressed on this page are those of their individual authors. Unless the opposite is explicitly stated, or unless the opposite may be reasonably inferred, CIS does not subscribe to these views and opinions which belong to their individual authors. CIS does not accept any responsibility, legal or otherwise, for the views and opinions of these individual authors. For an official statement from CIS on a particular issue, please contact us directly.