The State of the Internet's Languages Report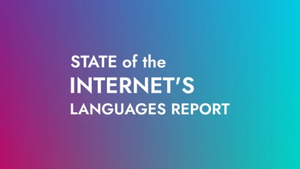 The first-ever State of the Internet's Languages Report was launched by Whose Knowledge? on February 23, 2022 (just after the International Mother Language day), along with research partners Oxford Internet Institute and the Centre for Internet and Society. This extraordinarily community-sourced effort, with over 100 people involved is now available online, with translations in multiple languages.
There are over 7000 (spoken and signed) languages in the world, but only a few can be fully experienced online. Challenges in accessing the internet and digital technologies in our preferred languages also means that a vast body of knowledge, especially from and by marginalised communities, is not represented and remains inaccessible to the world, thereby reiterating existing social inequalities. The State of the Internet's Languages report explores these and many other aspects related to ongoing efforts in creating a multilingual and multi-modal internet. Comprising both numbers and stories, the report features contributions in 13 languages, representing 22 language communities from 12 countries, and explores how communities across the world experience the internet.
---
Read the full report here. See more details of the project here
The views and opinions expressed on this page are those of their individual authors. Unless the opposite is explicitly stated, or unless the opposite may be reasonably inferred, CIS does not subscribe to these views and opinions which belong to their individual authors. CIS does not accept any responsibility, legal or otherwise, for the views and opinions of these individual authors. For an official statement from CIS on a particular issue, please contact us directly.