Internet Researchers' Conference 2016 (IRC16) - Selected Sessions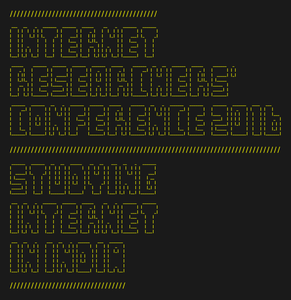 IRC16 - Studying Internet in India
We are proud to announce that the first Internet Researchers' Conference (IRC16), organised around the theme of 'studying internet in India,' will be held on February 26-28, 2016, at the Jawaharlal Nehru University (JNU), Delhi. We are deeply grateful to the Centre for Political Studies (CPS) at JNU for hosting the Conference, and to the CSCS Digital Innovation Fund (CDIF) for generously supporting it. Here are the details about the session selection process, the selected sessions, the Conference programme (draft), the pre-Conference discussions, accommodation, and travel grants. The Conference will include a book sprint to produce an open handbook on 'methods and tools for internet research.'
Session Selection Process
We received 23 superb session proposals for the IRC16. All the teams that submitted sessions were invited to vote for their eight favourite session in a double-blind manner - the teams did not know the names of the people who proposed other sessions, and we at CIS did not know which team has voted for which particular set of sessions. After receiving all the votes, we could not help but change the format of the Conference (as planned earlier) to accommodate 15 sessions in total. All Discussion and Workshop sessions of the Conference are double track, except for the three Discussion sessions that received most number of votes.
Selected Sessions
Dates and Venue
The IRC16 will take place during February 26-28, 2016, at the Jawaharlal Nehru University (JNU), Delhi. We are delighted to announce that the Conference will be hosted by the Centre for Political Studies (CPS) at JNU, and will be generously supported by the CSCS Digital Innovation Fund (CDIF).
Conference Programme
Access the draft programme (v.2.1): Download (PDF).
Pre-Conference Conversations
Please join the researchers@cis-india mailing list to take part in the pre-conference conversations: https://lists.ghserv.net/mailman/listinfo/researchers.
Accommodation
CPS and CIS will provide accommodation to all non-Delhi-based team members of the selected sessions, during the days of the Conference.
Travel Grants
We will offer 10 travel grants, up to Rs. 10,000 each, for within-India travel. The following non-Delhi-based team members of the selected sessions have been selected for travel grants: Aakash Solanki, Dibyajyoti Ghosh, Neha Mujumdar, Purbasha Auddy, Rahmanuddin Shaik, Rashmi M, Rohini Lakshané, Sailen Routray, P.P. Sneha, and Zeenab Aneez.
The travel grants are made possible by the CSCS Digital Innovation Fund (CDIF).
The views and opinions expressed on this page are those of their individual authors. Unless the opposite is explicitly stated, or unless the opposite may be reasonably inferred, CIS does not subscribe to these views and opinions which belong to their individual authors. CIS does not accept any responsibility, legal or otherwise, for the views and opinions of these individual authors. For an official statement from CIS on a particular issue, please contact us directly.