Indian Newspapers' Digital Transition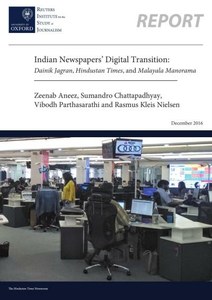 This report examines the digital transition underway at three leading newspapers in India, the Dainik Jagran in Hindi, English-language Hindustan Times, and Malayala Manorama in Malayalam. Our focus is on how they are changing their newsroom organisation and journalistic work to expand their digital presence and adapt to a changing media environment. The report comes out of a collaboration between the CIS and the Reuters Institute for the Study of Journalism, University of Oxford, and was supported by the latter. The research was undertaken by Zeenab Aneez, with contributions from Rasmus Kleis Nielsen, Vibodh Parthasarathi, and Sumandro Chattapadhyay.
Download: PDF.
Cross-posted from the Reuters Institute for the Study of Journalism (December 08, 2016).
---
Executive Summary
This report examines the digital transition underway at three leading newspapers in India, the Dainik Jagran in Hindi, English-language Hindustan Times, and Malayala Manorama in Malayalam. Our focus is on how they are changing their newsroom organisation and journalistic work to expand their digital presence and adapt to a changing media environment.
The background for the report is the rapid and continued growth in digital media use in India. Especially since 2010, internet use has grown at an explosive pace, driven by the spread of mobile web access, also outside large urban areas and the more affluent and highly educated English-language minority that have historically represented a large part of India's internet users. Some analysts estimate more than 30% of Indians had some form of internet access by the end of 2015 (IAMAI-IMRB, 2015). With this growth has come a perceptible shift of audience attention and advertising investment away from legacy media like print and television and towards digital media. This shift has been accompanied by the launch of a number of new digital media start-ups in India and, especially, the growing role of large international technology companies investing in the Indian market.
These developments present Indian newspapers with new challenges and opportunities. Print circulation and advertising is still growing in India, but more slowly than in the past, and especially the English-language market seems saturated and ripe for the shift towards digital media that has happened elsewhere. From 2014 to 2015, the Indian advertising market grew by 13%. Print grew 8%, but English-language newspaper advertising only half of that. Digital advertising, in contrast, grew by 38%, and is projected to continue to grow for years to come as digital media become more central to India's overall media environment (KPMG-FICCI, 2016).
If they want to secure their long-term future and continued editorial and commercial success, Indian newspapers have to adapt to these changes. The three case studies in this report represent three different examples of how major newspapers are navigating this transition.
Based on over 30 interviews conducted with senior management, editors, and rank-and-file reporters from three major newspapers, as well as other senior journalists and researchers who have wider experience in the Indian news industry, plus secondary sources including industry reports and academic research, we show the following.
All three newspapers are proactively investing in digital media technology and expertise, and adapting their editorial priorities, parts of their daily workflow, distribution strategies, and business model to the rise of digital media. Tools like Chartbeat are now commonplace; search engine optimisation, social media optimisation, and audience analytics are part of everyday work; and some are experimenting with new formats (Hindustan Times was a launch partner for Facebook Instant Articles; Manorama Online has produced both Virtual Reality and 360 videos, an Apple watch app, and is on Amazon Echo).


Given that the print newspaper industry is still growing in India, especially in Indian-language markets, these newspapers are innovating from a position of relative strength in comparison to their North American and European counterparts. However, this is done with the awareness that that print is becoming a relatively less important part of the Indian media environment, and digital media more important. Short-term, reach and profits come from print, but longer term, all have to build a strong digital presence to succeed editorially and commercially.


All three newspapers aim to do this by building on the assets they have as legacy media organisations, and trying to leverage their brand reputation, audience reach, and editorial resources to maintain an edge over digital news start-ups and international news providers. Their legacy, however, offers not only assets, but also liabilities. As successful incumbents, all of them struggle with the inertia that comes from established organisational structures and professional cultures. To change their organisation and culture, and thus more effectively combine new technologies and skills with existing core competences, each newspaper is not only investing in digital media and personnel, but also trying to change at least parts of the existing newspaper to adapt to an increasingly digital media environment.


They do this in different ways. At Dainik Jagran and Malayala Manorama, the focus has been on building up separate digital operations at Jagran.com and Manorama Online, apart from the printed newspaper itself. At the Hindustan Times, in contrast, the aim has been to integrate print and digital in a joint operation working across platforms and channels. Dainik Jagran and Malayala Manoroma have thus focused mostly on building up new digital assets, whereas the Hindustan Times has been transforming existing assets to work across platforms. At Dainik Jagran and Malayala Manorama, much of the push for change has come from management, whereas there has been a stronger editorial involvement at the Hindustan Times, and a greater attempt to engage rank-and-file reporters through training sessions and other initiative designed to demonstrate not only the commercial importance, but also the editorial potential, of digital media.


All three newspapers have found that expanding their digital operations requires investment of money in new technologies and in staff with new skills. But it is also clear that this is not enough. Investment in technology has to be accompanied by a change in organisation and culture to effectively leverage existing assets in a digital media environment. In their attempts to do this, the most significant barriers have been a perceived cultural hierarchy, deeply ingrained especially in the newsroom, that print journalism is somehow inherently superior to digital journalism, and a lack of effective synergy between editorial leaders and managers, often combined with a lack of technical know-how. Money can buy new tools and bring in new expertise, but it cannot on its own change culture, ensure synergy, or align the organisation with new priorities. This requires leadership and broad-based change. Long-term, senior editors, management, and rank-and-file reporters will have to work and change together to secure Indian newspapers' role in an increasingly digital media environment.
Digital media thus present Indian newspapers with challenges and opportunities similar to those newspapers have faced elsewhere. Only they face these from a position of greater strength, because of the continued growth in their print business, and with the benefit of having seen how things have developed in more technologically developed markets. We hope this report will help them navigate the digital transition ahead.
The views and opinions expressed on this page are those of their individual authors. Unless the opposite is explicitly stated, or unless the opposite may be reasonably inferred, CIS does not subscribe to these views and opinions which belong to their individual authors. CIS does not accept any responsibility, legal or otherwise, for the views and opinions of these individual authors. For an official statement from CIS on a particular issue, please contact us directly.