Data Lives of Humanities Text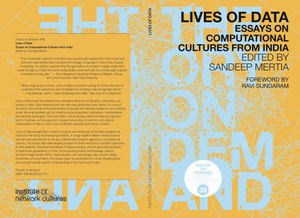 The 'computational turn' in the humanities has brought with it several questions and challenges for traditional ways of engaging with the 'text' as an object of enquiry. The prevalence of data-driven scholarship in the humanities offers several challenges to traditional forms of work and practice, with regard to theory, tools, and methods. In the context of the digital, 'text' acquires new forms and meanings, especially with practices such as distant reading. Drawing upon excerpts from an earlier study on digital humanities in India, this essay discusses how data in the humanities is not a new phenomenon; concerns about the 'datafication' of humanities, now seen prominently in digital humanities and related fields is actually reflective of a longer conflict about the inherited separation between humanities and technology. It looks at how 'data' in the humanities has become a new object of enquiry as a result of several changes in the media landscape in the past few decades. These include large-scale digitalization and availability of corpora of materials (digitized and born-digital) in an array of formats and across varied platforms, thus leading to also a steady prevalence of the use of computational methods in working with and studying cultural artifacts today. This essay also explores how reading 'text as data' helps understand the role of data in the making of humanities texts and redefines traditional ideas of textuality, reading, and the reader.
This essay by Puthiya Purayil Sneha was published in Lives of Data: Essays on Computational Cultures from India (2020) edited by Sandeep Mertia, with a Foreword by Ravi Sundaram as part of the Series on Theory on Demand by Institute of Network Cultures, Amsterdam.
Read the open access book here.
The views and opinions expressed on this page are those of their individual authors. Unless the opposite is explicitly stated, or unless the opposite may be reasonably inferred, CIS does not subscribe to these views and opinions which belong to their individual authors. CIS does not accept any responsibility, legal or otherwise, for the views and opinions of these individual authors. For an official statement from CIS on a particular issue, please contact us directly.