Srividya Vaidyanathan brings you the history and evolution of cable television in India, how it works, cable television penetration in India, digitization rule and the end consumer in India.
What is Cable TV?
Cable TV (CATV) stands for Cable Television, i.e., a method of providing consumers with access to television programs via coaxial cables or through optical fiber cable located in the subscribers' premises.
Evolution/History
There were four television terrestrial networks in the United States in the 1950s. One had to have a clear line of sight to the transmitting towers to be able to watch TV. Those living in hilly regions could not watch the TV programs because they could not have a clear "line of sight" over the hills. In 1948, people living in the hilly regions of Pennsylvania solved their problems by putting antennas on hills and running cables to their houses.[1] Using Terrestrial TV only a few TV channels could be broadcast whereas in the case of cable TV it is possible to downlink a good number to satellite TV channels, add local TV content,  get TV contents from other sources, form bouquets of the TV channels  and transmit it to TV homes using coaxial cables.
How does it work?
The figure below gives a high level flow diagram explaining the working of a CATV.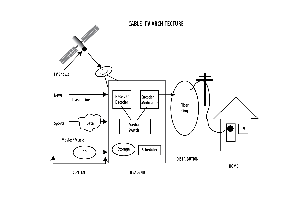 Figure 1: CATV Architecture – The image above is a pictorial representation of the working of a Cable TV.
TV Network companies beam their TV shows via satellites. Cable operators (or multi-system operators (MSO)) install head-ends (control centres for cable network) for aggregation of TV channels received from different satellites. They can mix this with content received from other sources such as broadband connections, local channels, etc., to form a bouquet of channels and then distribute to homes using coaxial cable (hence, the name cable TV) network installed either underground or hung over utility poles. To access the cable television services, one needs to subscribe to a cable company which will then connect a simple coaxial cable from the wall outlet to the television sets. One has to then program his/her cable ready television sets to receive the cable channels. In case one does not have a cable ready television then one needs to install a device called a converter box.
In CATV, the signals are sent through cables and not through the air, thus doing away with "line of sight" requirement and enabling much better quality of reception. The television signals that come via cable are not disturbed by trees, buildings, or other hindrances.[2]
Other cable based services
Coaxial cables are capable of carrying signals in both directions (to and from the customer's end) and also the ability to carry large amounts of data. Cable television signals use only a portion of the bandwidth available over coaxial lines. This leaves plenty of space available for other digital services such as cable, internet and cable telephony. Broadband cable internet is made possible by having a cable modem at the customer's end and a cable termination system at the cable operator's end. Cable internet works very well when the distance between the cable modem and the cable termination system is not more than 160 km.
Cable TV penetration in India
The TAM Annual Universe Update – 2012 indicates that India has over 148 million households (out of 231 million) with TVs, of which over 126 million have access to CATV or Satellite TV, including 42 million households which are digital subscribers. In Urban India, 88 per cent of all households have a TV and over 70 per cent of all households have access to satellite, cable or DTH services. Households with TVs have been growing between 8 to 10 per cent, while growth in satellite/cable homes exceeded 9 per cent and DTH subscribers grew 63 per cent. CATV households could be higher because of unaccounted for or informal/unregistered cable networks that aren't taken into consideration during mainstream surveys. India now has over 500 TV channels covering all the main languages spoken in the nation.[3] Digicable Networks (India), Hathway Cable and Data Com, InusInd Media and Communications (InCable), and DEN Networks are some of the notable cable service providers in India.
Cable TV digitization rule and the end consumer in India
An ordinance has been passed by the Government of India making digitization of cable services compulsory. According to this amendment made in the section 9 of the Cable Television Networks (Regulation) Amendment Ordinance, 1995, the Ministry of Information & Broadcasting will make Digital Addressable System (set-top box) mandatory. As part of the first phase, October 31, 2012 is the sunset date for the four metro cities in India to adopt set-top boxes. The Ministry of Information and Broadcasting has clarified that there would be no further extensions on the sunset date. This measure will empower consumers to an increased number of channels and high quality viewing.
Consumers will be able to enjoy digital picture and sound quality, enhanced services such as high definition and video on demand content. The Bill will prevent local cable operators from bypassing the digital set-top box. TV broadcasters will be able to monitor their subscriber base and control the flow of revenues. This will render obsolete the role of the "middleman". Advertisers too will be able to create targeted campaigns owing to higher knowledge or analytics about the viewership patterns of users.[4]
The two key terms in the cable digitization mandate are digitization and addressability.
Digitization will solve the problem of capacity constraint and will enable introduction of value added services (viz., pay per view, time shifted video, personal video recorder, near video on demand, radio services, broadband, etc.) in the offerings to the customer, which would enhance the range of choice for the customer and improve the financial viability of operations for the service provider. Addressability will ensure choice of channels to the consumer and transparency in business transactions and will build stakeholder confidence in the sector. It will also effectively address the issue of piracy.[5]
The key here is — the end consumer will need to buy a set-top box from his cable service provider to continue watching TV. This will cost anywhere between Rs. 700 and Rs. 2000, and will be offered with the option of an all up-front payment or part payment and part EMIs. Without this box, the customer will not be able to watch television, not even free to air channels (FTA). This could have an impact on the mode of TV access in India. Some may not upgrade their cable television connection, while the majority may simply shift to a DTH service, since both incur set-top box costs.
TRAI recommendation: The Telecom Regulatory Authority of India (TRAI) has mandated that all multi-service operators (MSOs) carry a minimum of 200 channels from the beginning. This number must be increased to 500 channels by 2013. Subscribers will have to be offered 100 free-to-air channels as a basic pack — Basic Service Tier, if they wish to subscribe to that, at a minimum of Rs. 100, carrying all 18 Doordarshan channels and five channels of each genre — news, sports, infotainment, music, lifestyle, movies and general entertainment. TRAI recommends the approximate cost of a basic set-top box to be Rs.1500.
Suggested Reading
IPTV
Mobile TV
DTH
Terrestrial TV
Glossary
Co-axial Cable
Coaxial cable, or coax, has an inner conductor surrounded by a flexible, tubular insulating layer, surrounded by a tubular conducting shield. The term coaxial comes from the inner conductor and the outer shield sharing a geometric axis. Coaxial cable is used as a transmission line for radio frequency signals. Its applications include feed lines connecting radio transmitters and receivers with their antennas, computer network (internet) connections, and distributing cable television signals.[6]
Figure 2 - The above is a cross-sectional view of Coaxial cable
Optical Fiber
An optical fiber (or optical fibre) is a flexible, transparent fiber, made of glass (silica) or plastic, slightly thicker than a human hair. It functions as a waveguide, or "light pipe" to transmit light between the two ends of the fibre.[7]

Figure 3 - The above picture shows a bunch of optical fibres
---
[1]. From How Cable Television Works (http://www.howstuffworks.com/cable-tv.htm)
[2]. From How does cable television work? (http://wiki.answers.com/Q/How_does_cable_television_work)
[3]. From TAM Update (http://www.tamindia.com/tamindia/Images/Overview_TV_Universe_Update-2012.pdf)
[4]. From Cable TV Digitization Top 10 Facts  (http://www.ndtv.com/article/india/cable-tv-digitisation-top-10-facts-204388)
[5]. From TRAI Recommendations (http://www.trai.gov.in/WriteReadData/Recommendation/Documents/finalreom5agust.pdf)
[6]. From Coaxial Cable (http://en.wikipedia.org/wiki/Coaxial_cable).
[7]. From Optical Fiber (http://en.wikipedia.org/wiki/Optical_fiber)