Why spectrum needs a change in approach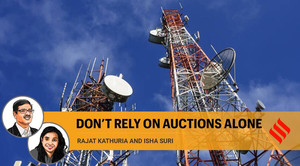 Rajat Kathuria and Isha Suri write: It must be recognised that spectrum needs to be combined with other infrastructure to enable service delivery.
One must bear in mind that the cost of deploying other infrastructure in remote areas is nearly twice as much, while revenue opportunities are far lower, damaging if not destroying the rural business case. The stark digital divide needs a fresh approach to crack it.
On September 22, the government released the draft Indian Telecommunication Bill, 2022, seeking to replace the colonial era Indian Telegraph Act, 1885. The draft bill compares spectrum to aatma: "In a way, spectrum is similar to aatma, which is ajar, amar as described in Shrimad Bhagwad Gita. Like aatma, spectrum too does not have any physical form, yet it is omnipresent." And yet there is one immutable difference in this material world. While the value of aatma is inestimable, spectrum has always had a banal price tag associated with it.
---
Click to access the full article published in Indian Express on October 29, 2022
The views and opinions expressed on this page are those of their individual authors. Unless the opposite is explicitly stated, or unless the opposite may be reasonably inferred, CIS does not subscribe to these views and opinions which belong to their individual authors. CIS does not accept any responsibility, legal or otherwise, for the views and opinions of these individual authors. For an official statement from CIS on a particular issue, please contact us directly.