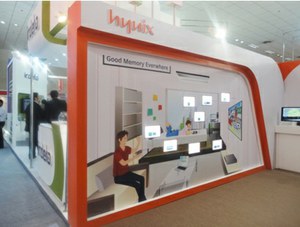 Hynix: supplier of advanced semiconductor memory solutions and image sensor products
The 20th Convergence India conference, deemed South Asia's largest international ICT event, took place in the country's capital from March 21-23, 2012. Featuring a grand exhibition of innovative products and industry players from over 25 countries as well as an assembly of prominent speakers, the three day event highlighted the importance of ICT growth and equitable distribution for the socio-economic future of India.
Yelena Gyulkhandanyan from the Centre for Internet and Society attended the event organised by Exhibitions India Group and shares her experiences through this post.
India Goes Digital
The opening panel discussion, "India Goes Digital", initiated the three-day-long exchange of knowledge and experience centring around telecom, information security, mobility, cloud computing, cable, satellite, broadcast, media, and social services offered through ICT's. A principle theme throughout the conversation was the significance of mobile penetration in India.  
Stressing the tremendous opportunity for equitable service distribution presented by mobile service delivery, Rajiv Bawa, the Chief Representative Officer (Head-Telenor India), pointed to a study which found that mobile devices are more accessible in India than television sets and are proving to be the main mode of reaching people. Dr. J.S. Sarma, Chairman Telecom Regulatory Authority of India, who headed the panel, emphasized the importance of data and application services for the expansion of digitization in India. The application industry needs to be mobilized in the field of education, agriculture, banking, finance, and others. A. K. Bhatnagar, Doordarshan Engineer-in-Chief highlighted the advantages of digitization, those being superior quality, flexibility, high reliability, spectrum and power efficiency, as well as multimedia and Value Added Service (VAS) delivery. The growth of digitization has been enabled by techniques such as coding, modulation, and multiplexing.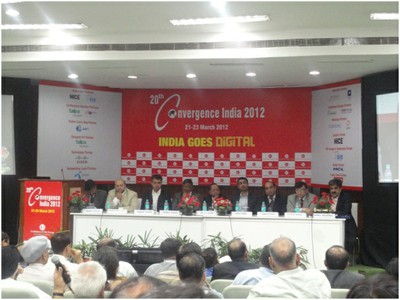 | | |
| --- | --- |
| While all speakers maintained that digitization will contribute to an inclusive and equitable growth in the country, no one denied the challenges lying in the road ahead. Out of the 900 million mobile subscribers accounted for in India, only 500-600 million are active users, remarked Pankaj Mohindroo, Managing Director, South Asia, NICE Systems. Many people are still left out of the telecommunications network. Extending mobile services to rural and remote areas and making hardware more affordable is a priority. As a step towards meeting some of these objectives, Mr. Mohindroo praised the National Optical Fibre Network (NOFN) initiative to provide broadband connectivity to all Panchayats. As well, the WiFi model needs to be leveraged to further extend coverage. | |
Long Term Evolution

Long Term Evolution (LTE) is a wireless broadband technology that enables roaming Internet access through cell phones and handheld devices. It seeks to provide excellent quality IP-based services such as VoIP and web site browsing. Compared to 2G and 3G technology, LTE has much faster download rates. Panel participants discussed the development of revenue generating business models for LTE deployment and some challenges for operators in India.
| | |
| --- | --- |
| Skyware Global: ODU system provider  | By 2014 the Asia-Pacific region is expected to be the biggest market for LTE, acquiring 40 per cent of the world market by 2016. Thirty-five countries have already launches LTE services; panel participant S. P. Jeyrath, Advisor, Tulip Telecom, is sure that India will add to this number, becoming a story of great growth. Nevertheless, to for LTE to succeed, some core challenges need to be met. Some of these include: high prices of smart handsets; limitation of spectrum and coverage area of existing operators; and the challenge of using current infrastructure to deploy mobile broadband. According to Jaswant Boyat, Technical Director-SP India & SAARC, Cisco, content management and the development of regional and national data centres is a priority when introducing LTE services in India. Other strategies involve decreasing tariffs to make the services more affordable and creating a solid marketing strategy. |
Greet ICT's
With the increasing spread ICT's worldwide, green ICT's are becoming integral for sustainable development. Green telecom networks and solutions for telecom in India were the topics of the next day's conversation. Naresh Ajwani, Chief Regulatory and Corporate Affairs, Viom Networks Limited, pointed out that the matter of employing green technology concerns the telecom industry because India has a 33% electricity penetration, while the telecom penetration is beyond 65 per cent. It was also recognized that India's carbon footprint is minimal, but that should not stop the implementation of environmentally-friendly solutions where it is feasible to do so.
The speakers highlighted a number of attainable solutions for greening the telecom industry in India. According to Jacob Mathews, VP – Network Services, Aditya Birla Group, regulators should set energy targets and embark on a strict monitoring program to ensure compliance. Sharat Chandra, Managing Director, TelEnergy Technologies Pvt. Ltd., stressed that Renewable Energy Service Companies (RESCO's), the Ministry of New and Renewable Energy (MNRE), and telecom operators need to work together to achieve the set targets. Specialists in renewable energy solutions need to be given participatory space and be treated as partners in the process of innovation. Other key factors in reducing energy consumption are infrastructure and spectrum sharing, as well as optimizing solar and biomass technologies that are already available.
Mobile Service Delivery
Mobile Financial Services
With mobile penetration on a phenomenal rise, a cell phone holds the promise of reaching the most marginalized members of the population; facilitating an accessible and equitable service distribution; and ushering in a new era where a simple hand held device that fits in our pocket will be the bridge that extends through the vast digital divide. Panel members discussed and debated the potential of mobile-enabled services, in particular, mobile financial services, m-education, m-governance, m-health, and m-entertainment. 
President and Country Head, Yes Bank Limited, Tushar Pandey, listed the three factors of financial inclusion: savings, insurance, and credit. However, the challenge in distributing these factors to all members of the population is that many citizens still do not have a bank account. Fortunately mobile phones have succeeded in reaching many of those that are left out of the banking system. This reality makes mobile financial services, such as money transfers, wallets, and banking a viable alternative. The mobile payments platform is for the bottom of the pyramid consumers, explained Dr. Sam Pitroda, Advisor to PM, because it gets rid of the middleman and hence reduces opportunities and incidences of corruption and money swindling. Through mobile money transfers, people can get government monetary assistance, such as subsidies, directly through their phone. All that is needed for mobile transactions are payee's mobile number and the Mobile Money Identifier (MMID) which is a seven digit account number assigned by the bank.
Presently, it is possible to send up to Rs. 5000 over a text message. Nevertheless cash transactions are still predominant in India. Anand Bajaj, CIO, Yes Bank Ltd., compared India's cash economy, which is approximately 50-60 per cent to Sweden's, where it is around 4 per cent. According to Sonny Sannon, CEO, Transnet India, for mobile financial services to really take off, there needs to be a unifying brand much like ISIS in US, which is a joint venture between AT&T, T-Mobile and Verizon Wireless specializing in mobile payments. A significant investment in marketing, advertisement, and customer literacy is also required.
Mobile Service Delivery in India
As stated by Vinod Melarkode, Director – Qpass, Amdocs, the service industry contributes to 55 per cent of India's GDP. Mobile services can further increase this percentage. Melarkode proceeded to outline the advantages of m-services: m-governance will contribute to a decrease in costs associated with service distribution as well as enhance social inclusion; m-learning will extend basic education, as well as enable the sharing of exam tips and result alerts; m-information will extend access to knowledge and entertainment; m-health will allow medical examinations and diagnosis to be done remotely. Several factors need to be in place for the success of the m-service model: cloud based solutions need to be implemented; the model needs to be easily assimilated with exiting mobile network operator systems; as well, the model should be scalable, secure, and high performing. Android phones are secure and affordable, and can further enable the proliferation of m-services. 
Describing m-service initiatives that are already being implemented throughout the country, the speakers reflected on present challenges and solutions for the future. Sanjay Vijaykumar, Co Founder & CEO, MobMe, reflected on his observations on an initiative involving fishermen receiving information on their mobile phones about the whereabouts of fish obtained through satellite monitoring. According to Vijaykumar, for the past three years the only message that the fisherman receive is "cloudy, no service". This case study was used to illustrate that m-initiatives often look good on paper, but do not work in reality. Hence constant monitoring and evaluation is necessary to maintain the service.
Anupam Varghese, VP – R&D, Eko India Financial Services Private Limited, spoke about a project in Bihar where ASHA (Accredited Social Health Activist) workers receive their pay through their mobile phones.Varghese pointed out that this is a successful case study, but such models need to be replicated on a large scale. Reflecting on the e-governance scheme, he was of the opinion that e-governance currently does not function as widely and efficiently as it could, because it is not mandated by law and hence is not implemented as extensively as it should. The Electronic Delivery of Services Bill, which mandates the electronic delivery of all government services, is a step towards overcoming this challenge. Referring to the concern that even if electronic service delivery systems are established, people will not have the necessary skills and awareness to use them, he asserted that we need to begin with creating infrastructure and systems for service delivery, and given time, we can be sure that people will learn to use them.
The Exhibition 
An expanse of exhibits displaying some of the latest technologies and innovative service models stretched outside the conference hall. The exhibition proved to be a prolific ground for networking opportunities and knowledge dissemination.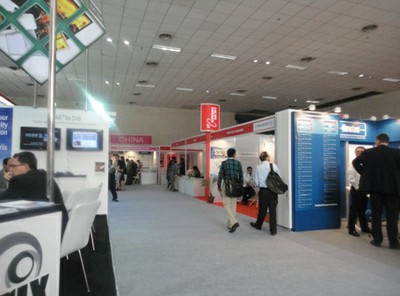 The views and opinions expressed on this page are those of their individual authors. Unless the opposite is explicitly stated, or unless the opposite may be reasonably inferred, CIS does not subscribe to these views and opinions which belong to their individual authors. CIS does not accept any responsibility, legal or otherwise, for the views and opinions of these individual authors. For an official statement from CIS on a particular issue, please contact us directly.