Reply to RTI Application under RTI Act of 2005 from Vanya Rakesh
Unique Identification Authority of India replied to the RTI application filed by Vanya Rakesh.
Madam,
Please refer to your RTI application dated 3.12.2015 received in the Division on 10.12.2015 on the subject mentioned above requesting to provide the information in electronic form via the email address [email protected], copies of the artwork in print media released by UIDAI to create awareness about use of Aadhaar not being mandatory.
I am directed to furnish herewith in electronic form, copy of the artwork in print media released / published in the epapers edition of the Times of India and Dainik Jagran in their respective editions of dated 29.8.2015 in a soft copy, about obtaining of Aadhaar not being mandatory for a citizen, as desired.
In case, you want to go for an appeal in connection with the information provided, you may appeal to the Appellate Authority indicated below within thirty days from the date of receipt of this letter.
Shri Harish Lal Verma,
Deputy Director (Media),
Unique Identification Authority of India
3nd Floor, Tower – II, Jeevan Bharati Building,
New Delhi – 110001.

Yours faithfully,

(T Gou Khangin)
Section Officer & CPIO Media Division

Copy for information to: Deputy Director (Establishment) & Nodal CPIO
---
Below scanned copies:
RTI Reply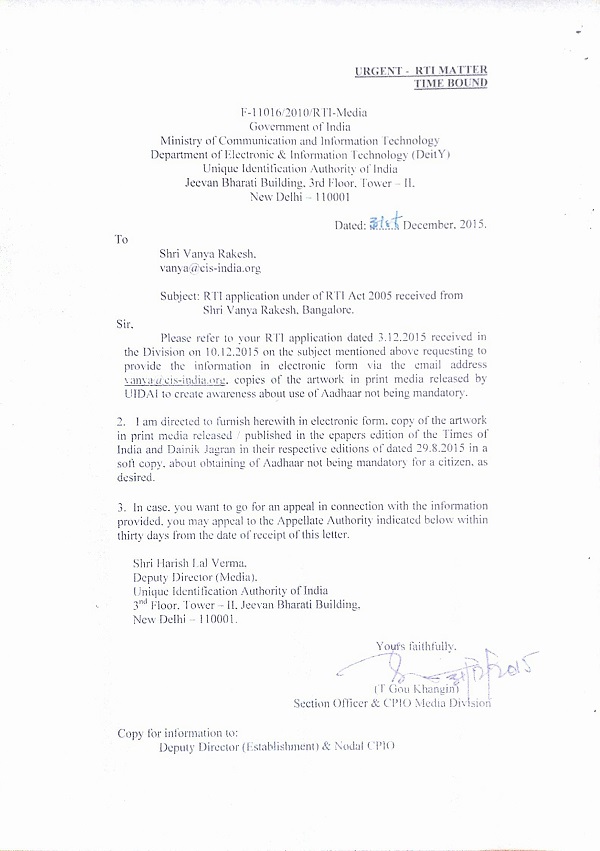 Coverage in Dainik Jagran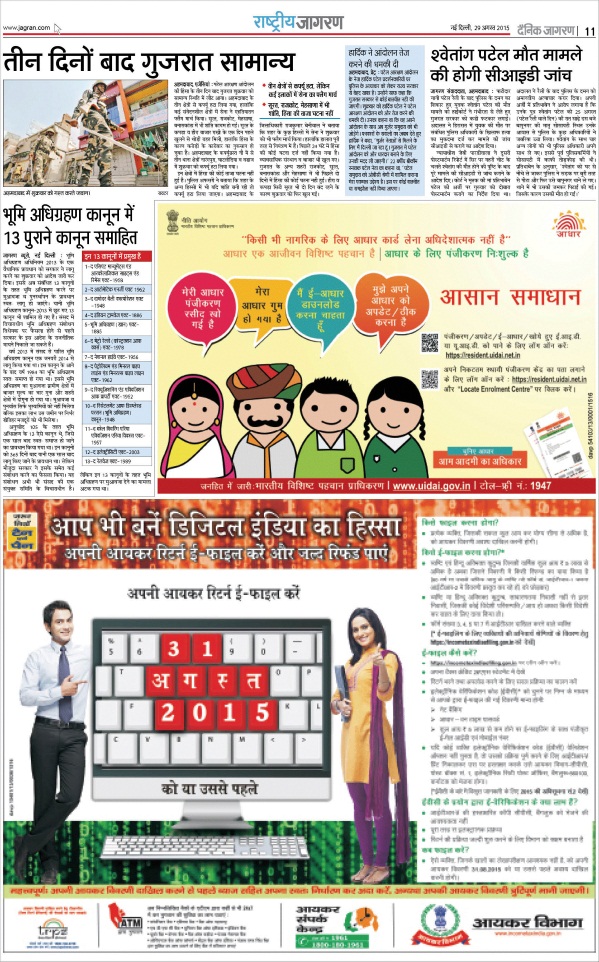 Download the coverage in the Times of India here. Read the earlier blog entry here.
The views and opinions expressed on this page are those of their individual authors. Unless the opposite is explicitly stated, or unless the opposite may be reasonably inferred, CIS does not subscribe to these views and opinions which belong to their individual authors. CIS does not accept any responsibility, legal or otherwise, for the views and opinions of these individual authors. For an official statement from CIS on a particular issue, please contact us directly.