Framing the Digital AlterNatives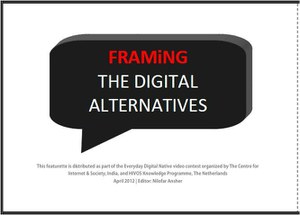 They effect social change through social media, place their communities on the global map, and share spiritual connections with the digital world - meet the everyday digital native.
The Everyday Digital Native video contest has got its pulse on what makes youths from diverse socio-cultural backgrounds connect with one another in the global community – it's an affinity for digital technologies and Web 2.0-mediated platforms coupled with a drive to spearhead social change. The contest invited people from around the world to make a video that would answer the question, 'Who is the Everyday Digital Native'? The final videos received more than 20,000 3,000 votes from the public and our top five winners emerged from across three continents!
The Digital AlterNatives Featurette (PDF, 2847 KB) is a peek into the minds of digital natives as citizen activists. The 10 featured interviews of the Digital Natives video contest finalists don't fit the stereotype of the Globalized Digital Native: Young Geeks apathetic to 'Saving the Planet'. Rather, these are affirmative citizens, young, middle aged and senior, who consider digital technology as second nature for use in personal, professional or socio-political capacities.
The 'Digital Natives with a Cause?' is a collaborative research-inquiry between The Centre for Internet & Society, India and HIVOS Knowledge Programme, the Netherlands into the field of youth, change and technology in the context of the Global South. The three-year research project has resulted in the four-book collective, 'Digital AlterNatives with a Cause?' published in 2011. Read more about the project here
The views and opinions expressed on this page are those of their individual authors. Unless the opposite is explicitly stated, or unless the opposite may be reasonably inferred, CIS does not subscribe to these views and opinions which belong to their individual authors. CIS does not accept any responsibility, legal or otherwise, for the views and opinions of these individual authors. For an official statement from CIS on a particular issue, please contact us directly.