Edit-a-thon to improve Kannada-language science-related Wikipedia articles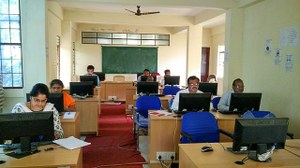 Participants editing Kannada Wikipedia of the workshop
A three-day Kannada Wikipedia edit-a-thon was conducted for science lecturers of institutions who gathered at the District Institute of Education and Training (DIET), Bengaluru this August 18. The idea of this event was to improve science-related articles that are part of the Government of Karnataka's high school syllabus.
During the span of three days the lecturers were taught about basics of Kannada Wikipedia, editing policies, Kannada input, creating and editing articles on Kannada Wikipedia, and they all participated in contributing to about 20 articles science-related article based on topics listed in the high school syllabus (as per the Karnataka state syllabus). Some of the lecturers who were first-timers faced problems with Kannada typing where most others took some time to understand the Wikipedia markup and citations. As this was the first iteration of the project, two more edit-a-thons will follow; one in November 2015 and another one in February 2016. We invite all Kannada Wikimedians to join and mentor these new Wikimedians.
Images of the edit-a-thon can be found on Wikimedia Commons Category "
Kannada Wikipedia Workshop for DSERT Bengaluru Aug 18-20 2015
". Dr. U.B. Pavanaja and Tito Dutta from CIS-A2K conducted the workshop.
The views and opinions expressed on this page are those of their individual authors. Unless the opposite is explicitly stated, or unless the opposite may be reasonably inferred, CIS does not subscribe to these views and opinions which belong to their individual authors. CIS does not accept any responsibility, legal or otherwise, for the views and opinions of these individual authors. For an official statement from CIS on a particular issue, please contact us directly.