SMS Block as Threat to Free Speech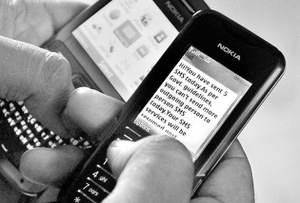 SMS is not the only way by which rumour can be spread. — P.V.Sivakumar
If you could text just one or two people in a day, who would you choose? Many of us have had to make this choice thanks to the order limiting us to five texts a day. Short Message Service (SMS) is not used primarily to send staccato messages like the telegraph was.
---
(This article was published in the Business Line print edition dated September 1, 2012)
---
Whole conversations take place across SMS, and language has mutated to facilitate this. Anyone accustomed to this universe of parallel conversation, relationships and support must have found the five texts, and perhaps even the 20 texts, limit very restrictive. It isolated the hearing-impaired and created chaos for those who use bulk-texts to schedule classes or meetings, or run businesses.
Such a ban on communication must be examined to see whether it violates our right to freedom of speech and expression. The texting limit had a direct restrictive effect on our freedom of speech, since it limited communication.
We need to consider whether our rights were restricted legitimately, for reasons permitted by the Constitution. The Indian judiciary has created guidelines to help evaluate the reasonability of restrictions on free speech. The SMS block will be examined against these guidelines to see whether the restriction of communication was justified.
'Reasonable' curbs
The Constitution permits restriction of the right to freedom of speech only for limited permitted reasons, one of which is 'public order'.
However, any such restriction must also qualify as reasonable when measured against the standard created by the Supreme Court. For instance, banning publication of all newspapers for a month because of some newspapers carrying material that may incite riots would most certainly not be reasonable.
The question then arises as to what would amount to a reasonable restriction. The judiciary has considered this question several times and stated that it will take into account, among other things, the nature of the rights infringed, the circumstances under which the restriction has been imposed, the extent and urgency of evil sought to be remedied and the proportionality of the imposition. The order restricting freedom must also have a proximate relationship with the achievement of public order.
Examining the situation at hand from this perspective, we find that people of north-east Indian origin in southern India have been receiving threats — via SMS and other communication channels — of such severity, that it has prompted them to uproot themselves from their lives and their homes en masse. That so many citizens were made to feel unsafe in their own country is cause for concern and the Government is right to take it seriously. It can be argued that this is a public order problem.
However the reasonability of the restriction on SMS is much harder to prove. For such a wide restriction on the freedom of speech to be reasonable, there would need to be a demonstrable nexus or proximate relationship between the bulk-text ban and the resolution of the public order problem. Additionally, the proportionality of the restriction is questionable since it is unclear why such a universal block of bulk-texts was necessary, instead of filtration of texts based on keywords, or identification of a pool of mobile users who pose a greater risk.
SMS and public order
The nexus between texting and restoration of public order appears remote for two reasons. The first is that SMS is not the only way to spread rumours and threats. The block was unlikely to go a long way in protecting anyone from harm since other ways of threatening and rumour-mongering remained available: Third-generation mobile technology, telephone calls and good old-fashioned word-of-mouth.
The second reason is that the dissemination of rumours and threats by themselves would be of less concern if they did not cause the exodus, which had little to do with technology. The problem lies less in SMS technology's facilitation of rapid communication, and more in the reality of how people of north-eastern origin are treated in other parts of India and why the state security forces like the police do not inspire much confidence in them.
In this socio-political reality, restricting the number of reassuring texts and information that people of northeastern origin may send each other was hardly going to help them feel safer.
Universal embargo
Additionally, the universality of the block is particularly vulnerable to being challenged as unconstitutional. The Delhi High Court has recently declared that an order blocking bulk-SMS unreasonably restricts the right to freedom of speech because such a universal embargo, even if directed at protecting consumers' privacy, is too broad since it affects not just telemarketers but also people sending non-commercial bulk messages.
The Court felt that since all categories of texts were blocked regardless of their connection to the harm in question, the bulk-text ban unjustifiably affected citizens' legitimate free speech rights.
The order limiting everyone to 200 texts a day was therefore set aside to the extent that it affected people other than the specific group at which it should have been directed. Imagine how this principle might apply to an order that limits the bulk of mobile phone users to five, or even 20, texts a day.
The trouble with new communications technology is that it takes some time for policy-makers and interested parties to learn to balance the various rights affected. The SMS block, which was been lifted on August 30, unsuccessfully to protect a group of citizens from harm at the cost of many people's freedom of speech rights. However laudable the motives, this block was an illustration of the worrying lack of accountability and procedural safeguards that lie between our rights and state excesses.
Right to communicate
If Arab Spring made headlines on how mobile phones were use to mobilise, Bahrain's silenced revolution demonstrated use of the same technology to unravel mobilisation by blocking communication. Our constitution protects our right to communicate freely as well as our right to assemble. As technology evolves to better enable communication, we need to protect its infrastructure, by embedding our rights in the new communication framework.
It is to be hoped that India provides better protection of constitutional rights across communication networks. Restriction of communication needs to be proportionate, justified and within the constitutional accountability mechanism, so that citizens' rights are not violated any more than strictly necessary.
Without this, we are powerless in the face of what may come — be it the mass surveillance that was once the stuff of dystopic novels or the throttling of communication in the public sphere reminiscent of China.
---
However, laudable the motives, the SMS block was an illustration of the lack of accountability and procedural safeguards that lie between our rights and state excesses.
---
The views and opinions expressed on this page are those of their individual authors. Unless the opposite is explicitly stated, or unless the opposite may be reasonably inferred, CIS does not subscribe to these views and opinions which belong to their individual authors. CIS does not accept any responsibility, legal or otherwise, for the views and opinions of these individual authors. For an official statement from CIS on a particular issue, please contact us directly.