Facebook's Free Internet Access Program in Developing Countries Provokes Backlash
In India and Indonesia, users criticize Internet.org initiative, saying it violates the principles of net neutrality.
The article by Newley Purnell and Resty Woro Uniar was published in the Wall Street Journal on September 24, 2015. Sunil Abraham gave inputs.
---
When Muhammad Maiyagy Gery heard about a new mobile app from Facebook Inc. that provides free Internet access in his native Indonesia, he was excited.
But after testing it, the 24-year-old student from a mining town on the eastern edge of Borneo soon deleted the app, called Internet.org, frustrated that he was unable to access Google. com and some local Indonesian sites.
Mr. Gery said Facebook Chief Executive Mark Zuckerberg is an "inspiration in the tech world," but added that the company's free Internet effort is "inadequate."
Mr. Gery's reaction illustrates the unexpected criticism Facebook has encountered to its bold initiative to bring free Internet access to the world's four billion people who don't have it, and to increase connectivity among those with limited access. He is one of many users who say a Facebook-led partnership is providing truncated access to websites, thwarting the principles of what is known in the U.S. as net neutrality—the view that Internet providers shouldn't be able to dictate consumer access to websites.
Since Mr. Zuckerberg's announcement of the $1 billion project two years ago, Facebook has launched Internet.org in 19 countries across Asia, Latin America and Africa by teaming up with mobile carriers and technology giants including Samsung Electronics Co. , chip maker Qualcomm Inc. and telecom-equipment firm Ericsson AB. Facebook says that through the initiative, in which it is also experimenting with drones and satellites to deliver Web access, some nine million people have come online.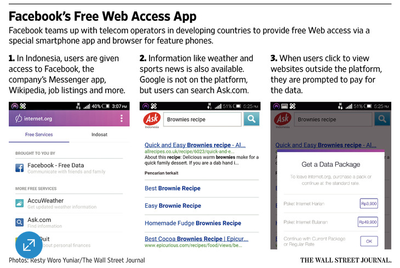 Users with data-enabled feature phones can access a special website through a mobile browser, while those with smartphones can download the app from Google's Play Store. Though arrangements vary by country, the Internet.org app typically provides a simplified, low-data version of Facebook, its Messenger service and selected local websites offering services like jobs, health information and sports updates. Facebook says it works with mobile operators, which provide free data, and governments to pick sites for the platform.
While some applaud the Internet initiative, the U.S. company is dealing with a backlash from users in some of its fastest-growing markets like Indonesia and India, which are key to its future expansion.
In response to the criticism, Mr. Zuckerberg earlier this year wrote an opinion article that appeared in two Indian newspapers defending the project. He argued that the initiative is compatible with the principles of net neutrality, and that if people "can't afford to pay for connectivity, it is always better to have some access and voice than none at all."
But criticism about the initiative has placed Facebook in an awkward position. The social network along with other tech companies like Amazon.com Inc. and Twitter Inc. are members of the U.S. industry group Internet Association, which advocates for net neutrality, among other issues. In markets like Indonesia and India, critics say Facebook is more interested in controlling which websites users can tap into than in ensuring free Internet access. "It's not Internet.org. It's walled garden.org," said Sunil Abraham, head of the Bangalore, India-based Center for Internet and Society.
Facebook wants to be seen as a pioneer "of the open and free Internet and not the opposite," said Neha Dharia, an analyst at telecommunications research firm Ovum.
On Thursday, Facebook said it was changing the name of the Internet.org app and mobile website to Free Basics by Facebook in order to better distinguish it from the company's wider Internet.org initiative. Asked whether the change was related to criticism of the project, a Facebook spokeswoman said that the name will "more intuitively describe the product to consumers."
Chris Daniels, Facebook's vice president in charge of the project, said in a recent interview that he has been surprised by the criticism of the project, noting that many people have gained access to the Web.
This spring in India, travel website Cleartrip, news channel NDTV and a mobile news app pulled their content from the platform amid concerns over net neutrality.
Cleartrip referred inquiries about its reasons for leaving the initiative to an April statement it posted on its website. In that statement, the company said the backlash in India "gave us pause to rethink our approach to Internet.org and the idea of large corporations getting involved with picking and choosing who gets access to what and how fast."
Vishal Anand, chief product officer at mobile news app Dailyhunt, said that "While we appreciate the effort to give people Internet access, we fully support the principles of net neutrality." He declined to elaborate on the company's specific objections to Internet.org.