Why The New Government Policy Mandating Panic Buttons On Phones Isn't Going To Protect Women
Recently, the Union Minister for Communications and Information Technology Mr Ravi Shankar Prasad tweeted about new rules mandating a panic button in every cell phone sold in the country from January 2017. To keep ladies safe, of course.
The story by Madhura Kadaba was published in the Ladies Finger on May 14, 2016. Rohini Lakshané was quoted.
---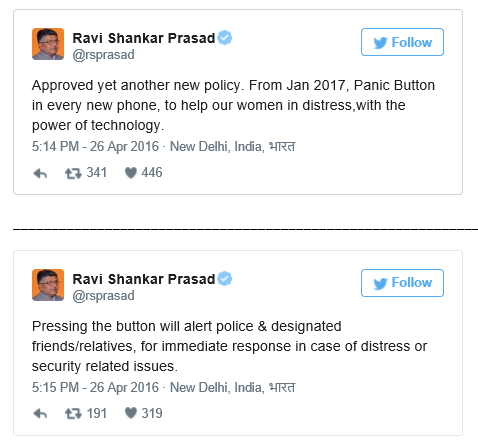 According to a statement released by the Telecommunications Ministry, the panic button will be activated by pressing a designated button on a smartphone or by holding down both '5' and '9' keys on a basic phone. Pressing the panic button is expected to alert police and designated friends or relatives, similar to apps launched previously by police departments like Himmat.
It followed remarks from the Union Minister for Women and Child Development, Ms Maneka Gandhi, in the Lok Sabha in December 2015. "Every cell phone will have an in-built panic button. Now, all new cell phones will be made with panic buttons. But in case of all old cell phones, you can go to the person who owns the company or the dealer and they will adjust it for you. If a woman is in trouble, she can just press the button on the cell phone and she will immediately get help."
Two days later, reacting to concerns that the mandate could increase mobile phone costs, Mr Ravi Shankar Prasad said, "Manufacturers… have given their support. My expectation is that they will render their support in social justice and women security."
After a point, it almost becomes a farce — the government's continuous search for grand, one-stop solutions to dealing with sexual violence. We had the vast coffers of the Nirbhaya fund, which went nowhere. It had tech solutions coming out of its 1000-crore ears. It included plans for setting up control rooms in 114 cities within 9 months back in 2014 and surveillance cameras in all public transport vehicles including autos! Who was going to be watching the feed of these cameras, if ever by some vast change in the face of humanity such a thing happened, you may wonder? Or as journalist Revati Laul wrote, "Given that police stations across the country are short staffed, given how many of them cannot even afford paper to file a first information report (FIR) or fuel for the police personnel's motorbike, just how will the appearance of these control rooms change that? How will switchboards help if police stations in even big cities like Varanasi have too few vehicles to cater to the existing load of emergencies they have to deal with?" But hush, don't interrupt when Daddy is talking.
Recently, we published an investigation into the one-stop centres promised by the Nirbhaya fund. These centres are supposed to provide services like assistance in lodging FIRs, medical assistance for medical examinations, and therapy. On paper, Delhi is supposed to have 6. Good luck locating them because they don't exist. Most of the staff of the hospitals where the centers were to be located were clueless about the program.
But perhaps we should forget the tiresome past and move to the shiny button-filled future. We asked Rohini Lakshane, a technology expert and Program Officer at the Centre for Internet and Society what she thought of panic buttons. Recently she reviewed a bunch of personal safety apps geared toward women and was very unimpressed. About the government's new plan, she said, "GPS accuracy in India can sometimes be patchy and not very accurate, and continuous location tracking drains the battery, something that could be problematic for people with phones that do not have good GPS hardware or a long battery life." Lakshane added, "The app would also enable tracking by family members, which can increase the chance of intimate partner abuse and violence. There have been instances in which apps that provide real-time location or periodic updates of the location of a person to a contact have enabled abuse by intimate partners or by members of the family." In short, you are unlikely to get the help you need in case of stranger danger and continue to face whatever oppression you maybe facing from your 'loved ones'.
Which brings us to the biggest problem with panic buttons, the idea that what Indian women should live in fear of scary strangers outside the house.
The story by Madhura Kadaba was published in The Ladies Finger on May 14, 2016. Rohini Lakshane was quoted. The story by Madhura Kadaba was published in the Ladies Finger on May 14, 2016. Rohini Lakshane was quoted.
---
In fact, carefully conducted research shows over and over again that Indian women are most likely to face violence from their families, within their homes. The Mumbai programme RAHAT's report shows that 91 percent of the accused in reported cases of rape were by known persons. Add on the fact if you have even a fleeting acquaintance with a man who attacks you the police are additionally reluctant to do anything.
Not that the police like to file complaints if you have been raped by a stranger. That way they are quite equal opportunity about ignoring complaints.
Perhaps we should have a panic button in our phones after all. A daily reminder that you should fear rape, in case for a moment you had decided to stop worrying. A daily reminder that if you do get raped you must remember to press a button that goes nowhere. A great metaphor for how we deal with victims of sexual violence in India.