India's Supreme Court strikes down law that led to Facebook arrests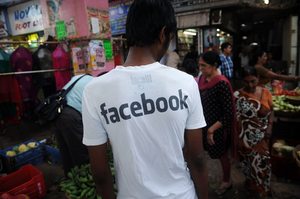 An Indian youth wearing a t-shirt with a Facebook logo walks through a vegetable market in Mumbai. India's top court has struck down a controversial law that made posting "offensive" comments online a crime punishable by jail.
India's Supreme Court on Tuesday struck down a provision of a law that made it illegal to spread "offensive messages" on electronic devices and resulted in arrests over posts on Facebook and other social media.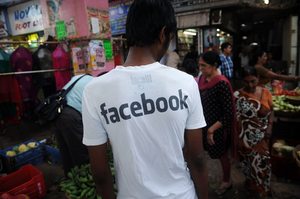 An Indian youth wearing a t-shirt with a Facebook logo walks through a vegetable market in Mumbai. India's top court has struck down a controversial law that made posting "offensive" comments online a crime punishable by jail.
The article by Annie Gowen was published in Washington Post on March 24, 2015. Sunil Abraham is quoted.
---
In a decision hailed as a victory for free speech, Judge Rohinton Fali Nariman ruled that Section 66A of the Information Technology Act was unconstitutional, writing that the vaguely worded legislation had wrongly swept up innocent people and had a "chilling" effect on free speech in the world's most populous democracy.
"Section 66A is cast so widely that virtually any opinion on any subject would be covered by it," the judge wrote. "If it is to withstand the test of constitutionality, the chilling effect on free speech would be total."
India passed the Information Technology Act in 2000, and an amendment that went into effect in 2009 gave authorities broad powers to arrest those who post content deemed "grossly offensive" or false. The offense was punishable by up to three years in jail and a fine.
Sunil Abraham, the executive director of the Centre for Internet and Society in Bangalore, said that the provision was originally intended to protect citizens from electronic spam but that it was used much more broadly.
"Politicians who didn't like what people were saying about them used it to crack down on online criticism," he said.
The section has resulted in more than 20 high-profile arrests, including that of a professor who posted an unflattering cartoon of a state political leader and an artist who drew cartoons lampooning the government and Parliament.
The most well-known was the case of two young women arrested in the western town of Palghar after one of them posted a comment on Facebook that said Mumbai should not have been shut down for the funeral of a famous conservative leader. A friend who merely "liked" the post also was arrested. After much outcry, the two were released on bail and the charges eventually dropped.
The case of the "Palghar Girls" inspired a young law student, Shreya Singhal, to take on the law. Singhal became the chief petitioner for the case, joined by other free speech advocates and an Indian information technology firm.
[When — and where — posting the wrong thing to Facebook can get you arrested]
"It's a big victory," Singhal said after the ruling. "The Internet is so far-reaching and so many people use it now, it's very important for us to protect this right."
In addition, Singhal and other petitioners had argued that a section of the Information Technology Act that allowed the government to block Web sites containing questionable material also was unconstitutional. The court disagreed, however, saying there was a sufficient review process in place to avoid misuse.
Free speech is enshrined in the Indian constitution but has its limits. Books and movies are often banned or censored out of consideration for the sentiments of religious and minority groups.
Last year, a conservative Hindu group persuaded Penguin India to withdraw a book on Hinduism by Wendy Doniger, a professor of religion at the University of Chicago, from the Indian market. And, more recently, the government halted the planned television debut of a documentary on a 2012 gang rape called "India's Daughter."
[India blocks film about 2012 New Delhi rape case]
The government, whose attorney had argued in court that the legislature was in the best position to understand the needs of the people, also welcomed the decision.
"The government is committed to free speech. India is a democratic country, and free flow of ideas should be respected. We do not seek to curtail any rights," said Ravi Shankar Prasad, the minister of communications and information technology. He cautioned, however, that social media users and platforms should show self-restraint.
In recent years, other nations also have sharply increased monitoring of and crackdowns on Web posts perceived as insulting.
Across the Persian Gulf Arab states, dozens of activists have been arrested for social media posts considered insulting to the countries' rulers or damaging to the national image. In January 2014, an American national was allowed to leave the United Arab Emirates after serving more than eight months in prison for posting a YouTube video spoofing the UAE's youth culture.
---
Brian Murphy in Washington contributed to this report. Picture: (Indranil Mukherjee/AFP/Getty Images)