No ID, no benefits: thousands could lose lifeline under India's biometric scheme
Controversial Aadhaar card restricts fundamental rights, argue critics, limiting access to free school meals and exposing 1 billion people to privacy risks.
The article was published in the Guardian on March 21, 2017. Sumandro Chattapadhyay was quoted.
---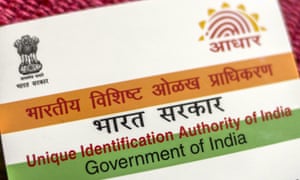 An Aadhaar biometric identity card, which will be mandatory for Indians to access many essential government services and benefits. Photograph: Bloomberg/Getty Images
Hundreds of thousands of people in India could be left without essential government services and benefits – including free school meals and uniforms, food subsidies and pensions – under new rules that make access to more than three dozen state-funded schemes conditional on showing identification.
Over the past month, citizens have been notified that they have to prove their identity with a biometric ID, known as an Aadhaar card, to be eligible to use various services. Booking railway tickets online, applying for some jobs, and getting fuel subsidies will also be dependent on showing the controversial card.
Aadhaar cards were introduced by the Indian government in 2009, and rolled out by prime minister Narendra Modi in 2014. They record personal biometric data, including fingerprints and eye scans, which the government says allows it to ensure that welfare services are being delivered to those who really need them, and saving billions of rupees by reducing welfare fraud.
The Unique Identification Authority of India (UIDAI), which oversees the Aadhaar programme, says that more than 1.13 billion people have been enrolled on an official database. But activists say that hundreds of thousands of Indians and migrants are still undocumented and could miss out on their fundamental rights because of the new rules.
"What if a Facebook account was necessary to log in to the internet, and what if Facebook was owned by the government of the US?" asked Sumandro Chattapadhyay, research director at the Centre for Internet and Society (CIS), a thinktank with offices in Bangalore and Delhi. "We are building a system that will decide whether a child will eat or not on an afternoon based on [the] quality of internet connectivity and cleanliness of the child's thumbprint."
Chattapadhyay argued that Aadhaar, which is effectively being forced upon Indians, and which is used increasingly by private companies, exposed more than a billion people to huge privacy risks.
"The Aadhaar ID is being connected to digital communications via sim card registration, it is being connected to financial transactions via bank accounts, and all Indian citizens are being forced to enrol for it against the threat of losing out from welfare services," he said.
"The potential of unmonitored and unregulated use of such linked data by the private sector is massive. It does not matter if the Indian state will finally go ahead with implementing this system or not. The fact that [it] is considering such a system is scary enough."
Nanu Bhasin, spokesperson at the ministry of women and child development, confirmed that the order to link Aadhaar to government schemes had come directly from the Modi government. "There are leakages in the system," she said. "This will plug leakages."
Bhasin said Aadhaar was now mandatory: "You have to take it, it is necessary. You cannot take the right to a benefit if you don't have the Aadhaar card."
She said she did not know if those who did not want to enrol in the scheme because of potential privacy risks would still be able to receive benefits. "You have bank accounts, there you give all your details, everything. Why make a fuss [about privacy] for Aadhaar?" she said.
One of the most contentious new rules introduced this month, and coming into force in July, requires children to show Aadhaar cards to get free school meals. The notice led to a media storm in India, where malnutrition rates are high and nearly 60 million children are underweight.
On 7 March the government said alternative forms of ID would be accepted for free school meals where people did not yet have Aadhaar cards, and urged schools and childcare centres to enrol all attendees.
Activists argue that setting any barriers to free school meals is unethical and unconstitutional. Ambarish Rai, national convenor of the Right to Education Forum, said: "This is a very insensitive decision of the government. How can you make it mandatory? It is a clear-cut violation of the Right to Education Act 2009."
Compulsory identification could deter school attendance if children struggle to get free school meals or uniforms, said Swati Narayan, visiting research scholar from the LSE and food activist. "India's school meal programme covers almost 100 million children – the largest in the world. Instead of creating unnecessary barriers, the focus should be on how to improve these modest meals by adding eggs, fruit and nutritious foods to the menu."
Glitches in the Aadhaar system have already led to reports of people being unfairly denied government subsidies. In February, the news website Scroll recorded a number of people in the state of Jharkhand being denied rice subsidies because of problems with Aadhaar card machines.
The constitutional validity of the government's new orders is currently being debated in court, with questions raised as to whether the Indian parliament can restrict fundamental rights enshrined in the constitution, and whether the government has the power to force citizens to enrol.
In 2015, a supreme court order had ruled that the scheme was purely voluntary, and that it could not become mandatory with a court ruling. But in 2016, parliament passed the Aadhaar Act, which allowed the government to require identification for government services.
Khagesh Jha, a lawyer and activist, argued that the act was fundamentally unconstitutional. "Rescued children, children who have been trafficked or those who have been forced into child labour – [you] can't expect them to hold an Aadhaar card or documents like a birth certificate. Right to education is a fundamental right, and is protected by the core of the constitution. It cannot be challenged by any other document."
UIDAI, the agency overseeing Aadhaar, issued a statement saying the government had made savings of more than 490bn rupees (£6bn) in the past two and a half years, thanks to schemes linking government benefits to Aadhaar. It added that during the past seven years, there had been no report of a breach or leak of residents' data.