Technology and Gender Based Violence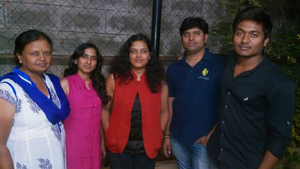 Participants at the Technology and Gender Based Violence Conference
Rohini Lakshane was a speaker at this event organized by the Bachchao Project on November 24, 2014. Rohini spoke about various strategies that women use to respond to online harassment, such as reporting the abuser, and enlisting support from online followers, or friends or family in order to deal with the abuser.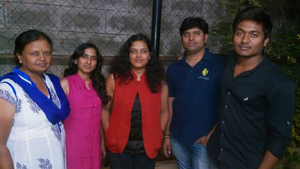 Participants at the Technology and Gender Based Violence Conference
Click to download the event report (PDF).
---
Date : 25/11/2014
Time : 6:15pm to 8:15 pm
No. of attendees : 14 ppl
Organisations Involved: The Bachchao Project , CIS , Amnesty International , Breakthrough , Take Back the Tech.Venue : Center for Internet and Society , Domlur
The Bachchao Project is a community effort to build Open Source Technologies with the following aims :
1. Personal Safety with focus on women.
2. Empowering prevention of Gender Based Violence.
3. Enabling fight against Gender Based Violence.
On 25th November we honored the UN's " End Violence against Women"  day by conducting an  event where we  invited various NGOs and experts to come join us in our effort by :
1. showcasing how technology has been used to fight gender based violence
2. talk about how technology has added more mediums for gender based violence
3. And discuss how we could make better solutions to fight .
Talks given :
A show case of The Bachchao Project initiatives :
Speakers : Chinmayi S K , Ankitha Herurkar and Yogesh Londhe.
The Bachchao Project talked about their applications : ( thebachchaoproject.org)
Bachchao - A distress application used to send SOS msgs and record evidence in case of a distress
Pehara - A community monitoring system. Which sends distress and alert information in case of any distress reported by anyone in the community to friend , family and the police
i-rode : An Application used to rate public transit and display the safety of a public transit.
Gender Sensitivity of public space : an initiative to provide an interface to rate gender sensitivites of public spaces based on certain questions.
readytoreport.in, an initiative by Amnesty International  :
Speaker : Gopika Bashi
Gopika Bashi from Amnesty International spoke about their effort to educate  and encourage women to file an FIR when an incident occurs to them . readytoreport.in is a website which educates about all the legal option and the rights of a abused .It also provide answers to their minor questions.
How Breakthrough is using technology to solve problems  :
Speaker : Manoj M
Manoj spoke about two of the many initiatives breakthrough has undertaken .
Board the Bus Campaign :  This was a gamification solution used by breakthrough to encourage using public transport by women. Where in for every action the woman takes they were given some points which could be
converted into incentives.
Trainer App : This was used to interact with the various trainer at breakthrough who conduct sexual harassment  seminars in various States of the country.
Online Harassment in the Indian context  :
Speakers :(Rohini Lakshane and Chinmayi S K )
The speakers talked about various forms of Online Harassment . They spoke about the various contextual forms of Harassment in india because of the cultural practices . That included not understanding consent and not understanding the online spaces are an extension of Physical spaces.
Rohini spoke about various strategies that women use to respond to online harassment, such as reporting the abuser, and enlisting support from online followers, or friends or family in order to deal with the abuser. Very few women take legal recourse due to lack of faith in the law, or the time-consuming, emotionally taxing and financially draining nature of legal processes, or negative experiences with law enforcement and the police. Rohini also spoke about how laws don't necessarily take into account the consent of women and that there are grey areas where it is difficult to distinguish between sexual expression, obscenity and pornography using the existing legal framework in India.
Chinmayi also spoke about take back the tech and how it is fighting online harassment.
Discussion Takeaways :
Panelists :
Ushashri TS - MD , Manhattan Associates ,  India
Gopika Bashi -Women's Rights Researcher & Campaigner at Amnesty International India
Rohini Lakshane - Researcher at the Centre for Internet and Society
Manoj M -  Media and technology Consultant at breakthrough
"one plug fits all" - might not be a adage that might not be applicable for technology solutions in gender based violence
Response of the application or the device needs to be time bound depending upon the application need not be real time always
Application for crisis should be time bound , should consider the limitations like battery and should provide as much accuracy in terms of location.
Technology should take into consideration environments ( rural vs urban) , Cultural tendencies and interactions .
Applications needs to simple to use to make it universal
Validation should be an important part of the technology since there is a chance of a lot of garbage data .
Attitudinal changes will support the usage of technology in a proper way esp in a country like India .
Similar apps for the same purpose without seriously considering the quality of service and sustainability can be harmful .
Everything cannot be an application .
Technology needs acts like a service provider in solving the issues.
There is need and use of technology in counselling and education.
Some technologies should not be done like online FIR since then the authorities might shy away from  responsibilities. But some people might have a need for such technologies hence the implementation and validation must be thought through. Also the police would not welcome digital avenues to file FIRs. This is because they try to gauge if the complaint is false by speaking with a complainant who pays a visit to the police station. This is their way of weeding out false and frivolous complaints, and sometimes of thwarting genuine complaints because more FIRs mean more work for the police. They lose this option when FIRs are submitted through digital channels.
Harass Map Egypt is an good example of how technological projects should be implemented with 1000 volunteers working on ground tirelessly to ensure the repeated mapping and stopping of street harassment.