Right to Food Campaign, Ranchi Convention, 2016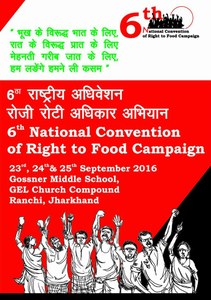 The Right to Food Campaign held its 2016 Convention in Ranchi during September 23-25, 2016. While three years have elapsed since the passage of the National Food Security Act, despite improvements in the Public Distribution System (PDS), large implementation gaps remain. This is what the Convention focused on, and gathered researchers and campaigners from across the country to share experiences and case studies on effectiveness and exclusions from the PDS. Sumandro Chattapadhyay took part in a session of the Convention to discuss how UID-linked welfare delivery is being rolled out across key programmes like provision of pension and rationed distribution of essential commodities, and their impact on people's right to welfare services.
The views and opinions expressed on this page are those of their individual authors. Unless the opposite is explicitly stated, or unless the opposite may be reasonably inferred, CIS does not subscribe to these views and opinions which belong to their individual authors. CIS does not accept any responsibility, legal or otherwise, for the views and opinions of these individual authors. For an official statement from CIS on a particular issue, please contact us directly.