Govt asks CBI to probe Cambridge Analytica in data breach case
Centre directs social media platforms to take prompt action against fake messages
The article by Komal Gupta was published in Livemint on July 27, 2018. Pranesh Prakash was quoted.
---
The government has written to the Central Bureau of Investigation (CBI) seeking an enquiry into London-based political consultancy Cambridge Analytica, and asked all social media platforms to take prompt action against fake messages, including tracing their origin. Cambridge Analytica is at the centre of a Facebook data breach row, including those of around 562,000 Indian users.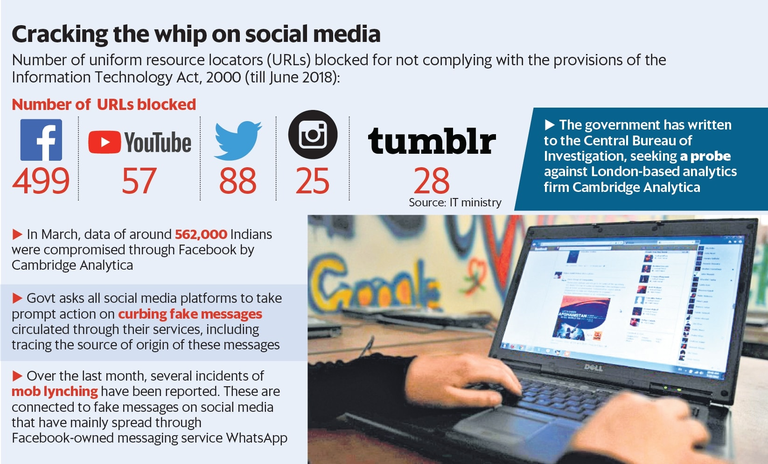 "It is suspected that Cambridge Analytica may have been involved in illegally obtaining data of Indians which could be misused. The government has entrusted this issue to be investigated by the CBI for possible violation of Information Technology Act, 2000 and IPC," said Ravi Shankar Prasad, electronics and IT minister in response to a calling attention motion in the Rajya Sabha on "Misuse of social media platforms and propagation of fake news causing unrest and violence."
Media platforms have been directed to work with Indian officials to receive grievance in real time and also inform law enforcement agencies.
"They (social media platforms) will have to ensure that their platforms do not become vehicles of promoting hatred, terrorism money laundering, mob violence and rumour mongering," said Prasad.
Over the last couple of months, there have been several instances of data breach and fake messages being circulated through social media platforms.
In March, after the data of Indians was allegedly compromised through Facebook by Cambridge Analytica, the government issued notices to the two companies and sought their response. According to Prasad, Facebook responded that it will streamline its internal processes on handling of personal data and Cambridge Analytica violated its platform policies. Cambridge Analytica had said that data of Indians was not breached but this was not in conformity with what was reported by Facebook.
After initial responses, Cambridge Analytica stopped responding to letters from the IT ministry after which the government ordered a CBI probe into the matter. Over the last month, a spate of mob lynchings has been reported from several states, including Assam, Maharashtra, Karnataka, Tripura, Jharkhand and West Bengal, following fake messages spread through Facebook-owned messaging service WhatsApp.
According to Prasad, the government is initiating measures to increase awareness about fake news with the support of all stakeholders.
On 19 July, the government directed WhatsApp to come out with more effective solutions that can bring in accountability and facilitate enforcement of law in addition to their efforts to label forwards and identify fake news. After this, the social media giant limited forward messages to five chats at once instead of multiple chats at once.
"It now plans to the remove forward button (icon) adjacent to a video or audio message. They also plan to bring fact checking and fake news verification mechanism," added Prasad.
Earlier this month, WhatsApp rolled out a new feature that would clearly mark forwarded messages in a move aimed at curbing the spread of rumours.
As of March, there were more than 460 million Indian users of social media platforms, including Facebook, Twitter, YouTube and WhatsApp.
The ministry of home affairs (MHA) has issued a number of advisories on incidents of lynching by mobs fuelled by rumours of lifting/kidnapping of children and cyber crime prevention and control. It has also constituted a group of ministers and a high level committee to formulate appropriate measures to address mob violence and lynchings in the country.
"The government doesn't seem to have understood the meaning of 'abetment' under the IPC, nor does it seem to understand the protections afforded to intermediaries like messaging platforms under section 79 of the Information Technology Act. Messaging platforms like WhatsApp cannot legally be held to be abettors, plain and simple,"said Pranesh Prakash, fellow at the Centre for Internet and Society, a Bengaluru-based think tank.