Criminal Defamation: The Urgent Cause That has United Rahul Gandhi, Arvind Kejriwal and Subramanian Swamy
Three years ago when the then Janata Party president Subramanian Swamy accused Congress vice president Rahul Gandhi and his mother of misappropriation of funds while trying to revive the National Herald newspaper, the Nehru-Gandhi scion threatened to sue him.
The article by Betwa Sharma was published in Huffington Post on July 15, 2015. Sunil Abraham gave his inputs.
---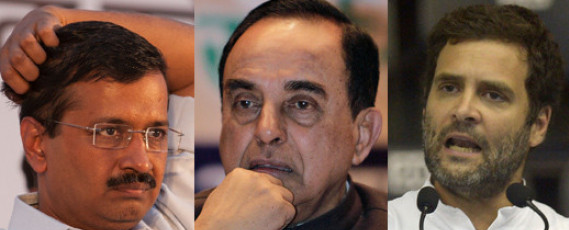 Swamy's response was characteristic: "Grow up and file a defamation case".
In a strange turn of events, the matter of criminal defamation has brought together an unlikely cast of characters in an ongoing petition in the Supreme Court--Swamy, Gandhi and Delhi chief minister Arvind Kejriwal, who knows a thing or two about making allegations.

They are petitioning the Apex Court to strike down penal provisions criminalising defamation, which they argue, has a "chilling effect" on the fundamental right to free speech. Opinion is divided around the world on whether or not defamation ought to be a criminal offence. Because some jurisdictions have stricter defamation laws, some indulge in a practise known as 'forum shopping', or suing in jurisdictions with harsher views on libel and slander.

The three leaders have filed separate petitions that are now being jointly heard by the court. They are challenging the constitutional validity of Sections 499 and 500 of the Indian Penal Code which make defamation a criminal offence punishable with up to two years in prison.
A verdict striking down the colonial-era S. 499, used by the British to suppress those opposing their rule, could prove to be a huge victory for free speech in India. Earlier this year, the Supreme Court struck down the draconian Section 66A of the Information Technology Act as "unconstitutional and void".
There is cause for optimism. The Supreme Court has already said that the validity of criminal defamation laws must be tested against the free speech guarantees of the constitution. The bench comprising of Justices Dipak Misra and Prafulla C Pant have observed that political debates maybe excluded as a criminal defamation offence.
While Gandhi, Subramanian and Kejriwal have been slapped with defamation suits by political rivals, there have been long-standing concerns over the threat posed by these provisions to the media and those who use social media to express their opinions against the rich and the powerful.
The government of the day is keen to maintain the status quo. In a recent submission, it has argued that S.499 is now the only provision to deal with defamation on social media and the only protection for reputation of citizens. But free speech activists say there is no evidence to show that a defamation law deters a person who is out to spread lies.
The questionable utility of S.499, the scope for its abuse and the culture of self-censorship, they argue, removes it from the ambit of "reasonable restrictions" which the state can impose on free speech under article 19 (2) of the constitution.
"Hardly a day goes by in India without some rich and powerful person initiating or threatening to initiate defamation suits against rivals or traditional media or ordinary citizens on social media," said Sunil Abraham, executive director of the Bangalore-based Centre for Internet & Society. "It is unclear how much self-censorship is going on because Indians fearing jail terms avoid speaking truth to power.
On the issue of protecting people's dignity, Abraham said there is no prima facie evidence in India that criminalising defamation in India has resulted in the protection of the reputations of citizens from falsehoods.
"On the the other hand every other national media house and quite of few investigative journalists have been and continue to be harassed by criminal suits filed by the powerful," he told HuffPost India. "The chilling effect on speech is a disproportionate price for citizenry to pay for what is only a personal harm."
Under the leadership of Chief Minister J Jayalalithaa, the Tamil Nadu government filed 125 defamation cases against The Hindu and other publications between 2001 and 2004. On Tuesday, she filed a defamation suit against news portal Rediff.com for running two articles related to speculations about her health.
In the United States, defamation claims by public officials and public figures were severely curtailed after its Supreme Court ruled in 1964 that the complainant needs to prove actual malice with "clear and convincing" evidence. Further, truth is an absolute defence against defamation in the U.S.
On Tuesday, Swamy and Gandhi also argued that truth should be defence in defamation suits. "Truth is not a complete defence in criminal defamation. For a nation with a national motto of Satyameva Devata it is ironic," Swamy said.
BJP leader Swamy is of the view that defamation should only be subject to a civil suit which can be redressed by payment of monetary compensation. But the central government has argued that a defamer could be too poor to compensate the complainant.
"I am not saying there is no such thing as defamation. You can sue someone for defamation, but you cannot deprive someone of his liberty," he said in a recent interview with The Sunday Guardian.
Jayalalithaa filed a defamation suit against the senior BJP leader who alleged that most of the boats of Indian fishermen captured by Sri Lanka belong to the AIADMK chief, her close aide Sasikala and DMK leader TR Baalu.
The suit against the Congress Vice President was filed by the Rashtriya Swayamsevak Sangh for allegedly blaming the Hindu right-wing organisation for the assassination of Mahatma Gandhi.
BJP leader Nitin Gadkari sued Kejriwal after his name was included in AAP's list of "India's most corrupt."
"The accused is in the habit of making false and defamatory statements without any basis. The statements made by the accused and his party members have damaged and tarnished my image in the eyes of the people," Gadkari told the court, last year.
Legal analysts also find it hard to predict just how far the Supreme Court will go to protect free speech. Its judgment against S.66A of the IT Act is regarded as one of the biggest victories for free speech in India. Justice Misra was on the bench that struck down the provision for being "open-ended and unconstitutionally vague," and not fit to be covered under Article 19 (2).
But last month, in a judgment regarded as a blow to free speech, it was Justices Misra and Pant who ruled that freedom of speech is not an absolute right.
Senior Advocate Gopal Subramanium had argued, "Freedom to offend is also a part of freedom of speech."