Supreme Court Strikes Down Section 66A Of IT Act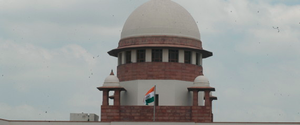 View of the Supreme Court Building in New Delhi, India (Photo by Yasbant Negi/The India Today Group)
In a major boost to freedom of speech online in India, the Supreme Court on Tuesday struck down Section 66A of the Information Technology Act, reading down a draconian law that was poorly conceived, tragically worded and caused ordinary citizens to be jailed for so much as a comment on Facebook that annoyed just about anyone.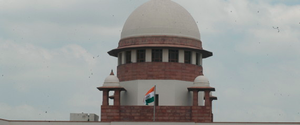 View of the Supreme Court Building in New Delhi, India (Photo by Yasbant Negi/The India Today Group)
The article by Indrani Basu and Betwa Sharma published in the Huffington Post on March 24, 2015 quotes Sunil Abraham.
---
In its 122-page judgment, the court struck down the entire section, refusing to heed the government's plea that it will not be misused.
"The apex courts in India have consistently protected the rights of its citizens. And the Supreme Court has once again upheld that great tradition with this decision. There are constitutional exceptions to free speech that exist.
But this judgment will protect against the abuse of this vague and badly drafted law," said Sunil Abraham, executive director at the Centre for Internet and Society.
The section was passed without discussion in Parliament by the UPA government in 2008, adding an amendment to the original 2002 Act. While Narendra Modi supported the repealing of the Act during his prime ministerial campaign, after the BJP came to power, the government defended the provision, even while admitting it was draconian.
The government argued that the provision was necessary to prevent people from posting inflammatory content offending religious or political sentiments, leading to violence.
"I''m so happy with the decision. They have completely struck down the whole section. This is a victory for the country," said Shreya Singhal, the 24-year-old law student on whose petition the Supreme Court was hearing the case. "I don't have a political agenda — both the Congress government and the BJP have misused the section earlier. Section 66A was a blanket provision which was very vague. There are many IPC sections that could be used in its place."
"No one should fear putting anything up on the internet. It is very important for us to protect this right today," she said.
But there are sections in the Indian Penal Code that can deal with such situations.
And the broad and vague wording of 66A meant that it effectively became a tool that muzzled all speech online.
In 2012, Shaheen Dada, a 21-year old Mumbai girl, posted on Facebook comments about Shivsena leader Bal Thackerey. Annoyed party members went to the cops and Dada was arrested. Her friend Rinu Srinivasan, who had 'liked' the comment on Facebook, was also arrested.
The same year, Jadavpur University professor Ambikesh Mahapatra was arrested for sharing a cartoon poking fun at West Bengal chief minister Mamata Banerjee.
Mumbai cartoonist Aseem Trivedi was also arrested under the provision for his cartoons during the Anna Hazare anti-corruption agitation.
Here is what the section said:
66A. Punishment for sending offensive messages through communication service, etc.
Any person who sends, by means of a computer resource or a communication device,—
(a) any information that is grossly offensive or has menacing character; or
(b) any information which he knows to be false, but for the purpose of causing annoyance, inconvenience, danger, obstruction, insult, injury, criminal intimidation, enmity, hatred or ill will, persistently by making use of such computer resource or a communication device,
(c) any electronic mail or electronic mail message for the purpose of causing annoyance or inconvenience or to deceive or to mislead the addressee or recipient about the origin of such messages,
shall be punishable with imprisonment for a term which may extend to three years and with fine.