India's landmark online speech ruling is step toward greater press freedom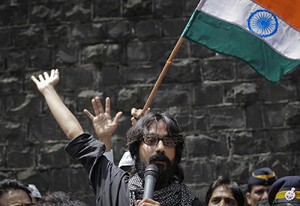 Aseem Trivedi speaks to the media after his arrest in 2012. Charges against the cartoonist have been dropped after India overturned part of its Information Technology Act. (Reuters/Danish Siddiqui)
In an historic decision, India's Supreme Court on Tuesday struck down part of a law used to silence criticism and free expression. While this marks a pivotal victory that has been welcomed in many quarters, many challenges remain for press freedom in the country.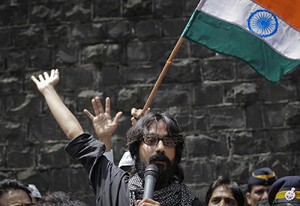 Aseem Trivedi speaks to the media after his arrest in 2012. Charges against the cartoonist have been dropped after India overturned part of its Information Technology Act. (Reuters/Danish Siddiqui)
The blog post by Sumit Galhotra was published by CPJ (Committee to Protect Journalists) on March 28, 2015. Pranesh Prakash is quoted.
---
Section 66A of the Information Technology Act--the vaguely worded provision struck down by the court--criminalized online speech deemed "grossly offensive" or "menacing," along with information for the purpose of causing "annoyance" or "inconvenience." Individuals convicted under the provision could face up to three years in prison. This law, along with others that remain on the books, has allowed India to become a paradise for the offended.
The law was challenged by a public interest litigation mounted by Shreya Singhal, in 2012. Singhal, who had just returned to Delhi from her studies in the U.K., was infuriated at how the law was being used to stifle debate and criticism in her home country, according to reports.
The September 2012 arrest of cartoonist Aseem Trivedi, on a range of charges including one under Section 66A, over his cartoons on politics and corruption, caught Singhal's attention. A few weeks later, she learned of the arrest of 21-year-old Shaheen Dhada, who questioned on Facebook the shutdown of Mumbai following the death of a politician, Singhal said. Dhada's friend, Renu Srinivasan, who had merely "liked" the comment, was arrested under the law. According to news reports, both were charged. These cases sparked a national debate on the space for free expression in the world's largest democracy, and led Singhal to challenge the law, she told reporters.
"It's a big victory," Singhal, who is currently studying law in Delhi, told the media following Tuesday's decision. "The Internet is so far-reaching and so many people use it now, it's very important for us to protect this right."
India is expected to overtake the U.S. as the second largest population of Internet users in the world, behind only China, according to the Internet and Mobile Association of India, a nonprofit group representing the Web and mobile industry. As Internet usage accelerates in India, thanks in large part to the widespread use of mobile devices, there has been an ongoing debate on how best to policeit in a country that has to contend with frequent episodes of violence, civil unrest, and terrorist attacks.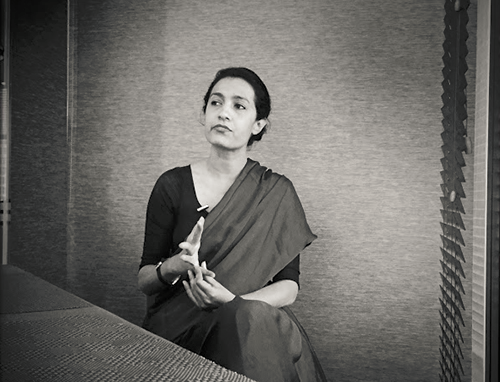 Karuna Nundy, an advocate at the Supreme Court of India who helped the legal challenge,
says the country has several laws that are a threat to press freedom. (Geoffrey King)

Lawrence Liang, a lawyer and researcher at the Bangalore-based Alternative Law Forum, an Indian legal research organization, shared in Singhal's welcoming of the decision. "It is important to note that this is the first judgment in decades in which the Supreme Court has struck down a legal provision for violating freedom of speech, and in doing so, it simultaneously builds upon a rich body of free speech cases in India and paves the way for a jurisprudence of free speech in the 21st century, the era of the Internet and social media," he told CPJ.
Pranesh Prakash, policy director at Bangalore-based Centre for Internet and Society, an organization that focuses on issues of digital pluralism, called the judgment "a moral victory." He said the decision "furthers free speech jurisprudence in India, but also in all those other countries where an Indian precedent would be important," including many countries in Asia, and places such as South Africa.
As part of the judgment, the court narrowed its reading of Section 79 of the IT Act, under which private parties could submit notice-and-takedown orders directly to Internet intermediaries. The court held that intermediary liability can be pursued only through a court order or other government order, reports said.
Liang told CPJ the judgment falls short in some areas. The Supreme Court's 123-page judgment kept in place Section 69A of the IT Act and Information Technology Rules 2009 that allows the government to block websites if the content in question has the potential to create communal discord, social disorder, or impact India's relations with other countries, according to news reports.
"I would say that if there is missed opportunity in the judgment, it is the clarification of the process of blocking websites. If Section 66A was found to be arbitrary in that its scope covered protected and unprotected speech, then the procedure for blocking websites as laid out in Section 69A is also beset with similar problems," Liang said.
According to Chinmayi Arun, research director at the Centre for Communications Governance at the National Law University in Delhi, the 2009 rules require blocking requests and implementation to be kept confidential. "This means that speakers will have no way of finding out that the government has ordered intermediaries to block their content. Speakers will therefore not be able to question unconstitutional blocking orders before the judiciary--this is a clear interference with their constitutional rights," she told CPJ via email, referring to online users who could fall foul of the law.
Academic in me: As a matter of legal & constitutional analysis, the SC judgment is at its best on #66A, but weaker on 69A & weakest on 79.

-- Pranesh Prakash (@pranesh_prakash) March 24, 2015
For some journalists, the decision highlights how virtually no national party in India, including the ruling Bharatiya Janata Party (BJP), is a champion of these rights. In a piece for independent news website Scroll, journalist Shivam Vij criticizes the current Narendra Modi-led government for missing an opportunity by not acting decisively to address the problematic law. "It has become routine for India's politicians to avoid taking tough political decisions if they can be left to the courts," he said. "When in power, the BJP is as happy as the Congress to have at its disposal laws that can muzzle voices of dissent."
Trivedi told CPJ he agreed that the previous and current government did little to address abuses of the law. Trivedi, who up until the court decision, faced charges under Section 66A, and had joined Singhal as a petitioner in the case, added: "This decision marks a strong first step." The cartoonist's lawyer, Vijay Hiremath, told CPJ that the Section 66A charge has now been removed, but Trivedi still faces charges under the National Emblem Act.
While the striking down of Section 66A is a step in the right direction, many challenges remain for press freedom in India. Karuna Nundy, an advocate at the Supreme Court of India, who was at the forefront of the legal challenge, told CPJ numerous colonial-era laws, particularly in India's penal code, continue to pose threats to free speech and press freedom in India. CPJ has long documented cases of Indian journalists being threatened with sedition, defamation, and laws that criminalize "outraging religious sentiment."
Actually, next step(s): a review of the constitutionality of sedition, challenge criminal defamation, constitutionalise civil defamation.

-- Gautam Bhatia (@gautambhatia88) March 24, 2015
But Nundy expressed optimism for the challenges ahead for press freedom in India and elsewhere. She said the judgment shows, "If you do the work, you take the trouble, you make the challenge, you can achieve the kinds of values that you stand for. That is the work that is the duty of all us as national citizens and citizens of the world."
[Geoffrey King, CPJ Internet Advocacy Coordinator, contributed to this report from Manila]