Network Disruptions Report by Global Network Initiative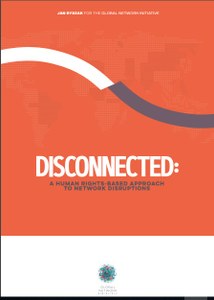 Around 70% of all known shutdowns in the world took place in India in 2017. The same year Telecom Authority of India (TRAI) released the "Temporary Suspension of Internet Services" giving State and Central Government officials the power to terminate Internet services as per the guidelines.
The report by Global Network Initiative can be read here.
---
However S.144 of the Criminal Procedure Code as well Section 5 of the Telegraph Act are still used as legal grounds. The former targets unlawful assembly while the latter gives authorities the right to prevent transmission of messages, applicable to messages sent over the Internet as well. A case in the Gujarat High Court challenging the validity of using S.144 of the CrPC was dismissed essentially stating the Government could use the section to enforce shutdowns to maintain law and order.
The right to Internet has been accepted as a fundamental right by the United Nations and one which, cannot be disassociated from the exercise of freedom of expression and opinion and the right to peaceful assembly. These are rights guaranteed by the Constitution, affirmed in the Universal Declaration of Human Rights and thus should be provided, both, online and offline.  Online movements are unpredictable and dynamic making Governments fearful of their lack of control over content hosting websites. Their fear becomes their de facto perception of online services resulting in network shutdowns regardless of the reality on ground.
Given the rising importance of this issue, Global Network Initiative has published a report on such Network Disruptions by Jan Rydzak . A former Google Policy fellow and now a PhD candidate at the University of Arizona, he, conducts research on the nexus between technology and protest. The report, which uses India as a case study calls for more attention on network disruptions, the 'new form of digital repression' and delves into its impact on human rights.  Rydzak aims at widening the gambit of affected rights by discussing the civil and political rights of freedom of assembly, right to equality, religious belief and such. These are ramifications not widely discussed so far and helps shine a light on the collateral damage incurred due to these shutdowns.  Through a multitude of interviews with various stakeholders, the author brings to forefront the human rights implications of network disruptions on different groups of individuals such as women, immigrants and certain ethnic groups. These dangers are even more when it comes to vulnerable populations and the report does a comprehensive analysis of all of the above.
The views and opinions expressed on this page are those of their individual authors. Unless the opposite is explicitly stated, or unless the opposite may be reasonably inferred, CIS does not subscribe to these views and opinions which belong to their individual authors. CIS does not accept any responsibility, legal or otherwise, for the views and opinions of these individual authors. For an official statement from CIS on a particular issue, please contact us directly.