Mapping of India's Cyber Security-Related Bilateral Agreements
With the rapid spread of cloud computing and the growth of cyber spaces, large masses of information are now easily transmittable transnationally, necessitating the ratification of new agreements and cooperation efforts amongst states in order to secure cyber spaces and regulate exchanges of information. In an attempt to understand the nature and extent of current international collaborative efforts in cyber security, we have compiled the following data regarding India's cyber security-related bilateral agreements. The intention of this exercise is to offer a dynamic visualization that demonstrates which countries India has collaborated with on cyber security efforts and initiatives. This is an ongoing map that we will be updating as our research continues.
---

The data used for the info-graphic consists of India's MLATs, cyber security-related MoUs and Joint Statements, and Cyber Frameworks. An MLAT is an agreement between two or more countries, drafted for the purpose of gathering and exchanging information in an effort to enforce public or criminal laws. A MoU (Memorandum of Understanding) is a nonbinding agreement between two or more states outlining the terms and details of an understanding, including each party's requirements and responsibility; it is often the first stage in the formation of a formal contract. For the purpose of this research, we have grouped Joint Statements with MoUs, as they both generally entail the informal agreement between two states to strengthen cooperation on certain issues. Lastly, a Cyber Framework consists of standards, guidelines and practices to promote protection of critical infrastructure. The data accounts for agreements centered on cyber security as well as any agreements mentioning cooperation efforts in Cyber Security, information security or cybercrime.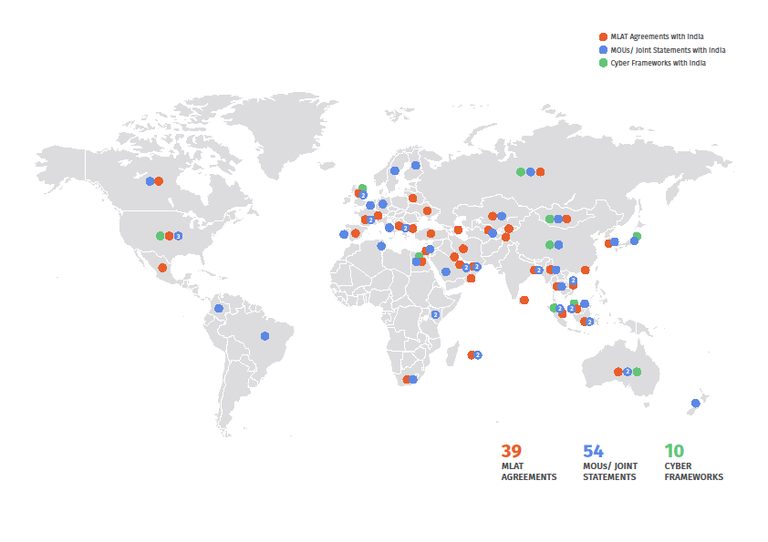 ---
The Mapping of India's Cybersecurity-related bilateral agreement has been updated on April 12, 2017 with the following changes:
NOTE: Some preexisting MoUs were added as we were initially only including the most recent agreements in the mapping. Upon adding newly signed MoUs, we decided to also keep the preexisting ones and revisit the other entries to include any preexisting MoUs that were initially excluded due to not being the most-recent. In this respect, the visualization will be adjusted to indicate the number of MoUs per country.
---
[1]http://www.dnaindia.com/india/report-india-australia-sign-mous-on-combating-terrorism-civil-aviation-security-2393843
[2]http://www.theindependentbd.com/arcprint/details/89237/2017-04-09
[3]http://www.thehindu.com/news/resources/Full-text-of-Joint-Statement-issued-by-India-France/article14019524.ece
[4]http://indianexpress.com/article/india/indianhome-ministry-indonesian-ministry-of-security-and-coordination/
[5]https://telanganatoday.news/india-kenya-focus-defence-security-cooperation-pm
[6]http://economictimes.indiatimes.com/news/economy/foreign-trade/india-and-malaysia-sign-3-mous-including-cyber-security/articleshow/49891897.cms
[7]http://indiatoday.intoday.in/story/bse-mauritius-stock-exchange-tie-up-to-promote-financial-mkts/1/723635.html
[8]http://www.tribuneindia.com/news/business/india-portugal-to-collaborate-in-ites-cyber-security/373666.html
[9]http://naradanews.com/2016/12/india-qatar-sign-agreements-on-visa-cybersecurity-investments/
[10]http://ehub.newsforce.in/cabinet-approves-mou-india-serbia-cooperation-field-electronics/
[11]http://www.businesstimes.com.sg/government-economy/singapore-and-india-strengthen-cooperation-on-cyber-security
[12]http://mea.gov.in/bilateral-documents.htm?dtl/27969/India++UAE+Joint+Statement+during+State+visit+of+Crown+Prince+of+Abu+Dhabi+to+India+January+2426+2017
[13]http://www.bestcurrentaffairs.com/india-uk-mou-cyber-security/
[14]http://www.dqindia.com/india-cert-signs-an-mou-with-us-cert/
[15]http://pib.nic.in/newsite/PrintRelease.aspx?relid=157458
---
The views and opinions expressed on this page are those of their individual authors. Unless the opposite is explicitly stated, or unless the opposite may be reasonably inferred, CIS does not subscribe to these views and opinions which belong to their individual authors. CIS does not accept any responsibility, legal or otherwise, for the views and opinions of these individual authors. For an official statement from CIS on a particular issue, please contact us directly.