Media Market Risk Ratings: India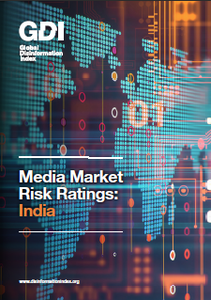 The Centre for Internet and Society (CIS) and the Global Disinformation Index (GDI) are launching a study into the risk of disinformation on digital news platforms in India, creating an index that is intended to serve donors and brands with a neutral assessment of news sites that they can utilise to defund disinformation.
Introduction
The harms of disinformation are proliferating around the globe—threatening our elections, our health, and our shared sense of facts.
The infodemic laid bare by COVID-19 conspiracy theories clearly shows that disinformation costs peoples' lives. Websites masquerading as news outlets are driving and profiting financially from the situation.
The goal of the Global Disinformation Index (GDI) is to cut off the revenue streams that incentivise and sustain the spread of disinformation. Using both artificial and human intelligence, the GDI has created an assessment framework to rate the disinformation risk of news domains.
The GDI risk rating provides advertisers, ad tech companies and platforms with greater information about a range of disinformation flags related to a site's content (i.e. reliability of content), operations (i.e. operational and editorial integrity) and context (i.e. perceptions of brand trust). The findings in this report are based on the human review of these three pillars: Content, Operations, and Context.
A site's disinformation risk level is based on that site's aggregated score across all of the reviewed pillars and indicators. A site's overall score ranges from zero (maximum risk level) to 100 (minimum risk level). Each indicator that is included in the framework is scored from zero to 100. The output of the index is therefore the site's overall disinformation risk level, rather than the truthfulness or journalistic quality of the site.
Key Findings
In reviewing the media landscape for India, the assessment found that:
Nearly a third of the sites in our sample had a high risk of disinforming their online users.
Eighteen sites were found to have a high disinformation risk rating. This group includes sites that are published in all the three languages in our scope: English, Hindi and Bengali.
Around half of the websites in our sample had a 'medium' risk rating. No site performed exceptionally on all fronts, resulting in no sites having a minimum risk rating. On the other hand, no site performed so poorly as to earn a maximum risk rating.
Only a limited number of Indian sites present low levels of disinformation risks.
No website was rated as having a 'minimum' disinformation risk.
Eight sites were rated with a 'low' level of disinformation risk. Seven out of these websites served content primarily in English, one in Hindi.
The media sites assessed in India tend to perform very poorly on publishing transparent operational checks and balances.
Over one-third of the sites in our sample published little information about their ownership structure, and also failed to be transparent about their revenue sources.
Only ten of the sites in our sample publish any information about their policies on how they correct errors in their reporting.
Association with traditional media did not play a significant factor in determining risk of disinformation.
On average, websites associated with TV or print did not perform any differently when compared to websites that solely serve digital content.
The findings show that on the whole, Indian websites can substantially increase their trustworthiness by taking measures to address these shortfalls in their operational checks and balances. For example, they could increase transparency on the structure of their businesses and have clear policies on how they address errors in their reporting. Both of these measures are in line with universal standards of good journalistic practices, as agreed by the Journalism Trust Initiative.
---
Click to download the full report here. To read the report in Hindi, click here. The authors extend their thanks to Anna Liz Thomas, Sanah Javed, Sagnik Chatterjee, and Raghav Ahooja for their assistance.
The views and opinions expressed on this page are those of their individual authors. Unless the opposite is explicitly stated, or unless the opposite may be reasonably inferred, CIS does not subscribe to these views and opinions which belong to their individual authors. CIS does not accept any responsibility, legal or otherwise, for the views and opinions of these individual authors. For an official statement from CIS on a particular issue, please contact us directly.