Every Town had its Jio Dara
Strap: In the hills of Darjeeling, residents facing an indefinite internet shutdown were thrown an unexpected lifeline in the form of 'Jio dara', a feeble signal from Sikkim towers that nevertheless kept a small line of communication open between the besieged towns in the region and the rest of the world.
Bangalore, Karnataka: Alvin Lama writes rock music is his downtime, and these days his songs are rather politically charged. The 100-day internet shutdown in Darjeeling during the Gorkaland agitation in 2017 inspired his latest single, titled Jio Dara. In Lama's song, he tells his listeners, "Come let's go to Jio Dara" where they can be free from the prison of internet shutdown to send and receive messages from the outside world. "I am using that window of access to tell people about our struggle. It has a bit of an anti-administration message," he says.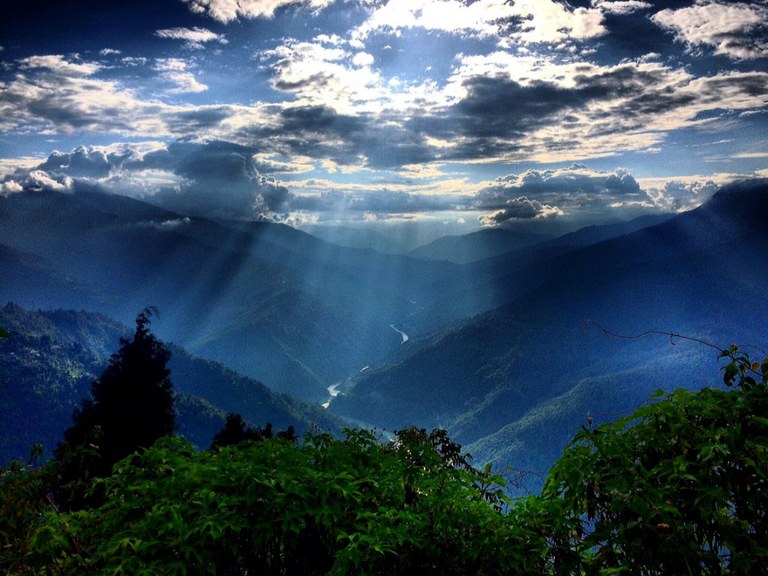 View from Carmichael Ground, a Jio Dara spot (Picture Courtesy: Nisha Chettri, Caffeine and Copies)
Jio Dara ('dara' meaning 'hillock'), also alternatively called 'Reliance gully', was not always a specific place but a small window of opportunity during which a weak 2G signal could be accessed in the hills. Towns like Darjeeling and Kalimpong lie very close to the border of West Bengal, separated from their northern neighbour Sikkim by the river Rangeet; and often in the hills along the river bank, phones pick faint signals from the mobile phone towers in Sikkim. For a population that was completely shut off from the outside world, even this thin, fragile lifeline was precious. "I was not here during the agitation but somehow would get information about what was happening in the hills from my family and friends through the Jio Dara," Alvin says.
Alvin, also founder director & CEO of the Good Shepard Institute of Hospitality Management, is not the only musician to immortalise Jio Dara in song. Young student Saif Ali Khan and his friends also wrote and composed their own ode to this happy accident. "It was really born out of boredom," he says. "My brother, my friends and I were sitting around the campus and chatting. Classes were cancelled due to the strike and our education was on hold. And we overhead a couple talking about where they were going to go for their date. Of course, we should go to Jio Dara, the girl said, and that led to an argument."
This sparked off their Jio Dara song which was written, composed and recorded by Khan and his friends under their Firfiray Productions. A satirical take on the internet shutdown and how it has affected the lives of the students in Darjeeling, the song plays out like a dialogue between two lovers and serves as a light-hearted look at a situation that was anything but.
For three months between June and September, the administration had shut down internet access in Darjeeling and in its surrounding hills. This prevented the outside world from hearing the voices of the Gorkhaland protesters but information still trickled out, as it is wont to do, through various sources, one of these being the Jio Dara.
How did this work? Reliance Jio had not long ago made a big splash in India's telecom market with cheap unlimited data packs and lifetime validity deals, and many had switched to Jio to take advantage of this. This was what eventually gave Jio users the edge, helping them tap into the signal from the towers across the border. While it isn't clear whether signals from other networks were also available in these spots (information varies from they were no other networks at all to there were some but they were even weaker than Jio), what's certain is that without the free internet that Jio subscribers enjoyed, access to the internet through other networks was not feasible after a point because recharging your number at the local mobile shop wasn't an option anymore.
These hotspots used to vary, according to Lama. "The signal would be strong today, but next day one might have to move a few hundred metres up or down till they connected with the network. So, you would go searching in the hills till you get a signal and then the word would spread," he says. People in Darjeeling were lucky in that their Jio Dara was inside town near the mall in Chowrasta, but it was not as convenient in Kalimpong. One had to travel a couple of kilometres from the city centre to Carmichael grounds, sometimes go even further up the hill towards areas that were facing Sikkim. "People would get to know through word-of-mouth and the number of people there would snowball," Lama tells us. People, young and old, would come to log in, even though the connection was patchy and slow, to talk about the events of the day, upload pictures, connect with family and friends and basically tell the world what really was happening in Darjeeling.
It became an unofficial symbol of resistance. Each town had its very own Jio Dara and it transcended merely a physical location to become an idea. "Our habits changed after June 18, when the government undemocratically blocked the internet service in the hills," writes Nisha Chettri, a journalist with the Statesman, in her blog 'Caffeine and Copies'. Carmichael Ground in Kalimpong invariably became a meeting spot for all sorts of occasions – birthdays, dates, get-togethers. She says that some Jio users even shared their mobile hotspot with others so that everyone could use the internet.
Local journalists would file their stories and upload their pictures side by side with ordinary citizens updating their social media statuses. It helped journalists like the Telegraph's Passan Yolmo to maintain a line of communication with his publishers. Most evenings he would connect to the Jio Dara to send across photographs from the day, as many as the feeble 2G connection would allow.
"I don't know who first found this spot behind Chowrasta," says Khan. Perched in the centre of the city and at a higher elevation than the rest, Chowrasta is a popular tourist destination in Darjeeling; so it couldn't have been long before people stumbled onto this secret. "I accidentally discovered it one day when I walked past it and suddenly my phone started pinging and I received a bunch of texts on WhatsApp. I checked my phone and realised I was connected to Sikkim's Jio network."
Ayswarya Murthy is a Bangalore-based journalist and a member of 101Reporters.com, a pan-India network of grassroots reporters.
---
Shutdown stories are the output of a collaboration between 101 Reporters and CIS with support from Facebook.
The views and opinions expressed on this page are those of their individual authors. Unless the opposite is explicitly stated, or unless the opposite may be reasonably inferred, CIS does not subscribe to these views and opinions which belong to their individual authors. CIS does not accept any responsibility, legal or otherwise, for the views and opinions of these individual authors. For an official statement from CIS on a particular issue, please contact us directly.