Privacy worries cloud Facebook's WhatsApp Deal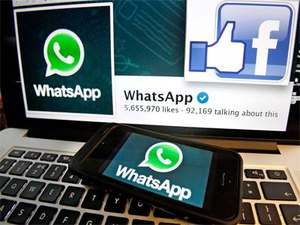 A screen shot of WhatsApp, source: Economic Times
Privacy activists in the United States have asked the competition regulator or the Federal Trade Commission to put on hold Facebook's acquisition of WhatsApp. Why have they done this when Facebook has promised to leave WhatsApp untouched as a standalone app?
---
Read the original published in the Economic Times on March 14, 2014
---
Activists have five main concerns.
Facebook has a track record of not keeping its promises to users.
The ethos of both companies when it comes to privacy is diametrically opposite.
The probability that WhatsApp messages and content will be intercepted because of Facebook's participation in NSA's PRISM spying programme.
Facebook slurping WhatsApp's large repository of phone numbers.
Two hundred trackers already monitor your internet use when you are not using Facebook and now they tracking mobile use much more granularly. This week the Indian competition regulator (CCI) also told the media that the acquisition would be subject to scrutiny. However, unlike the US regulator the Indian regulator does not have the mandate to examine the acquisition from a privacy perspective.
LIRNEAsia research in Indonesia paints a very similar picture to one we have in India. When Indonesian mobile phone users were asked if they used Facebook they answered in affirmative. Then the very same users were asked if they used the internet and they replied in negative. A large number of Facebook users in these other similar economies are trapped within what are called "walled gardens."
Walled gardens allow mobile phone subscribers without data connections to get access to a single over-the-top service provider like Facebook because their telcom provider has an arrangement. Software such as Facebook on every phone makes it possible for feature phone users to also enter the walled garden.
According to Facebook it "is a fast and easyto-use native app that works on more than 3,000 different types of feature phones from almost every handset manufacturer that exists today."
Unlike North American and European users of Facebook - who freely roam the "world wild web" and then choose to visit Facebook when they want to many Indian users will first experience data services in a domesticated fashion within a walled garden.
Whether or not they will wander in the wild when they are have full access to the internet remains to be seen. But given our poor rates of penetration, dogmatic insistence on network neutrality at this early stage of internet adoption may not be the right way to maximise welfare and consumer interest.
Fortunately for Facebook and unfortunately for us, India still does not have a comprehensive data protection or horizontal privacy law. The Justice AP Shah Committee that was constituted by the Planning Commission in October 2012 recommended that the Privacy Act articulate national privacy principles and establish the office of the Privacy Commissioner. It further recommended that data protection and surveillance be regulated for both the private sector and the state.
Since then the Department of Personnel and Training has updated the draft bill to implement these recommendations and has been working towards consensus within government.
Since we still don't have our own privacy regulator we will have to depend on foreign data protection authorities and privacy commissioners to protect us from the voracious appetite for personal data of over-the-top service providers like Facebook This is woefully insufficient because they will not act on harm caused to Indian consumers or be aware of how Facebook acts differently in the Indian market.
As we approach the first general election in India when social media will play a small but influential role it would have been excellent if we had someone to look out for our right to privacy.
The views and opinions expressed on this page are those of their individual authors. Unless the opposite is explicitly stated, or unless the opposite may be reasonably inferred, CIS does not subscribe to these views and opinions which belong to their individual authors. CIS does not accept any responsibility, legal or otherwise, for the views and opinions of these individual authors. For an official statement from CIS on a particular issue, please contact us directly.