An Introduction to Bitfilm & Bitcoin in Bangalore, India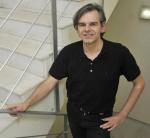 Aaron Koenig: Director of Bitfilm
An event at the Centre for Internet & Society (CIS) was organized on January 23, 2013. The all star team at CIS was awesome at organizing this event for Bitcoin. Live streaming, mainstream newspaper coverage and Twitter based Q&A made this the first Bitcoin event in India that leveraged these mediums of information transfer.
---
See the blog post published in Benson's Blog
---
Aaron Koenig gave a talk on the creation and use of Bitcoin, and on a payment system designed for the voting process of the Bitfilm Festival for Digital Film. Since the year 2000, the Bitfilm Festival has been showcasing films that use digital technology in a creative and innovative way. It takes place on the Internet. However, physical screenings of the films will be held in Bangalore and in Hamburg. Each of the 59 nominated digital animations has its own Bitcoin account, and users worldwide may vote by donating Bitcoins to the films they like anonymously and without any transfer costs. The donated money will be divided among the most popular films (the films with the most votes/Bitcoins).
A strong knowledgeable speaker, Aaron brought forward his tremendous knowledge of Bitcoin, Art & Economics.
The Twitter based Q&A can be viewed on the Twitter ID's of
@pranesh_prakash
@cis_india
@bensonsamuel
The Newspaper Articles where Bitfilm & Bitcoin made their news in India were
Deccan Herald - http://bit.ly/U74YsS
The Hindu - http://goo.gl/YJYni
The Bangalore Mirror - http://bit.ly/XfDRbZ
Bitcoin Resources In India
Local Exchange - LocalBitcoins.com
India Fourms -   https://bitcointalk.org/index.php?board=89.0
Blogs - bensonsamuel.com
Services - indiabitcoin.com - Official Partners of Bitpay USA in India
Meetup Group - http://www.meetup.com/Bitcoin-Bangalore-Meetup-Group/
---
Video
The views and opinions expressed on this page are those of their individual authors. Unless the opposite is explicitly stated, or unless the opposite may be reasonably inferred, CIS does not subscribe to these views and opinions which belong to their individual authors. CIS does not accept any responsibility, legal or otherwise, for the views and opinions of these individual authors. For an official statement from CIS on a particular issue, please contact us directly.