CIS in collaboration with NEWS announces an open call for proposals to explore the use of natural-language search algorithms that are able to find people and activities that embody the self-understanding of the kind of art we are seeking without specifically using the word art or a related vocabulary.
In particular this search engine would allow prospectors in the world of information and databases to discover 'shadow art activities' that are partially hidden, off-the-radar, stealthy.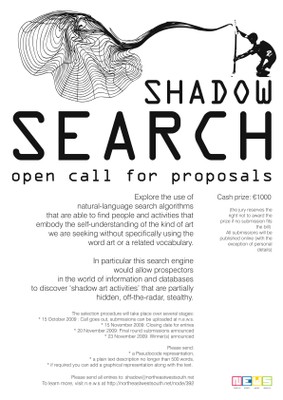 The selection procedure will take place over several stages:
15th October 2009 – Call goes out, submissions can be uploaded at n.e.w.s.
15th November 2009 – Closing date for entries
20th November 2009 - Final Round submissions announced
 23rd November 2009 – Winner(s) announced
Please send:
A Pseudocode representation
A plain text description no longer than 500 words
If required, you can add a graphical representation along with the text
Please send all entries to: [email protected]
Cash Prize: EURO 1000 (the jury reserves the right not to award the prize if no submission fits the bill)
All submissions will be published online (with the exception of personal details)
To learn more, visit n.e.w.s