Rahul Cherian
Rahul was a lawyer, disability policy activist and a co-founder of Inclusive Planet Centre for Disability and Policy. He was one of the experts who drafted the Treaty for the Visually Impaired currently being negotiated at the World Intellectual Property Organization. His areas of expertise included disability law, intellectual property law and technology law. He was also the co-founder of www.inclusiveplanet.com, the world's largest social network for persons with visual impairment.
Rahul was on the legal expert panel constituted by the Ministry of Social Justice and Empowerment to give input on the new disability law, was instrumental in conceptualizing and executing a national Right to Read Campaign to bring about changes in copyright law to enable persons with disabilities access copyrighted work on an equal basis with persons without disabilities, helped the State of Kerala draft a plan document with a vision to ensure that by the year 2025 persons with disabilities are completely integrated into mainstream society.
Rahul Cherian passed away on February 7, 2013 due to an illness.
Click for Rahul's detailed profile. [PDF, 195 Kb]

Malavika Jayaram
Malavika is the inaugural Executive Director of the Digital Asia Hub. Prior to her relocation to Hong Kong, she spent three years as a Fellow at the Berkman Klein Center for Internet & Society at Harvard University, focused on privacy, identity, biometrics and data ethics, and eight years in London, with the global law firm Allen & Overy in the Communications, Media & Technology group and as Vice President and Technology Counsel at Citigroup. While a partner at Jayaram & Jayaram in India previously, she was one of 10 Indian lawyers selected for The International Who's Who of Internet e-Commerce & Data Protection Lawyers directory for 2012 and 2013. In August 2013, she was voted one of India's leading lawyers – one of only 8 women to be featured in the "40 under 45" survey conducted by Law Business Research, London.

A graduate of the National Law School of India, Malavika has an LL.M. from Northwestern University School of Law, Chicago. She taught India's first course on information technology and law in 1997, and as Adjunct Faculty at Northwestern more recently: part of the Master of Science in Law program bridging STEM subjects and the law. She has been a Fellow with the Centre for Internet & Society, India, since 2009 where she helped start their privacy program. She was a Visiting Scholar at the Annenberg School for Communication, University of Pennsylvania, and has had fellowships at the University of Sydney and the Institute for Technology & Society, Rio de Janeiro. She is on the Advisory Board of the Electronic Privacy Information Center (EPIC).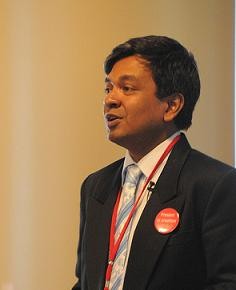 Chanuka Wattegama
Chanuka is an independent policy researcher and consultant with expertise in telecom policy and regulations, ICT for Development, Development Economics, Disaster Risk Reduction and Development Evaluation. An Electronics Engineer by profession, he graduated from the National Institute of Technology, Karnataka and obtained his Master of Business Administration (MBA) degree from the University of Colombo.
In the past he worked as a Senior Research Manager at LIRNEasia, an Asian think tank on policy and regulation and as a Program Specialist ICT4D at the United Nations Development Program and was posted in Colombo Regional Centre's Millennium Development Goals (MDG) initiative. His focus was to use Information and Communication Technology for poverty reduction and achievement of the MDGs.
As a researcher, he co-authored the Sri Lankan chapters for the books Cyber Communities of Asia (AMIC, Singapore), Media in Asia (Sage Publications, New Delhi), Internet in Asia (AMIC, Singapore) and Digital Review of Asia Pacific (APDIP, Orbicom and IDRC). He was the lead researcher for Sri Lanka in a nine-country study on ICT for Human Development in Asia, by UNDP and is also a regular writer and commentator on ICT issues in the Sri Lankan media. He founded Pariganaka, the largest selling ICT magazine in Sri Lanka with a circulation of more than 40,000 copies where he worked as a consultant editor. He is a two-time recipient of the Science Writer of the Year Award, presented annually by the Sri Lanka Association for the Advancement of Science.
Selvam Velmurugan

Selvam is the founder of eMoksha.org, a non-partisan non-profit focused on enabling stronger democracies through increased citizen awareness and participation. In 2009, eMoksha.org helped launch VoteReport, a citizen-driven election monitoring platform - in India, Lebanon, and Afghanistan - and FixOurCity, a local civic-management platform in Chennai.
Prior to founding eMoksha.org, Selvam was an internet technologist with more than 12 years of experience in building and managing distributed web-scale systems. During his 10-year stint at Amazon, he devised complex search indexing and querying algorithms, setup the Chennai Development Center, and managed critical platform components for Amazon Web Services. During that time, he took an active role in several non-profit and community efforts, notably being a core member of the Tsunami Relief team at Amazon enabling collection of over $15 million in relief funds.

Selvam holds an MS in CS from University of Georgia and BS in CS from College of Engineering, Guindy. He also holds a Diploma in Film-making from University of Washington. Currently, he lives in Seattle with his wife and two kids.
Nirmita Narasimhan

Nirmita is a Policy Director with the Centre for Internet and Society, working in the areas of policy research and advocacy related to technology access for persons with disabilities. She was involved in drafting the Indian National Universal Electronic Accessibility Policy and also worked closely with different departments of the Government of India to bring accessibility into their policies and programmes. Nirmita has authored several reports on accessibility which are being used by policymakers worldwide. She has also presented papers on ICT and Accessibility at international fora like the IGF and is the Director, Global Reports, for G3ict. She has also participated in the World Blind Union Treaty negotiations at WIPO. Nirmita has won several awards for her work, including the National Award for Empowerment of Persons with Disabilities, which she received from the President of India in December 2010. Her educational background includes degrees in Law, German and Music.
List of volumed edited by Nirmita:
Read Nirmita's detailed resume.