Accessibility of Government Websites in India: A Report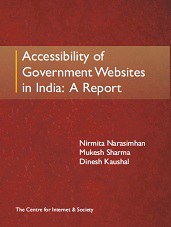 Above is the front cover with the title of the report and names of the authors
The Centre for Internet & Society is pleased to announce the publication of a report on the accessibility of government websites in India. The report is published in cooperation with the Hans Foundation. Nirmita Narasimhan, Mukesh Sharma and Dinesh Kaushal are the authors.
Executive Summary
Website inaccessibility is the largest and most common barrier to implementing effective e-governance. In a country like India, where a very large percentage of the population is disabled, elderly, illiterate, rural, having limited bandwidth, speaks only a vernacular language or uses alternative platforms like mobile phones, having accessible websites becomes all the more important to ensure that government information and services which are available online are accessible and usable by these groups.

This report summarises the key findings of a test conducted to measure the accessibility of 7800 websites of the Government of India and its affiliated agencies against the Web Content Accessibility Guidelines (WCAG) 2.0, which is the universally accepted standard for web accessibility. It uses a combination of automated and manual testing to derive key findings. While the automated tool identified errors such as images without textual descriptions and HTML and CSS errors, manual testing was used wherever human decision was required, for instance, to judge whether a description of a link or image was indeed accurate, or to check for accessibility of forms.
---
Table of Contents
Executive Summary
Introduction

Methodology
Findings and Interpretation
Known, Likely and Potential Problems
HTML and CSS Validation
Alternate Text for Non-text Objects
Recommendations
Appendix 1: Examples of Errors
Appendix 2: About the National Policy on Universal Electronic Accessibility
Appendix 3: List of Testers and Authors
---
Given below is the link to download the full report:
The views and opinions expressed on this page are those of their individual authors. Unless the opposite is explicitly stated, or unless the opposite may be reasonably inferred, CIS does not subscribe to these views and opinions which belong to their individual authors. CIS does not accept any responsibility, legal or otherwise, for the views and opinions of these individual authors. For an official statement from CIS on a particular issue, please contact us directly.