Wikiwomen's Meetup at St. Agnes College Explores Potentials and Plans of Women Editors in Mangalore, Karnataka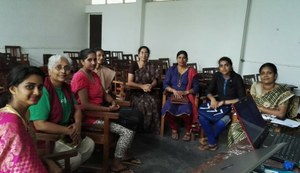 Wikiwomen's meetup, Mangalore
Karnataka is known for its diverse linguistic cultures. Aside from Kannada, many are native speakers of Konkani, Tulu, and other languages. A small Wikiwomen's meetup was held on Saturday, August 27th at St. Agnes College, Mangalore, to invite female Wikipedians from the region. Many of them were new to the online encyclopedia but demonstrated strong interest in learning and contributing more Indic language content online.
A Wikiwomen's meetup was held at St. Agnes College on August 27th in the hope to strengthen the bonding and communication between female Wikipedians in Mangalore. Attendees of the meetup on Saturday included five Kannada Wikipedian, one Konkani Wikipedian, one from the recently gone live Tulu Wikipedia, and Ting-Yi Chang from the CIS A2K team. Two of the Kannada Wikipedians are staff and faculty members of the College's library and Department of Kannada respectively. Both were brought into Wikipedia by edit-a-thons held on the college campus in the last few months
The meetup started off with a round of brief self-introduction and an inspiring introductory presentation by Dhanalakshimi K T, a St. Agnes commerce student who had successfully organized the last two women's edit-a-thons on her campus.
"Wikipedia is a great tool for knowledge sharing. When we edit in our own languages, people from outside of the city who don't speak English can learn things more easily online.... It is the respect and passion I have for my language."
The presentation also touched upon some feasible benefits that editors gains through participating in Wikipedia/media projects: improvement in writing and research skills, nurturing a critical thinking habit when reading texts and doing research, learnings from collaborative work experience, improvement in language and communication skills, etc. One of the participants later mentioned that with the hobby of editing Wikipedia, she began actively researching in her interested topics. Even in occasions when she had no time to actually update the content onto Wikipedia, the knowledge she gained throughout the research process has already enriched her and broadened her horizon of the subject.
The second half of the presentation consists of an introduction to the 5 pillars rules and some other advice of Wikipedia editing. Participants who were newcomers showed great interest and actively raised questions surrounding the use of different editing tools including the infobox templates, translation tools, useful markups, and personal sandboxes.
When being asked about the barriers they have faced so far in editing Wikipedia, most agreed that time issues do prevent them sometimes as their offline commitments (work, family, school) can take priority over it. However, most participants also concluded that "those who are truly interested will eventually find the time." On the other hand, access to internet and facilities has not been reported as a barrier in their cases, but all agreed that it can be for many other women. Awareness was emphasized as a crucial factor when trying to bring in more women to Wikipedia. One of the student participants shared her experience,
"Some people may have never heard of Wikipedia before; some misunderstood its use and potential… when I talked about Kannada Wikipedia with my peers, first they thought it was some website for Kannada stories writing…. But when I explained to them what it is and how we can edit, they were all very excited and very much wanted to try."
In the latter discussion of the meetup, participants talked about the tentative event plans for the next few months. Two sessions were suggested to be held by November, 2016. One as a workshop for the newcomers and the other as an editing event for more experienced female Wikipedians. All participants, old and new, are really excited to strengthen the bonding between Wikiwomens in Mangalore. Some suggested there should be more casual meetups every few weeks to help them communicate more and plan upcoming community events, including an ongoing event that can be held in March, 2017 for the International Women's Day and Wikiwomen's History Month.
The meetup continued with more discussion on various language Wikipedias' development. As an experienced Wikipedian and an actively outreaching community member, participant Harriet Vidyasagar explained the complexity in Konkani Wikipedia, which contains five scripts, and the importance of those scripts in Konkani language's history and culture. All participants agreed that seeing their mother tongues' scripts online and creating more content to make their culture and language visible are a great source of happiness and a motivation for them to continue editing. The session ended with exchange of contacts and group pictures.
The views and opinions expressed on this page are those of their individual authors. Unless the opposite is explicitly stated, or unless the opposite may be reasonably inferred, CIS does not subscribe to these views and opinions which belong to their individual authors. CIS does not accept any responsibility, legal or otherwise, for the views and opinions of these individual authors. For an official statement from CIS on a particular issue, please contact us directly.