Kannada Wikipedia edit-a-thon in St. Agnes College, Mangaluru to bridge gender gap in Wikipedia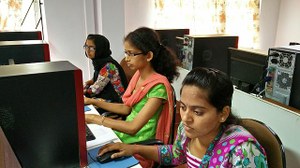 Female Wikipedia editors editing Kannada Wikipedia during the edit-a-thon. Image: U.B. Pavanaja / CC-BY-SA 4.0
As part of a series of workshops to mark the 13th anniversary, Kannada Wikipedia, a Kannada Wikipedia edit-a-thon was organised during this 10th-12th in St. Agnes College, Mangaluru to address the issue of gender gap in Wikipedia.
Totally 24 female students Wikimedians participated in this edit-a-thon. Three female Wikipedia editors from the institution also joined as facilitators. Vishwanatha Badikana, Kannada professor of the institution who is also a Kannada and Tulu Wikipedian inaugurated the event as chief guest. The first day was spent in demonstrating about the Wiki markup. During the following two days the participants created articles about notable writers and other notable women of coastal Karnataka. 25 new articles were created by the participants on the second day. By the end of the last day, 25 more articles were created in sandboxes on the last day by lunch time. They will soon work on the articles and improve before moving them to the article namespace so they become live articles. From the three day long edit-a-thon about 75 new articles are expected to come on Kannada Wikipedia. More details about the edit-a-thon could be read on Kannada Wikipedia event page.
The views and opinions expressed on this page are those of their individual authors. Unless the opposite is explicitly stated, or unless the opposite may be reasonably inferred, CIS does not subscribe to these views and opinions which belong to their individual authors. CIS does not accept any responsibility, legal or otherwise, for the views and opinions of these individual authors. For an official statement from CIS on a particular issue, please contact us directly.