Call for joining the Free Knowledge movement #Wikipedia #Wikimedia
Every little drop makes a Mighty ocean! Join us in this Free Knowledge movement where your contributions will be used world-wide.
Access to Knowledge
 team of the 
Centre for Internet and Society
 is the partner of the Wikimedia Foundations and the Wikimedia movement. Our work is to support Wikipedia/ Wikimedia projects in India. We conduct and support a series of skill building initiative such as workshops, meetups, photo walks, contest, edit-a-thon etc. We also attend to build sustainable partnerships with institutions, organizations, groups and communities which support the Wikimedia communities to build and improve the content in Wikipedia and other projects.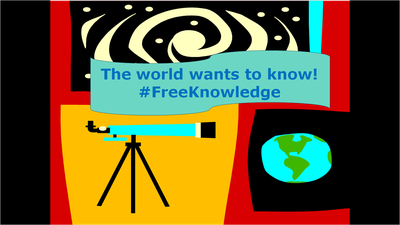 Are you an individual or do you represent any organisation, institution, groups or enterprises? You can actually help the 'Free Knowledge' movement by donating photos, media, content or archives. Let us tell you how.
Wikipedia is a widely read website in the current world. According to Alexa's rating, Wikipedia is the 5th most highly rated in the world. Also certainly we can say that after searching your query on Google (or any other search engine you use) you should have found Wikipedia as a preferable suggestion or result. We find it astonishing that all content of Wikipedia and its sister projects are created, modified and maintained by volunteers, here we need your support. There are many articles on Wikipedia which are being read by thousands of people but do not have relevant images. The problem is simple there is not any free image available. On Wikimedia/Wikipedia we take copyright very seriously and cannot use any content unless it is on public domain/ under free license/ copyright owner donates it under free license.
For example, there is an article on 2019 Kerala floods which is read by 2000 unique readers at this moment but we do not have sufficient photo coverage. Similarly, we have an article on a famous writer say, Ruskin Bond here also we do not have many photos on him or his works.
Wikimedia community is an independent community. Community decides by itself the content, its style including the media files to be included after detailed instructions. Although we cannot instruct the community we can provide resources which will definitely be of help for the free knowledge movement.
This article is an open call to "YOU" to support the free knowledge movement and Wikimedia movement by donating useful content. The content might be video, useful photos, database and audio. The content you are donating must be under Creative Commons Share-like content. You must have the copyright of the content under CC licenses,a CC license is used when an author wants to give other people the right to share, use, and build upon the work that they (the author) have created. Attributions will be given under every file details.
Think of a world where your content can also be part of the larger free knowledge movement?
This is the overall idea in a nutshell. We are eager to discuss every aspect of the process and your questions in detail. Please feel free to contact Tito Dutta([email protected]). Let's schedule a call or meet in person.
[Currently the A2K is conducting a content donation drive and awareness campaign. This blog post was written as a part of this initiative ]
See also
A shortcut to Freedom, an essay we wrote a year ago or so:
The views and opinions expressed on this page are those of their individual authors. Unless the opposite is explicitly stated, or unless the opposite may be reasonably inferred, CIS does not subscribe to these views and opinions which belong to their individual authors. CIS does not accept any responsibility, legal or otherwise, for the views and opinions of these individual authors. For an official statement from CIS on a particular issue, please contact us directly.