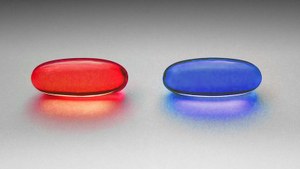 You have two options
In our everyday life we need access to knowledge and information, we need books (and magazines, newspapers), movies (and documentaries, animations), music for education and entertainment purposes. Now, a delighting fact is almost everything we need, from a 1965 book to the latest Bollywood movie's MP3 song, is available on the web. You knock the door, and it opens. Why should we care for free knowledge then? We have a got "a shortcut to freedom".
Scenario  1
Tamil Nadu Chief Minister Jayalaithaa died on 5 December 2016. Kamlesh, a college student from Chennai wants to post a few photos of the leader on his Facebook wall and page paying his tribute to her. He quickly searches on Google, finds a few photos, and posts on the wall.

Scenario  2
Nilima, a young girl from Mumbai, wants to use a latest Bollywood movie song as her mobile ringtone. She too searches on Google, and quickly finds the movie song with many options such as 64 kbps, 128 kbps, remix, reprise and a few issues such as misleading download buttons, pop-up advertisement windows etc. She selects one and puts it as her mobile ringtone.
Scenario 2a
A few days later, Madhuri, a friend of Nilima finds her mobile ringtone. Madhuri requests Nilima to send a copy of the music piece, and Nilima sends it over her mobile bluetooth.

Scenario 3
Lokesh Sanyal, a school teacher from Darjeeling, West Bengal, needs a book for his studies. He first goes to his local library and also asks his friends, but fails to get a copy of the book. Now, before buying a copy of the book, he thinks to check the world wide web to see  if a free PDF copy the book is available, and hurrah!, he gets the book from Torrents or some other site.

We have almost everything we require. . .
If we make a list of our requirements of content such as movies, music, books, magazines, games, softwares, we'll find almost everything is available on the web. You just need spend some time, (be careful about malicious web pages and downloads) and you will get what you want. It might be the movie released just a week ago, or a book published in 1990. It might a photograph of your favorite actress, or music piece of Amzad Ali Khan. Whatever we want, we get.
. . . but
Let's ponder upon these questions:
Are you using a Windows operating system in your laptop or computer? Is the copy of the Windows OS original (if you are unsure about it then did you buy a copy of the OS with registration key or installed from a CD or pendrive given by someone freely)?
How many (hundred) times you have downloaded images, videos, music, games from the web without checking or knowing its license details?
Do you know that everytime you are sharing some music or video over your mobile bluetooth, there is a possibility that you are violating some copyright and which might be punishable?
The World Wide Web is not free. You get content, but with those come a large number of restrictions. Knowingly or unknowingly we violate copyright everyday. So what should we do?
Of course we have a shortcut —  illegal downloading, piracy, as we know that no one really cares. We can ignore everything and carry on.

Or, there is a second option, join the free and open knowledge movement and try to get more and more content under the free licenses.

One option is easy, needs no hard work, on the other hand the second option is difficult to follow, needs a lot of hard work, although that should be the process. It's completely upto you that which option would you prefer.
See also
Image credit
The views and opinions expressed on this page are those of their individual authors. Unless the opposite is explicitly stated, or unless the opposite may be reasonably inferred, CIS does not subscribe to these views and opinions which belong to their individual authors. CIS does not accept any responsibility, legal or otherwise, for the views and opinions of these individual authors. For an official statement from CIS on a particular issue, please contact us directly.