Wikipedia edit-a-thon in Mangalore to bring Tulu Wikipedia live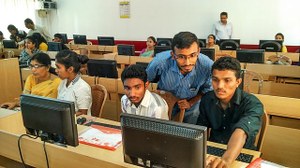 A Tulu Wikimedian helping new editors with Tulu input. Image by U.B. Pavanaja freely licensed under CC-BY-SA-4.0
A Wikipedia edit-a-thon was organised in Mangalore, Karnataka this 14th to encourage more Tulu-language speakers to contribute to Tulu Wikipedia. Tulu Wikipedia is is currently in the Incubator but the enthusiastic editor community is putting their best effort to bring it live out of Incubator. This edit-a-thon is one of the many activities the Tulu Wikimedia community has organised.
30 Wikipedia editors participated and created about 89 new articles. Interestingly, 12 of these 30 participants crossed more than 10 edits. Some of the new participants faced problems with using the input methods and the Wiki-markup. It is important to note that because of the lack of addition of Tulu-alphabet code points in the Unicode chart, and the speakers being well conversant in Kannada, they are using Kannada script for Tulu Wikipedia Incubator project. There is a plan to organise a monthly meetup and/or edit-a-thon to continue the momentum these editors have brought in. Tulu Sahitya Academy has kindly supported the event.
More details in the
event page
(in Tulu).
The views and opinions expressed on this page are those of their individual authors. Unless the opposite is explicitly stated, or unless the opposite may be reasonably inferred, CIS does not subscribe to these views and opinions which belong to their individual authors. CIS does not accept any responsibility, legal or otherwise, for the views and opinions of these individual authors. For an official statement from CIS on a particular issue, please contact us directly.